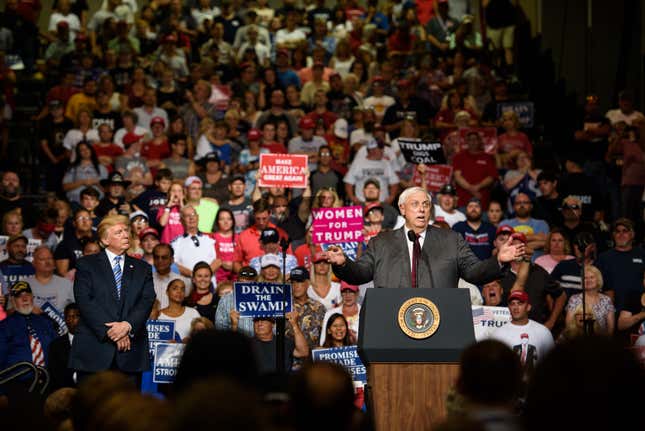 The US Department of Justice (DOJ) has filed a lawsuit against the son of West Virginia governor Jim Justice, accusing him of failing to pay more than $5 million in civil penalties and other fees related to the 13 coal companies he operates.
Should you keep investing in Big Tech?
Jay Justice took control of his father's companies after the elder Justice took office in 2017. In April, the Republican governor announced his campaign to unseat incumbent senator Joe Manchin and has looked to distance himself from the family business, putting the coal interests up for sale.

The lawsuit cited Jay Justice and the companies for racking up more than 130 violations of environmental regulations over five years, including failing to "properly dispose of non-coal waste" and to ensure a dam's "seismic stability."
"After given notice, they then failed to remedy those violations and were ordered over 50 times to cease mining activities until their violations were abated," said Christopher R. Kavanaugh, US attorney for the western district of Virginia, in a press release.
Last month, a ProPublica investigation found that the Justices' business empire, which includes farming and hospitality companies in addition to mining, was involved in over 600 lawsuits accusing it of failing to pay its bills.
The governor's office did not immediately respond to Quartz's request for a comment.
Quotable: Republican party responds to the charges
"Joe Biden's Department of Justice has gone totally rogue. Democrats weaponizing the federal government to attack the family of a Republican Senate candidate is a complete abuse of power." — Tate Mitchell, the spokesperson for the National Republican Senatorial Committee, said in a written statement.
Jim Justice: by the digits
$513.3 million: The estimated net worth of Justice, making him the richest man in West Virginia. His wealth declined from $1.2 billion in 2020.
94: Number of companies Justice owns, including resorts, farms, and coal mines.
9: Months after taking office as governor in 2017 before Justice switched his party affiliation from Democrat to Republican.
66%: Approval rating for Justice in West Virginia, scoring higher among registered Democrats than Manchin did.