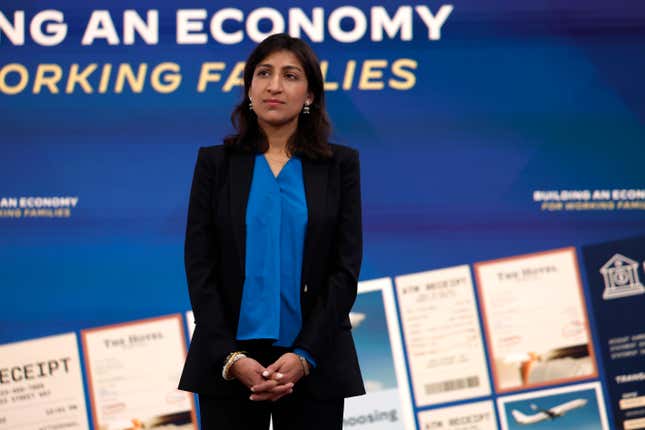 A US judge temporarily blocked Microsoft's acquisition of the popular video game company Activision Blizzard after the Federal Trade Commission (FTC) filed an injunction earlier this week seeking to halt the deal. A hearing on the injunction is scheduled for next week.
Earnings expectations for Microsoft and other tech giants
The decision by FTC chair Lina Khan is the latest move in a multiyear legal battle to block the merger of the two companies, on the grounds that it would stifle competition in the video gaming industry. The FTC first sued to stop the $68.7 billion deal last December, in a case that's scheduled to go before an administrative law judge in August.
The decision to file an injunction now allows the FTC to prevent the acquisition from closing before its July 18 deadline. In a written statement, Microsoft president Brad Smith said he's looking forward to the trial.
"We welcome the opportunity to present our case in federal court. We believe accelerating the legal process in the US will ultimately bring more choice and competition to the market," Smith maintained.
On June 12, Microsoft stock was up 1.3% after the news at market close in New York. 
The EU approved the deal last month
The European Commission approved Microsoft Corp.'s acquisition of Activision Blizzard in May. The ruling is contingent on Microsoft making concessions on access to cloud gaming, a burgeoning market that lets people play video games on any device.
Margrethe Vestager, the European Commission's executive vice president in charge of competition policy, said the ruling will improve cloud gaming across the industry.

"The commitments offered by Microsoft will enable for the first time the streaming of such games in any cloud game streaming services, enhancing competition and opportunities for growth."
The ruling came less than a month after the UK's Competition and Markets Authority rejected Microsoft's acquisition in April. Microsoft and Activision are appealing that decision after a judge last week allowed the two companies to jointly make their case to the Competition Appeal Tribunal. The appeal is expected to take place at an unspecified date in July.
Related stories:
What's next for the Microsoft-Activision deal after receiving EU approval?
Microsoft is getting ready to defend its Activision Blizzard acquisition to EU regulators
Microsoft's purchase of Activision Blizzard gives it the clear lead in the metaverse
This story was updated with the judge's decision.