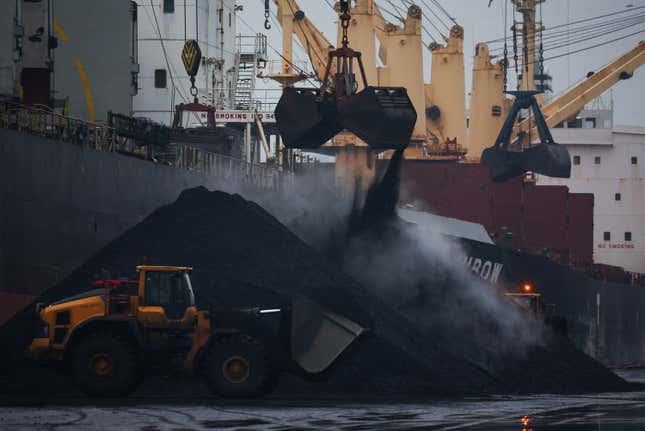 The G20 countries aren't walking the walk to match their talk about reducing fossil fuel subsidies. Quite the opposite, in fact.

Should you buy McDonald's and Caterpillar stock right now?
The volume of public money flowing into coal, oil, and gas in the world's 20 biggest economies hit a record $1.4 trillion in 2022, a new report by International Institute for Sustainable Development (IISD) revealed. Of this, a trillion went towards all sorts of subsidies—mostly for consumers.

"The 2022 energy price crisis, brought about by Russia's invasion of Ukraine, has catapulted public financial support for fossil fuels to new levels," according to IISD, a Canada-based independent think thank. To protect consumers, governments across the world took to fixing end-user tariffs or capping fuel or electricity price increases.
IISD's findings concur with a February 2023 report by the International Energy Agency (IEA), which touted record fossil fuel subsidies as a "worrying sign for energy transition." In June, a World Bank report noted that "by underpricing fossil fuels, governments not only incentivise overuse, but also perpetuate inefficient polluting technologies and entrench inequality."
Charted: Consumer fossil fuel subsidies skyrocketed in 2022
A brief timeline of G20 countries talking the talk on fossil fuel subsidies
2009: G20 nations agree that "inefficient fossil fuel subsidies encourage wasteful consumption, reduce our energy security, impede investment in clean energy sources and undermine efforts to deal with the threat of climate change" and commit to phasing them out
2015: G20 countries sign and ratify the Paris Agreement, pledging to make "finance flows consistent with a pathway toward low greenhouse gas emissions and climate-resilient development."
2021: The Glasgow Climate Pact calls on countries to scale up clean power generation and to accelerate the "phasedown of unabated coal power and phase-out of inefficient fossil fuel subsidies"
A non-exhaustive list of consumer fossil fuel subsidies across the world in 2022
🇬🇾 Guyana axed an excise tax on both diesel and gasoline.
🇵🇪 Peru decided to temporarily include a number of transport fuels in the State Fuel Price Stabilization Fund to curb the rise in their prices.
🇹🇭 Thailand introduced a price cap of 30 baht (USD 0.85) per litre of diesel.
🇪🇺 The European Union agreed to a gas price cap for the the 27-country bloc.
🇧🇪 Belgium dispersed 57 million euros ($62 million) in subsidies to households struggling to pay gas and electricity bills.
🇩🇪 Germany offered a one-off energy tax-relief payment of €300 ($330), as well as a three-month reduction in the tax on fuel.
Quotable: G20 countries drive fossil fuel crises
"This support perpetuates the world's reliance on fossil fuels, paving the way for yet more energy crises due to market volatility and geopolitical security risks. It also severely limits the possibilities of achieving climate objectives set by the Paris Agreement by incentivizing greenhouse gas (GHG) emissions while undermining the cost-competitiveness of clean energy. G20 governments need to shift their financial resources away from fossil fuels to instead provide targeted, sustainable support for social protection and the scaling-up of clean energy. Maintaining fossil fuel prices that reflect the cost these fuels impose on society will be necessary to reduce fossil fuel use."
One big (but still small) number: Renewable energy subsidies
$265 billion: The total sum of subsidies that G20 countries announced for renewable power generation between 2020 and June 2023.
Country of interest: India
India, the current G20 chair, has markedly reduced its support for fossil fuels, with subsidies for coal, gas, and oil dropping by 74% between 2014 and 2022. Meanwhile, subsidies for renewable energy rose. The Indian Renewable Energy Development Agency (IREDA), the largest government financier of renewable energy, increased its lending to clean energy projects by 64% year-on-year.
In absolute terms, though, funding is still tipped heavily in favor of fossil fuels in the world's most populous country. At 60,316 crore rupees ($7.3 billion), these funds are more than four times the subsidies for renewables and electric vehicles at Rs13,887 crore ($1.7 billion).
Related stories

🚫 Want to cut global emissions by 10%? Stop fossil-fuel subsidies
🛢️ India's taxes and subsidies threaten clean energy growth in the country
🇮🇳 These are the countries spending the most to prop up fossil-fuel production