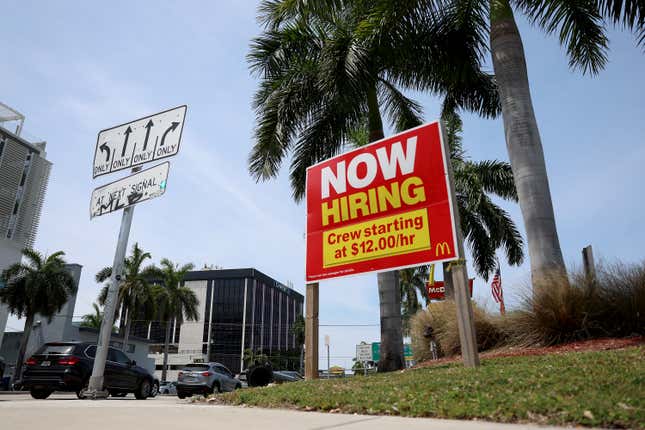 The US economy added 187,000 jobs in August, according to new data from the Labor Department, while the unemployment rate ticked up slightly from 3.5% to 3.8%. While that's the highest unemployment rate since February 2022, it doesn't tell the whole story.
Earnings expectations for Microsoft and other tech giants
In the last month, 736,000 people began looking for work, the largest single influx of job-seekers since January of this year. This increase in the labor force participation rate—the percentage of Americans who are either employed or actively looking for a job—is responsible for the higher unemployment rate, as that metric only includes Americans actively looking for work.
With this increase in job-seekers, the participation rate now sits at 62.8%, the highest since February 2020, or just before the covid-19 pandemic brought the American economy to a standstill. And if you just count so-called "prime-age" workers (those between the ages of 25 and 54), the participation rate is the highest it has been in more than two decades.

Surely the jobs market is showing signs of a cooldown. Since June, the US economy has added 449,000 jobs, the lowest three-month total since 2020. Meanwhile, wage growth slowed, with average hourly earnings increasing by just 0.2% in August. But there actually was an increase in the number of employed Americans overall—only now there are more people looking for work.
Charted: The US labor participation rate returns to pre-pandemic levels

A high participation rate is a good sign for the economy
All of this is good news for the economy. The moderation in wages suggests the Fed's interest rate hikes are preventing the economy from overheating, while the current pace of job growth—roughly 150,000 new jobs a month—suggests the labor market should be able to absorb an increase in the participation rate without a dramatic increase in unemployment.
In the pandemic, the number of people actively seeking work dropped precipitously, reflective of the extreme circumstances and the related economic downturn. The recovery in the participation rate demonstrates progress in the accessibility of the job market and the strength of the overall economy. The increase is also likely a sign that the labor shortage that plagued American businesses in 2021 and 2022 has eased.
This combination of factors—more people seeking work combined with cooling wage growth—makes it more likely the inflation rate will continue to decline. This could, in turn, encourage the Federal Reserve to hold off on another increase in interest rates at its next policy meeting later this month.

Related stories
💰Janet Yellen's Treasury Department found that joining a union is among the most effective ways to get a raise
🏦 The Fed has gone back to having a dual mandate
🥶 The US labor market cooled in July, keeping a soft landing in sight