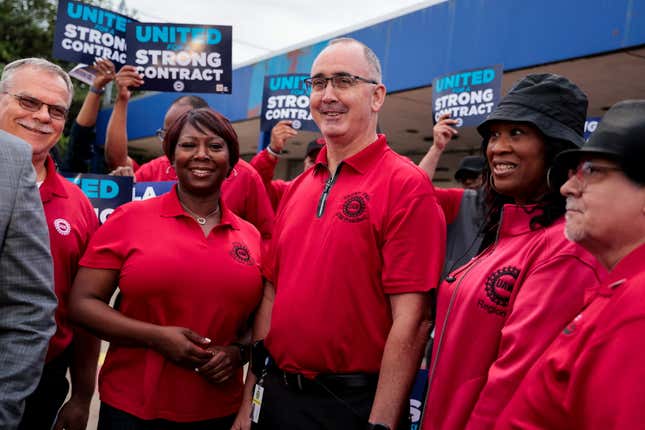 US Treasury secretary Janet Yellen hailed unions as a solution for stagnant middle-class wages during a press call with vice president Kamala Harris on Monday (Aug. 28).
Should you keep investing in Big Tech?
The call came right after the release of a report by the US Department of the Treasury finding that the median American union worker earns 20% more than their non-union counterpart.
"Union workers have been the backbone of America's middle class, and yet for too long, the contributions of union workers have not been fully appreciated," Yellen said during the call, adding that they have greater access to benefits like retirement funds and life insurance.
The Treasury report also found that unions "fuel equality," increasing wages across all demographic groups, while undercutting race and gender wage gaps by helping enforce anti-discrimination practices.
The endorsement of Big Labor comes amid an uptick in labor activity this summer, including ongoing strikes by by the Screen Actors Guild and the Writers Guild of America, as well as a narrowly avoided strike at the United Postal Service. Still, US union membership is at its lowest since the Great Depression.
Declining union membership drives income inequality

Quotable: Yellen also touted the holistic benefits of union membership
"Unions also impact personnel practices, bringing about better workplace grievance systems and improved workplace safety. I began my career as a labor economist, and I've found in my own academic work that these non-monetary factors are a key driver of job satisfaction. They are also critically important to workers' well-being."

—Treasury secretary Yellen, during her call with vice-president Harris
UAW votes to authorize a strike against US automakers
The study was published days after the United Auto Workers (UAW) voted overwhelmingly to authorize a strike against General Motors, Ford Motors, and Stellantis if negotiations for a new contract fail by Sept. 14.
One of the largest unions in the US—with more than 391,000 active members across the industry—the UAW has demanded a 46% wage increase, a 32-hour workweek, and more health benefits for retired workers. The union represents roughly 100,000 workers at the three automakers where a strike is possible.
"Our goal is not to strike. I want to make that very clear. Our goal is to bargain good agreements for our members," Shawn Fain, the president of the UAW and an electrician, said on Friday (Aug. 25) during a Facebook livestream. "But all we've tried to do with this is prepare everybody in the event that we have to take action to get a fair and just contract."

The same day, US president Joe Biden (who has described himself as the most "pro-union" president ever) told reporters he was "concerned" about the potential strike. The White House has signaled its strong support for unions, despite fears that a major strike could interrupt the recent string of positive economic developments during an election year.
Related stories:
📉 US union membership is at its lowest level since the Great Depression
🇨🇳 Everything on Janet Yellen's "God of Money" restaurant menu in Beijing
💸 Welcome to the age of the fully data-dependent Federal Reserve