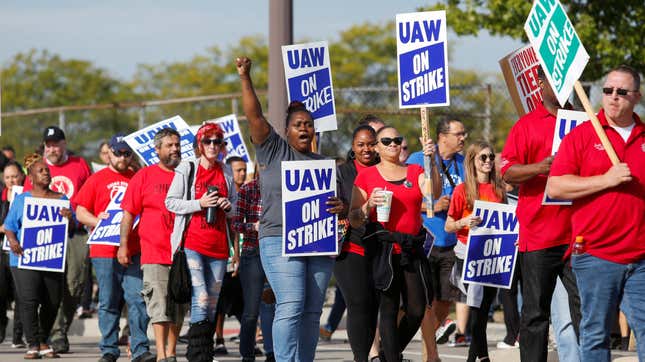 With a strike deadline looming this week, the United Auto Workers (UAW) union has softened its stance on its pay raise demand for the first time.
Why a tightening of credit conditions could lead to a weak economy
For the past two months, the union representing more than 150,000 workers of the Big Three Detroit carmakers—General Motors, Ford, and Stellantis—has been adamant about a cumulative 40% pay increase over the next five years in its contract talks. But over the weekend, it budged and lowered the demand to a raise in the mid-30% range instead.
Earlier, the union was demanding a 20% immediate bump, and an additional 5% in each successive year of the contract. Now the union is ready to accept an offer of an 18% boost in the first year and then alternates between 5% and 4% annually over the subsequent years, Bloomberg reported, citing two anonymous sources.

For unions, it has been a summer of wins, what with the Teamsters at UPS and pilots at American Airlines ratifying contracts with significantly higher pay. In the automotive industry, though, the gap between the negotiators on either side of the table remains large. Automakers, who argue that a massive hike in labor costs isn't viable, have previously offered raises of between 10% and 15%.
Shawn Fain, the president of UAW and the first to be thus appointed by a member vote in March, has been vociferous in turning down offers, calling out "corporate greed" on Facebook Live streams with a trash can labeled "Big Three Proposals" behind him. After the worker contracts expire at midnight on Thursday (Sep. 14), some or all members of the UAW could strike, Fain has warned. "Things are moving but they're moving very slow and we've got a long way to go in four days," he said on Sunday (Sep. 10).
A prolonged strike would not only bring the three vehicle manufacturers to their knees, but parts makers and raw material suppliers would also see their revenues drop. Eventually, steel plants and component factories could be forced to idle, pushing prices up

Quotable: "Record profits mean record contracts"
"I know that our demands are ambitious, but I've told the companies repeatedly, I'm not the reason that members' expectations are so high. What's driving members' expectations are the Big Three's profits. You cannot make $21 billion in profits in half a year and expect members to take a mediocre contract. You can't make a quarter trillion dollars in North American profits over the last decade and expect us to keep aiming low and settling lower. Our campaign slogan is simple: record profits mean record contracts."
By the digits: The impact of a UAW strike
3%: The share of gross domestic product that the automotive sector contributes in the US
Nearly half: How many of the light vehicles manufactured in the US are produced by UAW workers, according to GlobalData
$18-32: The hourly wages at the Big Three automakers, depending on seniority, according to UAW. If they had kept pace with inflation since 2007, starting wages would be $10 higher than what they are, according to UAW

$80 billion: The margin by which UAW's demands would drive up costs for the automakers over four years, with pension costs and retiree health care benefits accounting for the majority of it
107 days: The available inventory of Ram 1500 trucks, produced by Stellantis. The Ford F-150 is at 98 days' supply, and GM has about 80 days' worth of Chevrolet Silverado and GMC Sierra trucks. They will last for just a few weeks into a full-blown strike
6 years: The time necessary for permanent auto workers to reach the top wage bracket, down from eight years
More than $5 billion: How much even a 10-day work stoppage by UAW workers would shave off the US GDP, according to Anderson Economic Group. "When the UAW went on strike against GM in 2019, Michigan experienced a single quarter recession," Patrick Anderson, the chairman of AEG, said about that six-week strike involving 48,000 workers at 50-plus plants. This time, the strike would likely be way bigger. Moreover, automakers are already grappling with the aftermath of the pandemic and semiconductor supply constraints, and have only "about one-fifth of the inventory that was on hand in 2019," Anderson said, adding that, "a strike in current conditions would likely affect dealers and customers much sooner." Some models would become more scarce, and prices would likely be pushed up.
99%: The chances of a UAW strike, according to Art Wheaton, director of labor studies at Cornell University's School of Industrial and Labor Relations in Buffalo
UAW's demands from Detroit's Big Three automakers
Besides the big double-digit pay raises, UAW is also wangling other benefits and workplace conditions, including:
🪜 Eliminating workers' tiers, which results in lower compensation for many new workers
💰 Restoring Cost of Living Adjustments (COLA), which pegs a worker's wage to the Bureau of Labor Statistics' cost-of-living index
✊ Bringing back defined benefit pension and re-establishing retiree medical benefits, which both went away in 2007
💸 A new "working family protection program," which would require automakers that close a factory to continue paying workers to do community work
🏭 Allowing the right to strike over plant closures
👴 Boosting pension payments
🏝️ Giving workers more paid time off. Fawn even proposed a 32-hour work week, with overtime for anything more
Biden's balancing act
Joe Biden, who claims to be one of the most "pro-union" presidents in the history of the US, personally met Fain at the White House in July. On Labor Day, the president said he thought a strike would be avoided.
But the Biden administration is struggling to walk the walk on one particular complication: the transition to EVs. It has s tried to alleviate some of the burden by doling out $15.5 billion in funding and loans, most of which will be dedicated to converting existing auto factories to EV production lines s and retraining workers. But since the legacy carmakers' transition to EVs is happening through separate entities, the UAW union worries that many of the jobs being created in EV plants—incentivized by Biden's tax credits—are nonunion jobs.
"Our union isn't going to stand by while we replace oil barons with battery barons who are more than happy to take billions in taxpayer handouts while offering workers dangerous jobs at poverty wages," Fain said earlier this month.
Related stories
🏨 California hotel employees started the largest ever hospitality strike in US history
📈 The growing US labor movement in 3 charts