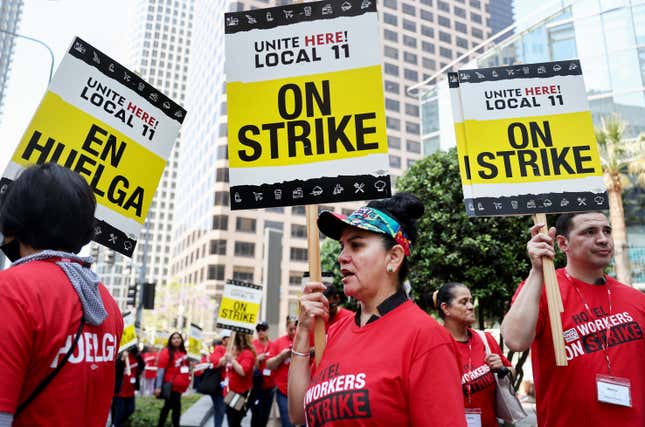 Thousands of hotel workers walked off their jobs in Southern California on Sunday (July 2), in a labor action the United Here Local 11 union has dubbed the biggest strike in the history of the US hospitality industry.
Why a tightening of credit conditions could lead to a weak economy
The union—representing 32,000 workers at more than 60 hotels in the state—voted overwhelmingly last month to strike during the busy July Fourth weekend. Its action aims to pressure management to increase pay and benefits.
The strike affects about 15,000 employees, including cooks, room attendants, dishwashers, and front desk workers.
50 years of declining strikes in America
"Our members were devastated first by the pandemic, and now by the greed of their bosses," Kurt Petersen, co-president of Unite Here Local 11, told the Los Angeles Times. "The industry got bailouts while we got cuts. Now, the hotel negotiators decided to take a four-day holiday instead of negotiating. Shameful."

The union is demanding an immediate $5 hourly wage hike, plus a $3 annual increase for the next three years. Southern California has seen some of the sharpest cost-of-living spikes in the nation during the past few years.
A lawyer representing the affected hotels confirmed that they will stay open for guests.
How busy is July Fourth weekend? By the digits
51 million: Americans expected to travel more than 60 miles (100 kilometers) over the July Fourth weekend, according to AAA.
3.7%: Increase in travelers from last year.
30%: Average increase in travel times for the 43 million people who plan to drive.
Related stories:
📈 The growing US labor movement in 3 charts
🚄 Unions reach a tentative deal, averting major rail strike
🦖 American labor-union strikes are almost completely extinct