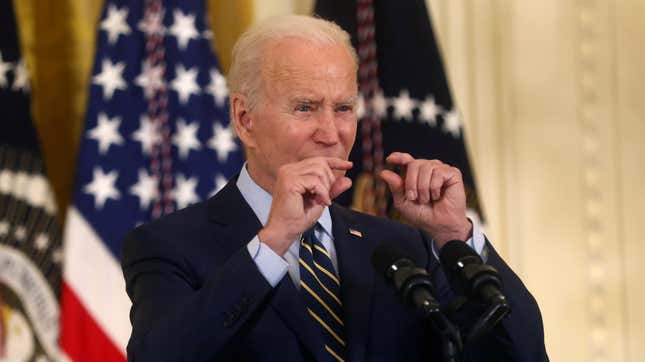 For decades, Americans have paid more for prescription drugs than any other major economy. This, while the pharmaceutical industry rakes in record profits. For almost 20 years, the democratic agenda has sought to lower these prices. Finally, they've got the ball rolling.

Why a tightening of credit conditions could lead to a weak economy
The Biden Administration yesterday (Aug. 29) picked the first 10 prescription drugs for which it'll negotiate the prices. The drugs were chosen from the top 50 Part D drugs that are eligible for negotiation that have the highest total expenditures in Medicare.
Drug companies have until Oct. 1 to decide if they'll participate in the bargaining, which is scheduled for this year. Negotiated prices are set to be announced by September 2024 to go into effect on Jan. 1, 2026.
Charted: 10 prescription drug prices up for negotiation

Why the US is only now negotiating drug prices
The US has not exercised its leverage on buying drugs until now, mostly because of fierce resistance from Big Pharma, trade groups, and Republicans. The drug price negotiation program, part of Biden's signature Inflation Reduction Act (IRA), hasn't been immune to backlash either.
Drugmakers like Johnson & Johnson, Merck & Co, and AstraZeneca have sued the government, claiming negotiations will get in the way of the development of new drugs. A lawsuit by industry group Pharmaceutical Research and Manufacturers of America, known as PhRMA, concurred that it'll curtail company profits and restrict research and innovation. Firms like Alynylam, Novartis, and Genentech have already slowed or paused research on some treatments.
The US Chamber of Commerce, which says that the "artificial and arbitrary system for devising price caps" will "jeopardize medical breakthroughs," has also questioned the constitutionality of the program in its litigation. The pro-business organization claims the IRA violates the First and Fifth Amendments—the former because it coerces manufacturers into agreeing into a price imposed by the government, and the latter mandates no "private property be taken for public use, without just compensation."
Quotable: Biden administration continues push to lower prescription drug prices
"Let me be clear: I am not backing down. There is no reason why Americans should be forced to pay more than any developed nation for life-saving prescriptions just to pad Big Pharma's pockets. For many Americans, the cost of one drug is the difference between life and death, dignity and dependence, hope and fear. That is why we will continue the fight to lower healthcare costs—and we will not stop until we finish the job."
Savings from drug price negotiations, by the digits

9 million: Seniors who'll see prices on negotiated drugs drop, according to the White House
$6,497: The upper threshold for how much these seniors pay in out-of-pocket costs per year for these prescriptions at the moment
$160 billion: Taxpayers' money saved by reducing how much Medicare pays for drugs through negotiation and inflation rebates, as per the nonpartisan Congressional Budget Office (CBO)
$35: Cap on monthly cost of insulin for seniors on Medicare as of January. Eli Lilly, the largest manufacturer of insulin in the US, implemented the same cap in March for out-of-pocket payments by all patients. Within weeks, Novo Nordisk and Sanofi joined
8: Lawsuits Big Pharma has already filed against the Biden administration, the latest filed by AstraZeneca on Friday (Aug. 25)
95%: Excise tax manufacturers that refuse to participate in the negotiations could face, or they can withdraw their drugs from Medicare and Medicaid coverage
8%: Expected decline in federal spending in 2031 as a result of negotiations of average drug prices for prescription drugs accessible at pharmacies, as per the CBO
Related stories

💊 The price of Humira's biosimilars can uncloak the secret villain of US drug pricing
🚨 Why is the US in a drug shortage emergency?