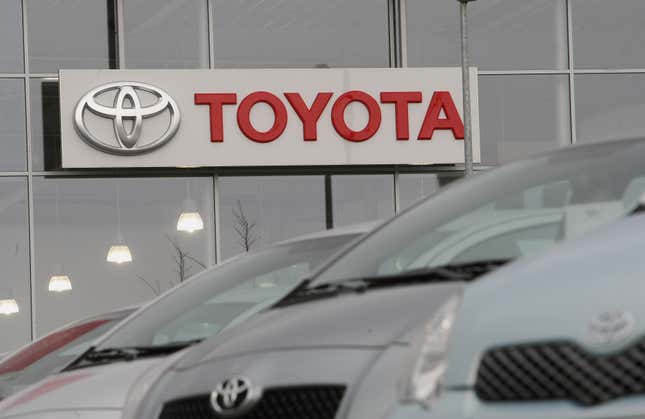 Toyota is bringing back the iconic Land Cruiser—a super-sized SUV—to the American market, two years after pulling the model following declining domestic sales. The company's decision to revamp the combustion-engine powered car, comes just months after Toyota president Akio Toyoda announced a hard pivot to electric vehicles (EV), including manufacturing its own line of solid-state batteries.
Should you keep investing in Big Tech?
Details about the new 2023 model are expected to be announced at an event on Aug. 1, with the company releasing a brief video of the car on social media. The Land Cruiser is one of Toyota's oldest brands and is known as a rugged vehicle meant for off-road exploration.
Toyota has been criticized, by environmentalists and shareholders alike, for arriving late to battery-powered cars. Now—even after new federal tax breaks make EVs more desirable for consumers—the reintroduction of the Land Cruiser shows that Toyota thinks Americans aren't done with their gas-powered history.
The Land Cruiser's history, by the digits
1951: The year production began on Land Cruiser. The car was conceptualized as a Japanese version of the Jeep for Japan's national police reserve.
13.3%: Share of Land Cruiser's total historical sales in Australia. Toyota confirmed that Oceania is the region with the highest sales of the Land Cruiser.
10 million: Total number of Land Cruisers sold by 2019, a major milestone first hit by the Ford Model T in 1924.
3,000: Number of annual units sold in the US prior to the Land Cruiser's discontinuation in 2021.
$87,030: US sticker price of a new Land Cruiser in 2021.
Americans really love big cars
In the US market, bigger is almost always better. From Big Macs all the way to McMansions, American consumers have reliably demonstrated a preference for super-sized options, and the return of the Land Cruiser is no different.
Massive SUVs and pickup trucks dominate American roads. The average length of US car is 14.7 feet, with the supersized 2023 Ford Super Duty pickup truck measuring 22.2 ft. Even the EVs are big. The Tesla Model X measures 6.6 ft from side mirror to side mirror.
And American cars are just getting bigger. For example, the current model of the RAV4, a popular Toyota SUV, is 34% bigger than it was in the 1990s. The Toyota Camry, a sedan, has grown by 21% since it was introduced in the 1990s.
Related stories:
🖥️ Toyota has been accidentally sharing personal data for millions of Japanese users over the last decade
💰 Toyota and Honda announce broad raises for Japanese workers
🚗 Even Toyota seemed to know that the Taliban would take Kabul