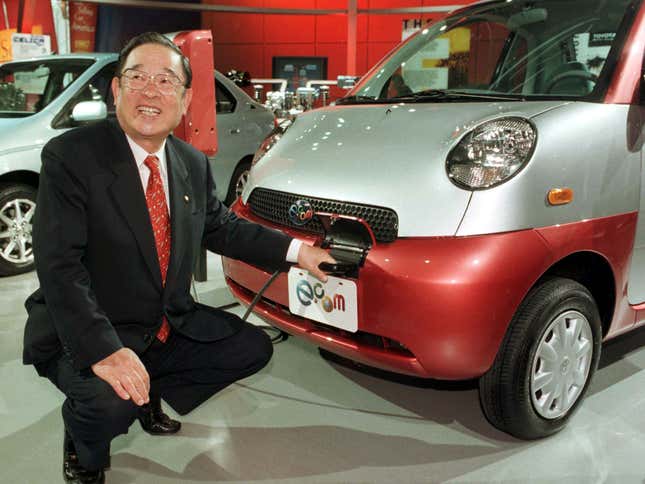 Japanese carmaker Toyota has announced what it calls a "technological breakthrough" in battery innovation for its electric vehicle (EV) division, despite falling out of favor in recent years with customers due to its hesitancy to invest in green mobility.

Why a tightening of credit conditions could lead to a weak economy
The president of the company's research and development center, Keiji Kaita, said on July 3 that, by deploying its solid-state battery technology, "we are aiming to drastically change the situation where current batteries are too big, heavy and expensive."
However, this claim, coupled with another one in June that its vehicles could drive for close to 1,500kms on just a 10-minute—or less—battery charge, need to be taken with caution. "We're striving to achieve a 20% improvement in cruising range and a quick charge time of approximately 10 minutes," A Toyota spokesperson told Quartz on July 7. "We are currently developing a method for mass production, aiming for commercialization in the next five years."
But has this battery tech been tested? If yes, what were the results? The spokesperson responded: "We have made a few public announcements on the technology, such as here, but outside of that we cannot comment on other specifics of our research and development."
Toyota's poor EV record
These new advances are noteworthy innovations that boost battery performance, improve the driving range, and cut costs of future electric vehicles, but Toyota's previous problems with its cars could prove a weakness in convincing the public on the reliability of its latest product.
On June 28, the UK's advertising watchdog Advertising Standards Authority banned both Toyota's and Hyundai's ads for misleading consumers and exaggerating the speed at which their electric cars could be charged. Toyota, in particular, claimed its EVs could be charged to 80% in about 30 minutes using a 150kW fast-charging system. It also failed to indicate the precise locations of its EV chargers despite claiming that it had 419 charging across the UK.
Last September, Greenpeace, an independent environmental campaigning organization, ranked Toyota at the bottom of a study of 10 automakers' decarbonization efforts, citing slow progress in its production of zero-emission vehicles. In March, Greenpeace Australia doubled down on Toyota, asking the country's consumer watchdog to probe whether the carmaker's environmental claims were misleading or deceptive. Toyota rejected the allegations.
In the past, the motor vehicle company has also suffered a series of missteps—including on its pioneering EV—that might leave potential customers with mixed feelings regarding its automobiles' efficiency.
Toyota unveiled its first electric SUV, the bZ4X, in April 2022 in the US. Barely two months after its launch, the company recalled 2,700 units of the bZ4X due to the potential of their wheels falling off. The automaker revealed that the recall affected 2,200 vehicles headed for Europe, 260 to the US, 110 in Japan, and 20 to Canada. Most of the vehicles had not been delivered yet to the customers at the time of the recall.
Some of Toyota's cars failed to meet safety standards
Also in April 2022, the company recalled 460,000 of its vehicles in the US due to a stability control issue as it sought to fix a software problem that inadvertently disabled the vehicles' electronic stability control system. The recall affected 10 Toyota car models.
On May 30, the automaker again recalled certain 2022 and 2023 Corolla Cross models. These are not EVs but the recall nonetheless dented the company's credibility. "The front passenger airbag in the subject vehicles may not deploy as designed due to a manufacturing error," Toyota said in a statement. Roughly 96,000 vehicles were recalled in the US alone. The vehicles could, therefore, not meet federal safety requirements, and in turn, could lead to increased injury risks during a crash.
NOTE: This story was updated to include comments from Toyota.