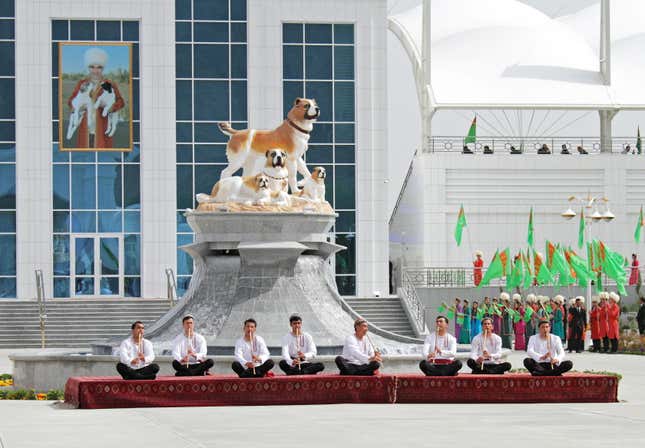 Turkmenistan's strongman leader, who has already penned a song dedicated to his favorite horse, is now building a city in his own name.
Carin Pai, Part 2: Reasons to de-risk your portfolio
State officials announced today (March 29) that Turkmenistan will spend close to $5 billion to build a new city called Arkadag, or "protector," in honor of its former president of 16 years, Gurbanguly Berdymukhamedov, who goes by the same moniker.
The first phase of the project is expected to cost $3.3 billion, while the second phase, which is currently underway (link in Russian), will require an estimated $1.5 billion. The project was initially announced in 2020 amid national cuts to social spending, and was given a relatively conservative price tag of $1.5 billion.
The city, where construction began in 2019, is located 30 km (18 miles) to the southwest of the Central Asian country's capital Ashgabat. In December 2022, it was declared the new capital of Ahal Province, replacing the former capital of Anau. The province, which borders Iraq and Afghanistan, has long been the seat of power for the country's elites and the Berdymukhamedov family.
According to French news agency Agence France Presse, Berdymukhamedov declared his desire for the city to qualify for the Guinness Book of World Records, though it's not clear for what title. Turkmenistan currently holds several world records including largest indoor ferris wheel, highest density of buildings clad in marble, and largest horse-shaped building.
Turkmenistan's mega-projects, by the digits
73,000: Expected population size of Arkadag, which is being built in a high hazard seismic zone
$2.3 billion: Cost to build Potemkin Airport, which has the capacity to serve 17 million passengers annually, though only about 100,000 people visit Turkmenistan each year
$4.8 billion: Total estimated cost of Arkadag's construction, increased from an estimated $1.5 billion in 2020
$5 billion: Amount Turkmenistan spent building an Olympic Village as the host of the 5th Asian Indoor and Martial Arts Games, which ran from Sept. 17-27, 2017
$40.8 billion: Turkmenistan's GDP, according to the World Bank
<2%: Portion of Turkmenistan's GDP spent on health and education, according to a BTI Transformation Index report
Who is the leader of Turkmenistan?
The building of Arkadag has come amid broader power shifts in Turkmenistan, an authoritarian state where the economy relies heavily on petroleum gas exports.
Last year, Berdymukhamedov the senior relinquished his presidential seat after 16 years in power, and was succeeded by his 41-year-old son, Serdar Berdymukhamedov. This type of family succession was considered a first for a former Soviet Republic in Central Asia.
The former president has since changed the constitution, abolishing the country's bicameral legislature which was established in 2020. He was appointed by his son as chairman of a newly reformed People's Council of Turkmenistan, which state media declared the "highest power" in the country.
Related stories
🌆 In Neom, Western executives have found their LIV golf league
✈️ There's a proposal to rename Manila's airport after the country's deadliest dictator
💪 The redefinition of masculinity is playing out in the fight between Zelenskyy and Putin