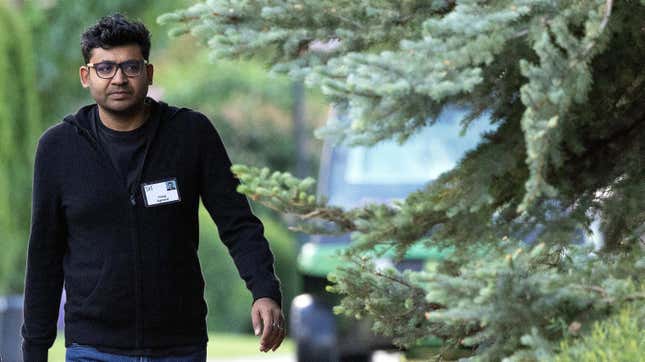 Twitter owes three former executives more than $1 million in legal fees, according to a lawsuit filed with the Delaware Court of Chancery.

Parag Agrawal, Vijaya Gadde, and Ned Segal complained the company has not paid them back for "significant expenses, including but not limited to attorneys fees and costs" that they incurred in connection with several proceedings they face by virtue of their former roles.

According to the lawsuit, Twitter agreed to indemnify the execs but failed to uphold those agreements. But even two months after they demanded payment in writing, Twitter offered "a cursory acknowledgement of receipt, but still refused to acknowledge its obligations and to remit payment of any invoices."

Who are the executives suing Twitter?
👨🏽 Parag Agrawal joined a large crop of Indian-origin CEOs at major Silicon Valley giants at the top when he was named chief executive officer in November 2021. He bagged the top post after several years of climbing the ranks through the company. Most of his eleven-month stint was spent in a will-he-won't-he limbo of Elon Musk buying Twitter, which kept him from getting any real work done. And when Musk did, he showed Agrawal the door immediately.
👩🏽 Vijaya Gadde, the former chief legal officer, was with Twitter for more than a decade. Soon after joining in 2011, she became known as the company's "moral authority," but she was ousted when Musk took the reins in October 2022. Gadde was reportedly the one who led the process of booting Donald Trump off the platform.
👨🏻 Ned Segal served as the chief finance officer from 2017 to 2022. In his parting Twitter thread, Segal said the last six months have "pulled on every mental muscle I've developed in 48 years," referring to the period where Musk went from joining Twitter's board to buying the company to running away from the deal to making a U-turn on the decision to turn away.
What legal fees are Agrawal, Gadde and Segal facing from their time at Twitter?
Agrawal, Gadde, and Segal are embroiled in several proceedings as officers of the microblogging company, for which they have retained counsel and consequently incurred expenses such as attorney fees.
👨🏽👩🏽👨🏻: All three are defendants are named in the class action securities lawsuit Baker v. Twitter filed on Sept. 14, 2022. California Central District Court. Revelations made by Twitter's former head of security (turned whistleblower) Peiter 'Mudge' Zatko suggested investors have been harmed by security vulnerabilities and attempts to conceal them.
👨🏽👨🏻: While still working as officers of Twitter, Agrawal and Segal provided testimony to federal authorities as part of the 2022 Securities and Exchanges Commission probe and the ongoing Department of Justice inquiries into the company. Additionally, Agrawal received requests before and after he left Twitter to take measures to preserve certain documents relating to his prior service as an officer of Twitter.
👩🏽: Gadde is a defendant, alongside the company, in D'Ambly v. Exoo, where a right-wing activist claimed he was fired from the New York Daily News after a left-wing activist doxxed him on Twitter.
👩🏽: Gadde received a subpoena from the House Committee on Oversight and Accountability of the 118th Congress to testify at a public hearing before Congress. She testified in February.
Will the Twitter executives' lawsuit lead to a trial?
No. The Delaware Court of Chancery is a non-jury trial court that serves as the arbiter of corporate conflicts and fiduciary disputes and equity matters. It's one of only three states with a separate chancery court, and is considered the premiere corporate trial court in the country.
There's a reason the case is being fought in the small mid-Atlantic state which has more corporations—upwards of 1 million—than people living there. Like most Fortune 500 countries, and companies traded on the two New York Stock Exchange and NASDAQ, Twitter is also a Delaware corporation.
Part of the "Delaware advantage" revolves around the court, whose appeal lies not just in the no-jury system and the corporate law skills of its five judges—avoiding the need to educate an uninformed jury—but in the state's law itself, according to Sam Glasscock, the court's vice chancellor. Under its guiding business judgment rule, the court tends not to second-guess business decisions that company leaders determine to be in the best interest of the stockholders.
Related stories
⚰️ Parag Agrawal's career as Twitter CEO could be over before it really began
💼 Elon Musk should remember that no one stays in charge of Twitter for long
🔪 An Indian-born female Twitter executive received a barrage of abuse following a Musk tweet