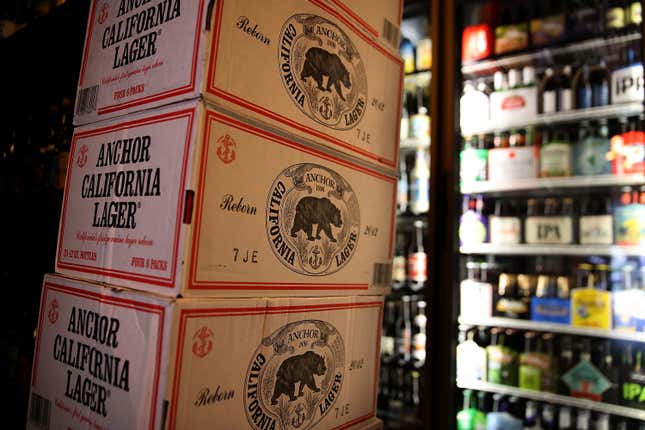 Anchor Brewing Co.—the oldest craft brewery in the US—has announced that it's open to a takeover bid from its unionized staff, after declaring bankruptcy earlier this month. The union confirmed its interest in an acquisition, saying it's raising money for the purchase.

Should you keep investing in Big Tech?
"Overwhelmed with the responses for help. We are working behind the scenes to try and figure out the best possible way to raise funds and actually do this," the Anchor Union tweeted on Saturday (July 22). "Things are moving extremely fast, and we have professionals working on this with us."
The San Francisco–based brewery was sold to its current owner, Japanese beer giant Sapporo, in 2017, and previously sold to Skyy Vodka executives by longtime owner Frederick Louis Maytag III in 2010. Maytag had bought the company in 1965 to prevent it from going out of business.
The union, which was formed in 2018, has publicly blamed the bankruptcy filing on mismanagement by Sapporo.
In an interview with VinePair, employees accused the Japanese company of attempting to use the brewery to make rice-based Sapporo beer, something the small-scale, steam-beer-style operation wasn't equipped for.
Craft beer is surprisingly popular
The interest in saving Anchor is part of a surprising trend in the age of corporate consolidation: Craft brewing's popularity keeps growing.
In 1993, there were just 446 breweries in the US. Three decades later, there are 9,709. Driving that astronomical growth was the proliferation of microbreweries—small outfits that make and sell craft beers—whose ranks swelled more than tenfold in the same period.
US craft beer sales hit $26.8 billion in 2021, an 8% annual increase, with the sector making up about 27% of the $100 billion domestic beer market.
Related stories:
🍺 America's oldest craft brewery has poured its last beer
🍺 How Mexican-imported beer helped Cinco De Mayo become an American holiday
🍺 The price of beer at Oktoberfest completely defies economic logic