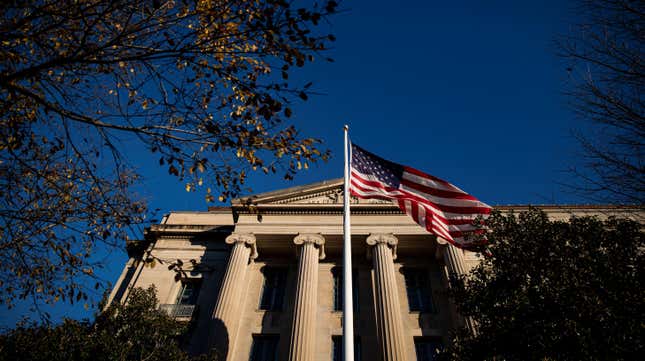 New data from Bloomberg shows that bankruptcies for companies with over $50 million in liabilities are approaching levels seen during the 2008 and 2020 recessions, as leveraged companies feel the bite of higher interest rates.

Should you keep investing in Big Tech?
"The Fed has raised interest rates significantly since March of 2022 and, as a result, highly leveraged companies are now beginning to be negatively impacted," Torsten Sløk, chief economist at Apollo Global Management, said in an email to Quartz. "With Fed Chair Powell saying that interest rates will stay at current levels for a couple of years we should expect default rates to continue to move higher."
The US government considers any failing company with more than $50 million in liabilities to be a large bankruptcy filing. Here's a look at some recent corporate bankruptcies in that category:
🚗⚡ Lordstown Motors, a maker of electric vehicles, has declared bankruptcy and is seeking legal action against its major investor, Foxconn, for insufficient funding. Lordstown needs a buyer to scoop up its remaining electric vehicles.
🏠💸 PeerStreet, a real estate investing company, just went belly up. The company blamed tough times in both the mortgage and the venture markets, and plans to sell its home loans and technology assets.
👨‍⚕️🪡 Surgical device maker Surgalign filed for bankruptcy this week and is selling all of its assets at auction after it had announced a failed attempt to reposition itself as a digital spine surgery business after agreeing to sell its two orthopedic product lines. The company made the announcement along with layoffs and getting rid of its chief commercial officer role.
🫕🍳 Private equity-owned Instant Brands, maker of the famous Instant Pot and Pyrex, also filed for bankruptcy in June. The company was straddled with $391 million in debt owed to non-bank lenders that charge higher interest rates than commercial banks.

There's some hope for debt-strapped firms

Earlier this month, Barclays Plc analysts noted that "extend and amend" activity in leveraged loans hit a new record. As businesses run into trouble paying back their loans, bankers and accountants are getting more creative with refinancing to allow these companies to continue operating.
Total bankruptcies are still well below pre-pandemic levels, noted Ed Flynn, a consultant with the American Bankruptcy Institute. This is largely driven by a low level of individual bankruptcies, as the labor market remains tight. However, Flynn tracks bankruptcies for companies with $100 million in liabilities, and found declarations in that category are triple what they were this time last year.
The mix of bankruptcy cases this year is also diverse, and includes real estate, retail, pharmaceutical, and crypto companies. Most of the large Chapter 11 cases end up in reorganization versus the business disappearing altogether, Flynn added.
Nevertheless, the increase in corporate bankruptcies does add to recession fears. Fortunately, the overall US economy is still strong while inflation has eased considerably, but whether or not companies can weather higher rates through the end of 2023 remains to be seen.