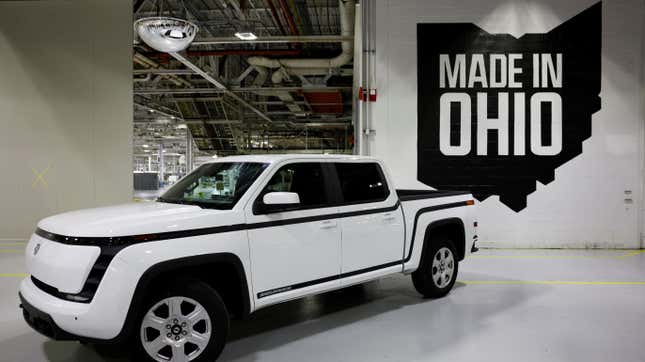 Lordstown Motors filed for Chapter 11 protection in Delaware yesterday (June 26) after a promised round of investment from Foxconn, the world's largest contract electronics manufacturer, fell through. In tandem, Lordstown sued Foxconn, blaming the Taiwanese company for its financial travails.

Should you buy McDonald's and Caterpillar stock right now?
In a press release, Lordstown, an electric truck manufacturer based in the Ohio town of the same name, accused Foxconn of "fraud and willful and consistent failure to live up to its commercial and financial commitments to the company...[which] led to material damage to the company as well as its future prospects."

Following the move to restructure under Chapter 11, Lordstown put its entire business up for sale, including its on-the-road Endurance, an all-electric pickup truck, the intellectual property associated with the truck, as well as the platform and people that developed it.
Lordstown also filed a series of customary "first-day" motions to continue operating its business and uphold its commitments to stakeholders during the bankruptcy resolution. The company said it has enough cash for day-to-day operations and is debt-free.
By the digits: Foxconn's Lordstown investment
$230 million: The sum for which Lordstown agreed to sell its facility to Foxconn in 2021. The agreement was to exclude certain assets, such as the hub motor assembly line and battery module and pack lines.

Up to $170 million: The amount that Foxconn was supposed to invest in Lordstown
$52.7 million: How much Foxconn had previously invested in Lordstown
8.4%: The ownership stake that Foxconn currently holds in Lordstown
10%: The share of Lordstown's class A stock that Foxconn was mean to purchase, for $47.3 million
6.2 million: In square feet, the size of Lordstown's factory
A brief explanation of the Lordstown-Foxconn deal-gone-sour
In November 2021, Lordstown and Foxconn agreed to cooperate on a new, scalable vehicle development platform. In exchange for Foxconn's knowhow, Lordstown, which was beset by the common woes of the EV industry—overestimating demand, strapped supply chains, steep interest rates—agreed to divest its most valuable assets to Foxconn: its Ohio factory, and its manufacturing and operational employees.
Instead of upholding its end of the deal, Lordstown claims, Foxconn "used its variety of contractual arrangements with the company as a tool to maliciously and in bad faith destroy Lordstown's business—while leveraging resources gained through the partnership to advance its own business interests."
Foxconn, a major Apple supplier, has previously argued that its withdrawal is fair game because Lordstown breached its part of the agreement by letting its stock price fall too far.
A brief timeline of the cracks in the Lordstown-Foxconn agreement
April 19: Lordstown receives a Nasdaq delisting notice because its class A common stock had fallen below the minimum required price of $1 per share for 30 straight sessions. This prompts Foxconn to claim that Lordstown has breached its contract, and that Foxconn is no longer obligated to close the stock purchase.
May 1: After Foxconn's dampener, Lordstown warns it might be forced to file for bankruptcy amid uncertainty over the promised investment.
May 23: Lordstown skirts the stock market delisting as its board approves a 1:15 reverse stock split.
June 9: The Ohio-based company warns it will take legal action against Foxconn for not making good on its commitment.
Fun fact: Lordstown's factory was once a General Motors plant
General Motors' November 2018 decision to shutter its Lordstown factory in northeast Ohio didn't go down well. After a year of pressure from unions and politicians, GM sold the facility to Lordstown.
A non-exhaustive list of Foxconn's EV partners around the world
🇨🇳 Foxconn formed a joint venture with the Chinese automaker Zhejiang Geely Holding Group to provide it with production and consulting services. (This has been more successful than Foxconn's tie-up with Byton, the Chinese electric car startup, which was suspended six months in.)
🇹🇭 In 2024, Thailand's state-owned energy group PTT will start producing EVs via its partnership with Foxconn.
🇺🇸 Fisker and Foxconn announced the PEAR project with the aim to producing sub-$30,000 EVs, developed in collaboration and sold under the Fisker brand across markets including North America, Europe, China, and India.
🇮🇳 Foxconn's joint venture with the Indian conglomerate Vedanta, in which the latter has a 67% stake, was intended to set up a chip plant in the western state of Gujarat. Those plans have since stalled, owing to Vedanta's financial instability. Foxconn is reaching out to other Indian business groups to take Vedanta's place.
Related stories
🪫 One casualty of the Fed's rate tightening cycle: EV startups
🧠 Lucid is getting a stake in Aston Martin to share its EV know-how