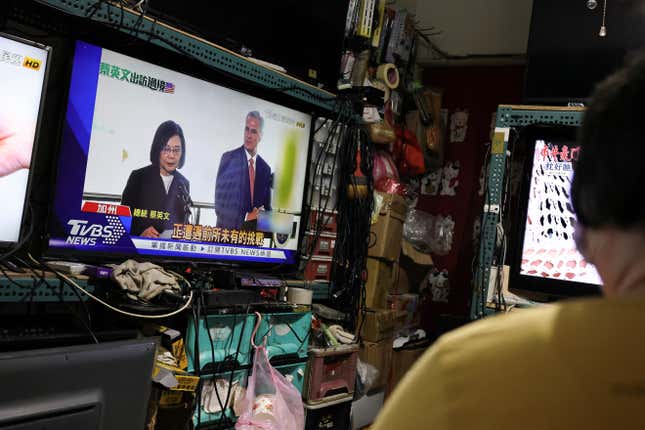 A bipartisan delegation of American lawmakers arrived in Taiwan on Wednesday (April 5), embarking on a trip that is likely to further enflame escalating tensions between China and the US.
It was the third stop on the delegation's east Asia tour, with the group previously visiting US allies South Korea and Japan.
"Being here I think sends a signal to the Chinese Communist Party that the United States supports Taiwan and that we're going to harden Taiwan," said Rep. Michael McCaul, a Texas Republican, who heads up the Foreign Affair Committee. "We want them to think twice about invading Taiwan."
The delegation will meet with senior government officials in Taipei from Thursday through Saturday, according to the American Institute in Taiwan. The US does not have an embassy in Taiwan.
Why was Taiwan's president in the US this week?
The trip comes on the heels of a meeting between US House speaker Kevin McCarthy and Taiwanese president Tsai Ing-wen at the Ronald Reagan Presidential Library in California.
McCarthy invited the Taiwanese leader as a means by which to signal his unwavering support for the island nation.
"I want to make it clear that the United States stands by you and will protect you," McCarthy said, before clarifying, "We protect Taiwan by arming and training them—and by being prepared to defend them if necessary."
The Chinese government condemned the meeting as a "provocation," and accused the US of violating the One-China policy, a decades-old agreement between the US and China in which Washington has only unofficial ties with Taiwan.
"In response to the seriously wrong acts of collusion between the United States and Taiwan, China will take resolute and effective measures to defend national sovereignty and territorial integrity," the Chinese Foreign Ministry said in a prepared statement.
Biden has broken decades of precedence on Taiwan
President Biden has stated four separate times since 2021 that the US military would defend Taiwan in the event of a Chinese invasion. And, each time, his advisors have said that this statement does not contradict existing American international policy.
They are referring to a law passed in 1979 that requires the US to provide Taiwan with the means to defend itself against an invasion. But the difference between sending arms and sending soldiers is a big one, especially as far as China is concerned.
Chinese foreign ministry spokeswoman Mao Ning said that Biden's remarks, "severely violate the important commitment the US made not to support Taiwan independence, and send a seriously erroneous signal to Taiwanese separatist independence forces," condemning the US president's most recent comments on the issue.
Chinese leader Xi Jinping has also not minced words on Biden's stance, warning the US president in a July call that "those who play with fire eventually get burned."
Related stories

🇮🇳 How China has been nibbling away at Indian territory
🦠 Semiconductors helped make Taiwan Asia's strongest economy in 2020
🇨🇳 China is lashing out at Pelosi's visit to Taiwan by withholding sand exports