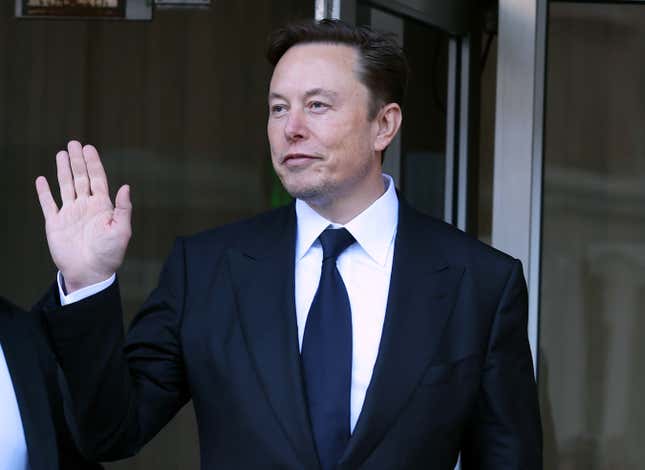 The US Virgin Islands has not been able to find Elon Musk for weeks.

A subpoena by the US Virgin Islands, originally filed on April 28, came to light because of a court filing from the US District Court for the Southern District of New York posted yesterday (May 15). In it, the US Virgin Islands asked the judge overseeing its case to authorize an alternative means to deliver the subpoena because its lawyers have had difficulty obtaining an address for Musk to locate and serve him.
What inspired Elon Musk's design for Tesla's Cybertruck?
"The Government contacted Mr. Musk's counsel via email to ask if he would be authorized to accept service on Mr. Musk's behalf in this matter but did not receive a response confirming or denying his authority," the filing said.
They even hired an investigative firm to track the world's richest man down, according to a CNN report, but to little avail.
Musk is being asked to hand over documents as part of a civil lawsuit by the US Virgin Islands against JPMorgan, which alleges the bank was complicit in and benefited financially from late financier Jeffrey Epstein's sex trafficking operation.

Where is Elon Musk?
The billionaire entrepreneur is a jet setter, but some of his most high-profile whereabouts are well documented. Earlier this month (May 6), Musk was in Miami for the F1 race. On May 12, Musk was pictured court side at the Lakers versus Warriors basketball game in Los Angeles. Yesterday (May 15), Musk was in Paris, meeting with president Emmanuel Macron to discuss future investments in France.
Today (May 16) at 4pm Eastern Time, Tesla is holding its annual general meeting in its Austin, Texas gigafactory, where CEO Musk is expected to be in attendance as he always is. After receiving criticism for being distracted by Twitter, Musk finally picked Linda Yaccarino to take over as CEO of the platform, and Tesla shareholders are hoping to have his attention again.
The connection between Elon Musk, Jeffrey Epstein, and JPMorgan, explained
The Tesla and Twitter chief has not been implicated in any wrongdoing. He's merely been asked for paperwork to ascertain whether the billionaire was a high-net-worth individual whom Epstein may have introduced to JPMorgan Chase.
A few years ago, when Musk got into trouble after announcing "funding secured" to take Tesla private to his Twitter followers, there were rumors that Epstein was advising the embattled CEO. In an interview with a New York Times columnist in August 2018, discussed in a published article a year later, Epstein said he'd advised Tesla behind-the-scenes, from conducting a search for a new Tesla chairman to speaking to the Saudis about possibly investing in the electric carmaker, but his involvement wasn't out in the open because he was "radioactive." Musk denied that account. (Even the NYT reporter thought Epstein's account was at least embellished, if not an outright lie.)
The subpoena is requesting all communications between Musk and JPMorgan that have anything to do with Epstein commencing January 1, 2002 and continuing through the present. These include documents that address…
🏦 communication between Musk and JPMorgan regarding Epstein or Epstein's role with respect to Musk's accounts, transactions, or financial management;
🤝 communication between Musk and Epstein regarding JPMorgan and/or Musk's accounts, transactions, or relationship at JPMorgan;
💰 communication or meetings between Musk, Epstein, and/or JPMorgan regarding his accounts, transactions, or relationship at JPMorgan;
💸 fees Musk paid to Epstein and/or JPMorgan in connection with Musk's accounts, transactions, or relationship at JPMorgan;
🚫 Epstein's involvement in human trafficking and/or his procurement of girls or women for commercial sex.
People of interest: Larry Page, Sergey Brin, Michael Ovitz, and more
Musk is not the only high-profile individual who has been subpoenaed in the case. Google co-founder Larry Page was another "who Epstein may have referred [to] or attempted to refer to JPMorgan." Even in Page's case, finding an address for him wasn't easy, according to a May 4 court filing.
Several other high-profile leaders have also been subpoenaed, including Page's fellow Google co-founder Sergey Brin, former Disney executive Michael Ovitz, Hyatt Hotels executive chairman Thomas Pritzker and billionaire real estate investor and owner of U.S. News & World Report Mort Zuckerman.
In a tweet yesterday, Musk denied that Epstein had ever advised him.
Quotable: Musk says the subpoena is "idiotic"
"This is idiotic on so many levels:

1. That cretin never advised me on anything whatsoever.

2. The notion that I would need or listen to financial advice from a dumb crook is absurd.

3. JPM let Tesla down ten years ago, despite having Tesla's global commercial banking business, which we then withdrew. I have never forgiven them."
Status check: The mounting cases against Jeffrey Epstein
Epstein died by suicide in 2019 while awaiting trial on federal charges accusing him of operating a sex trafficking ring from 2002 to 2005 at his Manhattan mansion and his Palm Beach estate. While that meant he won't stand trial in a criminal court, his $577 million estate can be sued in civil court. His accusers are also suing the banks managing his finances—first JPMorgan from 1998 to 2013 and then Deutsche Bank from 2013 to 2018 for enabling and benefiting from his alleged crimes.
Years later, Wall Street is still reeling from the ties to the disgraced financier and convicted sex offender. Later this month, JPMorgan Chase CEO Jamie Dimon is scheduled to be deposed in two civil cases, including the Virgin Islands one, regarding his bank's relationship with Epstein. The bank has denied knowledge of Epstein's crimes, and has sued former executive Jes Staley for his dealings with the disgraced financier.
Related stories
🔊 Jamie Dimon will have to explain how much JPMorgan knew of Jeffrey Epstein's crimes
📜 JPMorgan is suing a former executive over his ties to Jeffrey Epstein
🤑 Is it ever OK to take donations from people like Jeffrey Epstein?