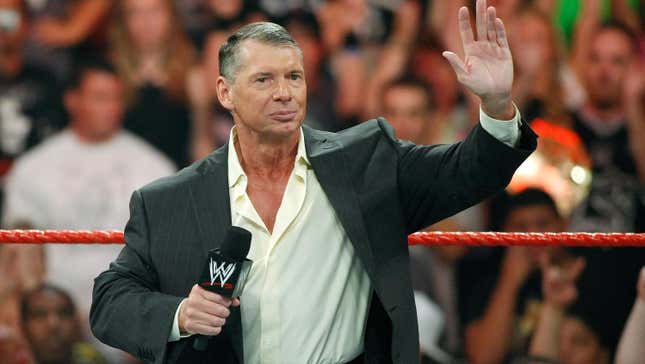 Just over six months after voluntarily stepping back, wrestling's best known face is back to calling the shots.

Why a tightening of credit conditions could lead to a weak economy
World Wresting Entertainment's (WWE's) board of directors unanimously elected Vince McMahon executive chairman of the board, according to an announcement yesterday (Jan. 10).
Vincent Kennedy McMahon, now 78, changed the face of the wrestling industry. He started off as a commentator in the '70s and went on to purchase his father's New York-based wrestling territory in the '80s. He turned it into a hugely lucrative international phenomenon, tacking on more entertainment elements to draw a larger audience.
Last July, McMahon announced his retirement in the wake of a sexual misconduct scandal. The probe concluded in November but the findings were not made public.
In a Dec. 27 email to McMahon, the board said it was willing to "welcome" his participation in business decisions, but was resisting his return to the company while government investigations are still underway.
On Jan. 6, McMahon made another case for his return, saying the special committee investigation was over, and in less than a week he took back his former role of chair.
Why WWE needs Vince McMahon, according to Vince McMahon
"WWE is entering a critical juncture in its history with the upcoming media rights negotiations coinciding with increased industry-wide demand for quality content and live events and with more companies seeking to own the intellectual property on their platforms. The only way for WWE to fully capitalize on this opportunity is for me to return as Executive Chairman and support the management team in the negotiations for our media rights and to combine that with a review of strategic alternatives. My return will allow WWE, as well as any transaction counterparties, to engage in these processes knowing they will have the support of the controlling shareholder." -Vince McMahon
A non-exhaustive timeline of Vince McMahon's scandals
1992: Rita Chatterton, the company's first female referee, accuses McMahon of sexual assault, but prosecutors never filed charges.
1994: In the US District Court steroid case, McMahon is indicted on illegal promotion and distribution of anabolic steroids to professional wrestlers under his employment. He faces upto 11 years in prison and a $1.5 million fine if found guilty. He's acquitted after an 18-day trial.
2006: McMahon is accused of groping a tanning salon employee during the Royal Rumble weekend in Boca Raton, Florida, but no charges are filed.
June 2022: The Wall Street Journal reports WWE is investigating allegations of McMahon paying a former employee he had an affair with $3 million in hush money.
July 2022: McMahon is found to have paid four women upwards of $12 million in hush money over the last 16 years to cover up allegations of sexual misconduct and infidelity
December 2022: McMahon faces fresh legal demands from two women who claim he sexually assaulted them
A brief rundown of the change of guards at WWE
McMahon's daughter Stephanie McMahon, who served as the boss in the interim, resigned from her roles as Chairwoman and co-CEO.
Nick Khan is now the sole CEO.
Just days ago, three board members were ousted.
Alongside McMahon, two other veterans, former WWE co-Presidents and board members, George Barrios and Michelle Wilson, have been elected to the board.
Charted: The WWE stock is climbing up
What's next: Has WWE been sold?
According to Steven Muehlhausen of global sports entertainment platform DAZN, WWE "has been sold to Saudi Arabia's Public Investment Fund," but the report has yet to be confirmed.
Comcast was another potential buyer name that was floated recently. Who wins the bid remains to be seen but there is likely one going on—WWE reportedly hired JPMorgan as an adviser on a potential sale.