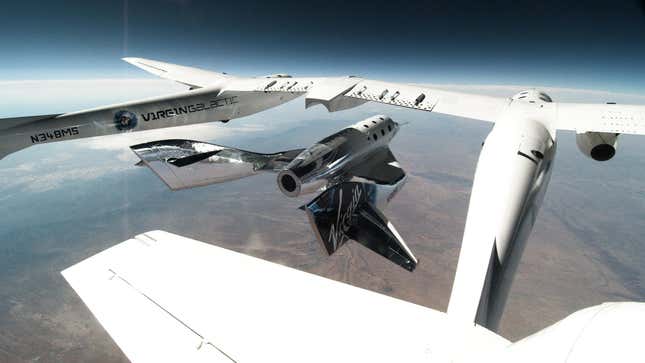 Investors snapped up shares of Virgin Galactic (SPCE) after Richard Branson's space tourism firm finally announced plans to begin commercial service at the end of this month.

Why a tightening of credit conditions could lead to a weak economy
At press time, a share cost $5.93, 25% more than in last week's trading, but still a far cry from its peak price of $57 in 2021.
Virgin Galactic sends small groups of passengers to briefly visit the edge of space onboard a rocket plane that is dropped from a plane 40,000 feet (12,192 metres) above the ground; the first successful mission took place in 2018. Passengers experience a few minutes of weightlessness before the vehicle glides back to land on a runway.
In May, six Virgin employees flew to space in a demonstration mission, the first time the company left the atmosphere since 2021, when Branson made a widely covered trip. Last week, Virgin Galactic announced it would fly a revenue-generating mission with a launch date between June 27 and June 30 that will see several three members of the Italian Air Force fly alongside experiments designed to take advantage of free-fall. Starting in August, the company expects to fly one mission with paying customers per month.
After Branson founded Virgin Galactic in 2004, it struggled for more than a decade to produce a vehicle that could safely get to space and back. In 2020, investor Chamath Palihapitiya took the firm public through a special purpose acquisition company (SPAC), which kicked off a boom in the use of that technique to bring risky businesses to public markets.
The company boasted a market valuation of more than $13 billion during the 2021 pandemic stock market boom, as "meme stocks" with unusual stories thrilled retail investors. Its share price has plunged from there, but Branson was able to sell enough stock to help him bail out his struggling airline. Palihapitiya sold all of his Virgin stock in 2021.
Today's price suggests the firm is worth $1.7 billion, but even that is a gamble: In its most recent earnings call, executives said Virgin Galactic's future profitability depends on developing and operating a new "Delta" class of rocket planes, expected to debut in 2026. Until then, the company will rely on more than $800 million in cash and securities to keep the doors open and get these new vehicles off the ground.