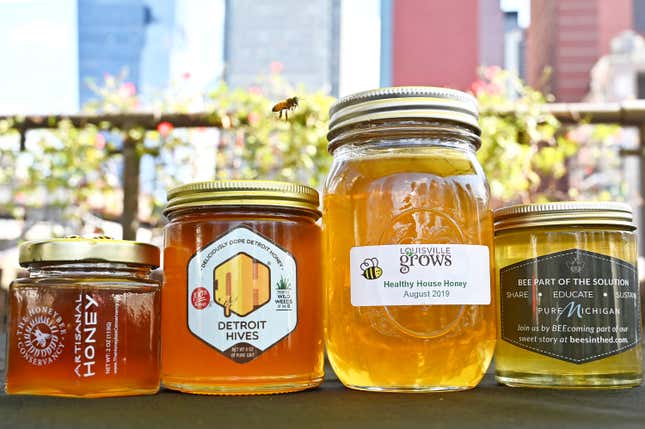 The US imports more sugars and sugar confectionary than any country in the world—it spent $6.48 billion dollars for sugar in 2022. But growth in demand for honey in the US has increased significantly over the last three decades, according to data from the USDA. While per capita consumption of sugar has increased by about 7% since 1990, honey consumption has seen an almost 60% increase in growth.
Should you keep investing in Big Tech?



Demand for honey and its products remains elevated

While Americans consume far more sugar than honey overall—at 69.5 pounds per capita and 1.32 pounds per capita in 2022 respectively, the rate of per capita consumption of honey and honey-sweetened products in the US has seen a much greater increase over time. USDA analysis (pdf) shows that the growth in demand can be partly attributed to consumers thinking of honey as a "superfood," along with garlic, ginger, and turmeric.



Less domestic production means more imports
Domestic production of honey is down in the US. In 2022, 125 million pounds of honey were produced, 46 percent lower than the country's production peak of 231 million pounds in 1993. According to researchers, the fall in production (pdf) can be attributed to poor honeybee health, which has been affected by environmental stressors including extreme weather events, parasites, pests, and pathogens. The top three honey-producing states are North Dakota, California, and South Dakota, which collectively account for 40 percent of the honey produced in the US on average each year.
To meet demand, the US has become more reliant on honey imports. Over the last 30 years, honey imports to the US grew by an average of 7 percent per year and have exceeded domestic production since 2005, according to the USDA. As of 2022, 75 percent of the honey consumed in the US is imported honey. Exporters include a mix of countries, but are primarily India, Argentina, and Vietnam in recent years—making up 61 percent of US honey imports in 2022.