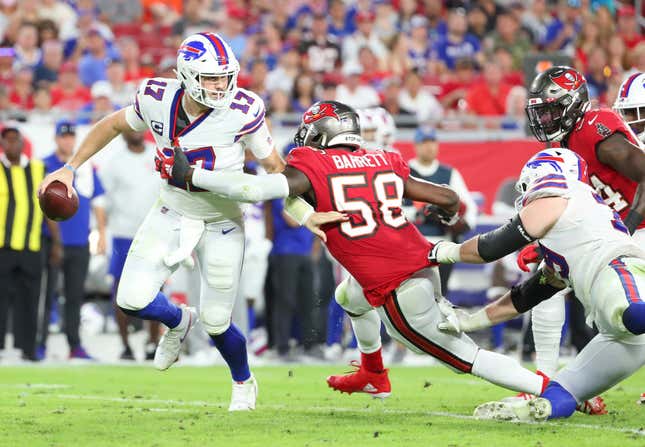 Move over, Glassdoor. There's a new workplace scoring system, and it's aimed at an unlikely industry: US football.

Why a tightening of credit conditions could lead to a weak economy
The union representing National Football League (NFL) players has launched a team scorecard that aims to measure the league's working environment. The effort surveyed all 2,200 active players from the 2022 roster, with a healthy 60% response rate, and looked at physical facilities, nutrition, travel, and the training and strength staff. The results may not be what you expect.
Change around the big—and little—things is precisely what the NFL Players Association is after. The data is sorely needed. While some coaches have a leadership council of older players that meet weekly to share recommendations, the public accountability of this scorecard hopes to accelerate better conditions to play—and work—in the NFL. It dropped this spring; now, a new episode of Freakonomics analyzes its impact with talks from the league's union, a number of coaches, and labor experts.
The survey found there are quick wins that wouldn't take a lot of money to fix. Some, while embarrassing, would help with the engagement and performance of players. As examples, Jacksonville has a rat problem, and Cincinnati's locker room doesn't have outlets for players to plug in their devices. It's time to call the exterminator, hire the electrician, and play some football.
Why a scorecard matters now
J.C. Tretter, the president of the NFL Players Association, had two goals in launching the scorecard. The first was to give players data to decide where to play and work. The second goal was to raise awareness of problems with working conditions so the standards across each club would improve. And players are ready for more action and more accountability.
"We're judged at every step," Jalen Reeves-Maybin, a linebacker for the Detroit Lions, tells Freakonomics. "And I don't think there's ever really been a time where accountability has gone to the teams or the ownership of, 'Hey, are you being excellent here? Where is your grade in this area?' We are operating at the highest level possible—they demand excellence from us. And I think that we should be demanding excellence from the teams."
The time may be just right for a tool like this. Like in many industries, many factors (including the pandemic) are prompting a realignment in what the players feel they deserve in their workplaces, creating more opportunities for accountability and improvement. The union saw an opportunity to create a better working environment that helps, not hinders, player performance.
Tretter says the union is negotiating for the same things other unions are: better wages, benefits, and working conditions. And despite high salaries, the culture of these football franchises matters to the players—and their results.
Motivating accountability through a team scorecard
Team performance on the field wasn't a predictor of high scores on the scorecard, as some of the top-performing teams in football ranked at the bottom. While the three teams that scored the highest on the scorecard may all have brand-new stadiums, that's only where teams play their home games. Practices, conditioning, and strength training all happen in facilities located elsewhere—many of which are not meeting the standards of their players.
"It shouldn't be, 'Hey, come here to play with Patrick Mahomes and potentially win a Super Bowl, but also, the facilities are going to be old and dilapidated, and you have to deal with that,'" Tretter says on the podcast. "That shouldn't be the tradeoff. Just pay for better facilities. If you're making so much money, the idea of making it a choice of one or the other when you could just provide both doesn't make much sense to me."
A modern example of the disconnect is the way families are treated. While 18 teams offer family rooms to care for children or take breaks from the crowd, 14 teams don't. The union hopes this comparison will help create some quick wins for players—and it seems it already is.
"Well, my first reaction was, I don't like being second. So we're going to fix the family area. I can promise you that. We will have the best family area in football next year." That's Tom Garfinkel, vice chairman, CEO, and president of the Miami Dolphins and Hard Rock Stadium. He says his improvements draw inspiration from other football facilities, including college setups that tend to be ultra-fancy because they can't spend money recruiting players.
Who scored the worst—and does it matter?
Cincinnati, who received a D rating for its locker rooms, could spend a small amount on rewiring it to ensure players can charge their devices. And in Washington, DC, where the Commanders earned an F- on their locker rooms and came in last on the report card, there's a known fix for the poor drainage in the showers. "The guys are literally standing in the water that's been run off from the guy next to him, who's showering in the dirt and the blood and the sweat," says Tretter. "These [fixes] aren't knock the walls down and build a new facility. Let's get a plumber in there and fix it."
The issues may seem small, but just as in any workplace, they can add up—and drastically impact our performance and well-being. A score has had teams paying attention: the union has already heard from at least a dozen asking what they can do better.
Jason Kelce, a Philadelphia Eagles player, sees progress on his own team. "They installed a much larger cold pool in the actual training room," he says on the air. "We used to have two above-ground pools out back. I believe they're addressing some of the family issues at games. The weight room is adding another tier. Just like players are competitive, I think owners are competitive."
What next for the scorecard?
Tretter plans to continue the survey as an annual event and is hoping for even more progress. Changes made now will help spur more participation in the survey and, likely, even more positive shifts. They can expand the survey to include measurements on other common workplace needs like non-compensation benefits and community involvement. And given the vital role leadership plays in employee performance, they should also find out how the players feel about the coaching staff.
As in most workplaces that survey their employees, this ongoing feedback can help surface ideas for improvement, make players happier, and boost their personal and team performance.