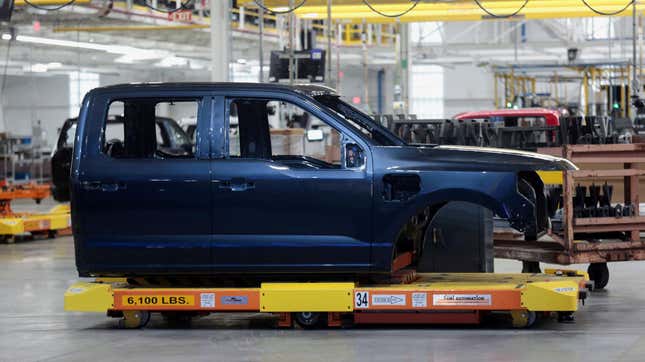 The Environmental Protection Agency (EPA) proposed today (April 12) new rules for automakers on tailpipe emissions, which are designed to curb car pollution, the biggest contributors to carbon emissions in the country with the second-biggest CO2 footprint. The agency proposed requiring more than two-thirds of all new cars sold in the US to be EVs by 2032.
More specifically, the new tailpipe pollution limits won't require a specific number of EVs to be sold every year but will instead mandate limits on emissions that will depend on the size and type of vehicle being built, forcing automakers to sell a lot more EVs to meet the requirement.
Notably, the Biden administration is not implementing an outright ban, which would help end the era of gas-fueled cars faster and cement climate goals. But there may be a good reason for that.
One can look at how the EU tried to formally approve a ban on the sale of new CO2-emitting cars by 2035. But, at the last minute, Germany—the largest automaker in Europe—threatened to veto the legislation unless the EU committed to creating an exception to the rule for combustion engine vehicles running on so-called e-fuels, arguing that they can be produced using renewable energy and carbon captured from the air.
Germany claimed the vehicles are carbon neutral. Critics argue that releasing captured CO2 again results in a net contribution of greenhouse gases released into the atmosphere.
Outright ban or limits on CO2-emitting cars—what works better?
The US policy might have a better chance of success than the EU's. Limiting emissions could encourage new EV sales without forcing automakers to completely halt certain lines of vehicles—which takes time, since carmakers need to clear existing stock and wait for customers to trade in their cars.
Bans may be used to disincentivize countries and companies from investing in fuel-powered cars, but if the goal is to change a behavior, having other incentives and options will matter. For instance, luxury car manufacturers like Porsche and Ferrari, who were both seeking a a carveout for e-fuel vehicles from the original EU's ban, have not been keen on transitioning from combustion engines to EVs—so a ban would not necessarily encourage new EV sales from these companies.
To be sure, the US's goal is certainly ambitious given that EV uptake is only 5.8% of the total auto market and will require a massive ramp-up of infrastructure investment and the retrieval of critical minerals needed to build EVs, such as lithium.
There's also the question of whether future presidential successors would want to continue the policy. Nevertheless, what's clear is that the rhetoric around limiting CO-2-emitting cars around the world is growing louder, signaling to carmakers that they need to be ready once EV technology becomes mainstream.