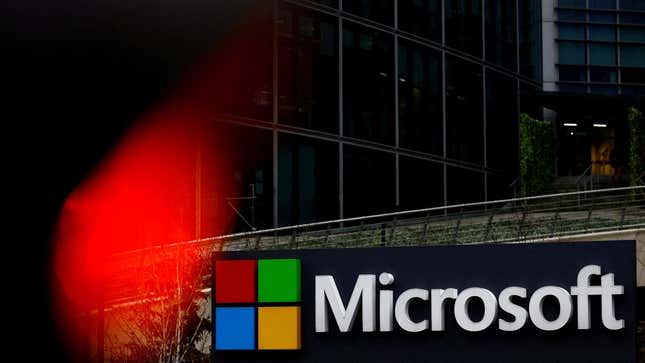 Microsoft's rapid progress with AI could be giving it a leg up in search on Google, the incumbent titan.
3 considerations before your company takes a stance
In their first-quarter earnings calls after the bell yesterday (April 25), Alphabet, Google's parent company, and Microsoft both anchored their conversation around AI and, as a result, the future of search. Only Microsoft, which is plugging AI into its Bing search engine and suite of Office tools, predicted a dramatic transformation—"a generational shift," in CEO Satya Nadella's words—that could put it in the lead.

Meanwhile, Google proposed that AI was just another evolutionary point in its steady domination of search. "Throughout the years, as we have gone through many, many shifts in Search, and as we evolve Search, I think we have always had a strong grounded approach in terms of how we evolve ads as well," Sundar Pichai, the CEO of Alphabet CEO, said in a call with analysts. "And we do that in a way that makes sense and provide value to users."
The numbers that both companies disclosed are telling. Google's revenues in "search and other" categories rose 1.87% year-on-year, a far smaller growth than the 24.3% in the same quarter in 2022 and the 30.1% in 2021. Meanwhile, Nadella said that daily installs of the Bing mobile app have grown four times since Microsoft bundled AI features into the browser's search capability.

There's no doubt that Google, which has led the way on search for years, has found itself challenged by Microsoft's investment in and integration of Open AI's dialogue-based chatbot over the last six months. Making matters worse, Bard, Google's own answer to ChatGPT, didn't get off to a flying start.
Analysts seemed more sold on Microsoft's narrative. In premarket trading, Microsoft's share price jumped by a significantly higher measure when compared to that of Alphabet.

By the digits: Microsoft and Google's first-quarter results

7.7%: The jump in Microsoft's share price in premarket trading, after the release of first-quarter results

2%: The corresponding rise in Alphabet's share price

4x: The factor by which Bing mobile app installations have grown since the launch of the AI-powered browser in February
10x: The factor by which customers have grown for Microsoft's Azure OpenAI service, the cloud offering augmented by OpenAI products, compared to the prior quarter

1.87%:  The year-on-year growth in Google's "search & other" revenues in the first quarter, from $39.6 billion to $40.4 billion—much smaller than the nearly 25% percent jump Google saw in the first quarter of 2022. Google still says search is "performing well" and showing "resilience."

3.4%: The year-on-year growth in Microsoft's "search and other revenues," rising to just over $3 billion
10%: The proportion of Google's revenue that its cloud services account for
A brief timeline of AI moves by Microsoft and Google in 2023
Jan. 16: Microsoft announces the "general availability" of its Azure OpenAI Service, which has been available to a handful of customers since it was first teased in 2021. It includes dialogue-based chatbot GPT-3.5, a natural-language-to-code converter called Codex, and DALL•E 2, which can create realistic images and art from a description in natural language.

Jan. 24: Microsoft confirms a third multibillion dollar investment in OpenAI. It doesn't disclose the amount, but a Semafor report pegs it at a whopping $10 billion.
Jan. 31: OpenAI says it has "trained a classifier to distinguish between text written by a human and text written by AIs."
Feb. 6: Sundar Pichai, Alphabet's CEO, announces his company will open Bard, powered by its Language Model for Dialogue Applications (or LaMDA), "to trusted testers," with the intention of releasing it to the general public shortly afterwards.
Feb. 7: Microsoft hosts a surprise event to reveal a new version of its search engine Bing, developed with OpenAI, which is "running on a new next-generation large language model. One that is much more powerful than ChatGPT and that is customized specifically for search," as per Yusuf Mehdi, Microsoft's corporate vice president and consumer chief marketing officer.
Feb. 8: Google's Bard unveiling event, livestreamed from Paris, falls flat after an incorrect description in an ad for the AI bot dampens excitement.
Mar. 7: Salesforce and OpenAI announce the integration of ChatGPT into Slack. The tool will provide instant summaries of conversations, find answers to questions quickly, and draft messages faster.
Mar. 14: Google announces plans to add generative AI features to Workspace apps like Gmail, Google Docs, Sheets, and Slides.
Mar. 15: Microsoft removes the waitlist for its new Bing Chat feature, so anyone can sign up and use the GPT-4-powered chatbot. The next day, Microsoft integrates OpenAI's technology into its Office tools like Word and Excel.
Mar. 21: Google reveals it is allowing more people to interact with its new service, which had only been available to a small group of "trusted testers" handpicked by Google.
Apr. 18: The US Patent and Trademark office dismisses OpenAI's petition to apply for a trademark for "GPT," which stands for "Generative Pretrained Transformer," citing attorneys failing to pay an associated fee as well as to provide "appropriate documentary evidence supporting the justification of special action."
Apr. 19: A damning Bloomberg report reveals that Google employees testing Bard often used choice words to describe it, including calling it "a pathological liar," "cringeworthy," and "worse than useless."
Apr. 20: Google combines its Brain and DeepMind groups into one Google DeepMind organization, in a move that will "significantly accelerate our progress in AI," according to Pichai.
Apr. 25: OpenAI announces that "ChatGPT Business" is coming soon
Company of interest: Amazon
On April 4, Amazon Web Services (AWS) announced a 10-week generative AI accelerator program that will aid the "most promising" startups in the sector with cloud credits, mentorship, networking events, and more. At the end, these startups can pitch to investors.
Nine days later, Amazon unveiled a cloud-based generative AI service called Bedrock. Instead of building massive AI models in house, Amazon's Bedrock will give customers "easy access to foundation models (FMs)" from top AI startup model providers, which they can customize with their own data and deploy in their apps to build and scale generative AI apps.
One more thing: Cloud is booming for both Google and Microsoft
Alongside "search performing well," Pichai also cited "momentum in cloud" as a driving force behind Google's performance. After reporting losses for three years, its cloud business is profitable for the first time.
Microsoft is still a formidable competitor in the cloud space, though. Azure revenues jumped 31%. As Amazon Web Services, the market leader, loses ground, Microsoft appears to be gaining more of its share than Google is.
Related stories
💼 The first real-world study of AI in the workplace finds a surprising benefit for novice workers
🍔 Yelp is using AI to help users write reviews
🎤 Outspoken as ever, Liam Gallagher gave Oasis's AI revival his mark of approval