Shohei Otani is 23 years old, 6-feet-4-inches tall, and baseball's next great hope. Currently the pride of Japan's Hokkaido Nippon-Ham Fighters, Otani possesses dual prowess as a pitcher and a hitter at a level unseen since Babe Ruth. He's expected to move to the US major leagues this winter.
Otani is a megastar in Japan. Yet media reports paint him as relatively unaffected by his celebrity. His parents manage his $2.4 million salary. He hasn't bothered to get a driver's license or move out of the team dormitory, and he comes off as soft-spoken and polite in his few public appearances.
The roots of this apparent humility may lie in Otani's experience at Hanamaki Higashi High in Japan's Iwate Prefecture. High school athletics in Japan parallel sports programs at US universities, with recruited student-athletes living on campus and getting scouted by professional teams.
Despite his lofty prospects, Otani regularly took part in the dormitory chores that coach Hiroshi Sasaki assigned all baseball team members. Specifically, he cleaned toilets, a task Sasaki prefers to assign to his pitchers.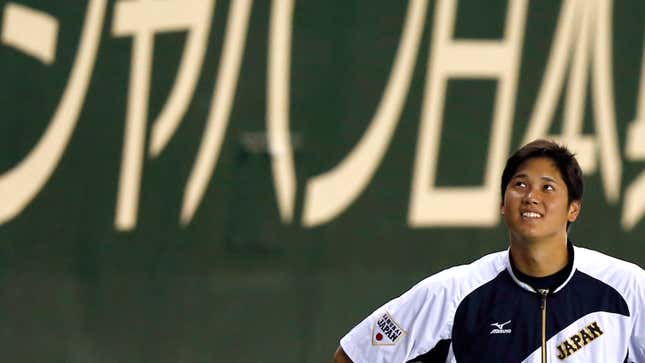 "The mound is the most elevated place on the field," Sasaki told the Los Angeles Times in a recent interview. "It's a stage. If you're on that stage, you receive the most attention. You get interviewed and written about the most." Scrubbing the dorm's humblest appliance keeps egos in check, Sasaki explained.
In his eyes, a toilet is never just a toilet. It's a metaphor for how an entire organization approaches its mission.
"If you go to a nice department store, the toilets are magnificent. If you go to a nice hotel, the toilets are important," Sasaki said. "If you see a toilet, you can see the value of a place, the purpose with which the people there approach their work. It's the most important place in an establishment, just like the mound is the most important place on the field."
Sasaki's strategy develops what entrepreneurs and executives alike have identified as one of the most valuable traits an organizational leader can have: humility. Being of service and taking responsibility for thankless tasks makes leaders more empathetic to their teams and gives them a broader understanding of what goes into keeping an organization afloat. Humility makes for more effective leaders. A 102-mile-per-hour fastball doesn't hurt either.