Meditation retreats and free trail mix are nice, but what employees really want is less trendy, and less materialistic, than that.
According to a new survey from the American Psychological Association, the top determinant of employee satisfaction and trust in their employer is the timeless concept of supervisor support.
The APA's 2017 Job Skills Training and Career Development Survey, conducted online by Harris Poll in September, surveyed a nationally representative sample of 1,076 US adults who work full- or part-time. To measure the value of supervisor support, employees were asked to respond to the following statement on a five-point Likert scale, from "strongly agree" to "strongly disagree": "My supervisor supports and encourages my career development."
This measure was intentionally subjective, so to analyze the influence of perceived supervisor support on employee satisfaction, says David Ballard, head of the APA's Center for Organizational Excellence.
This influence turns out to be profound. Employees who reported feeling supported by their supervisors were more than twice as likely to also report being satisfied with their jobs, valued by their employer, and willing to recommend their company as a good place to work.
There was an impact on trust as well. Nearly 80% of those who said they felt supported by their supervisors also indicated that they trust their employer, while 56% of those who said they didn't feel supported by their supervisors reported having an absence of trust in their employer.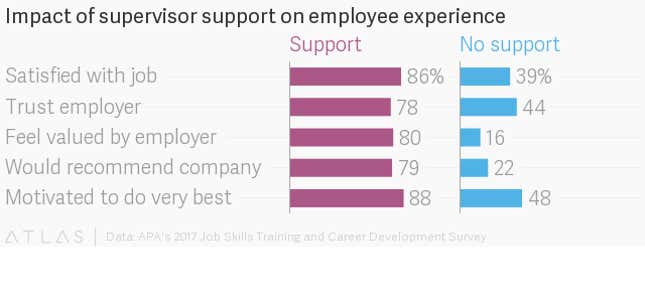 Notably, nearly 75% of employees with a college degree reported that their supervisor supports and encourages them, while just 55% of those without a college degree said the same. According to Ballard, this breakdown is consistent with previous research showing that hourly and lower-paying jobs tend to offer fewer opportunities for growth and development.
So how do employees measure the support of their supervisors? Nearly 60% of the difference in employee perceptions of supervisor support can be explained by whether employers were said to provide opportunities to develop the technical, management, and leadership skills necessary for employees' future success, says Ballard.
Another simple but often overlooked factor influencing employee satisfaction is having enough time to participate in development opportunities. "Just because an employer offers training and development opportunities doesn't mean employees have enough time in the workday to participate in them," Ballard notes.
Organizational psychologist Liane Davey, the author of You First: Inspire Your Team to Grow Up, Get Along, and Get Stuff Done, says managerial support requires countless actions, but they fall into four primary categories. "You need to ensure that people know what to do, know how to do it, have the tools they require, and have the motivation to get the job done," she says. "If any one of these four pillars is missing, the employee is set up to fail."
Most importantly, she says, managers need to see their employees as individuals, not placeholders. "One of the best ways to demonstrate this is by tailoring assignments, conversations, feedback, and rewards based on what each individual values."
Companies, institutionally, play a critical role in making sure all of those things come together, but so do individual managers.
"We've known for years that the biggest impact on an employee's experience of work is related to their supervisor," Davey says. "Although your business card says you work for your company, the immediate personification of that company is the human being that you report to."