Misha Nonoo was once your typical prestigious, lovely, small-to-medium-sized designer fashion brand—the sort celebrities and critics often adore. It made seasonal collections. It staged expensive, well-received runway shows at New York Fashion Week. It sold wholesale to upscale retailers such as Bergdorf Goodman, Neiman Marcus, and Shopbop.
Misha Nonoo the designer has since taken a giant risk, and ditched that model entirely.
Believing that way of working to be stuck in the past, rather than focused on the future, she completely reinvented how her company runs—and in that regard offers an example not just to other fashion brands, but arguably any company trying to realign itself to work with, not against, large-scale shifts in its industry.
Now, instead of seasonal collections, she sells a core line of eight wardrobe staples that can be easily paired into 22 different looks. They include a couple of shirts, a dress, a skirt, a pant, a double-breasted blazer that can double as a dress, a turtleneck, and a jumpsuit—all in black and white. The "Easy 8," she calls them, echoing Donna Karan's pioneering idea of "Seven Easy Pieces" to make dressing a breeze for working women. She also comes out with four to six new items every month that can be paired with the core collection, which she says will be updated once every year, tweaking proportions as needed and replacing styles that aren't selling.
Just as notably, she sells everything online, direct to consumers. And instead of runway shows, she has shown her clothes on Instagram and Snapchat.
The most innovative thing she's done, though, is to stop producing inventory first and sell it second. She manufactures everything on-demand, only making an item after someone has placed an order. With no inventory to clear, she never has to put clothes on sale. And because she skips retail markups by selling direct-to-consumer, prices on her clothes are still at least 35% lower across the board than they were previously.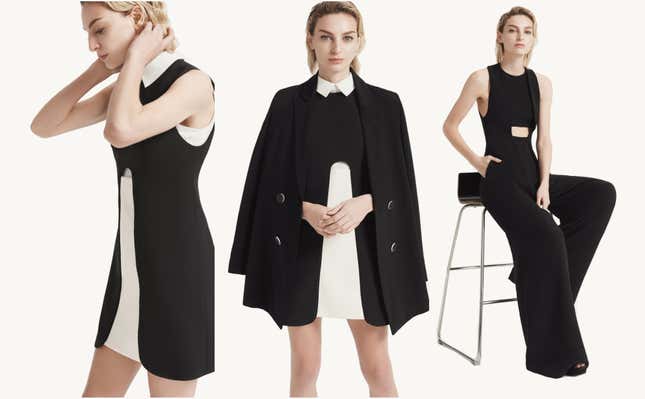 Her business has only existed in its current form a short while. She relaunched as a direct-to-consumer brand just over a year ago, introduced the Easy 8 about six months ago, and started on-demand manufacturing in September. "Got two months of learning under our belt," she says.
How has it gone?
"It has been the most phenomenal success so far," she beams.
Since the launch of the Easy 8, the company says sales in its core products have grown more than 200%. The Easy 8 already makes up about 80% of its business, and also allows it to manufacture quickly. All Nonoo needs to buy in advance are her core fabrics and trims. When an order comes in, they're ready to go at the factory, a tactic fast-fashion brands use to enable ultra-quick production. Right now, 90% of orders are made, shipped, and received by the customer within five business days.
Like many companies in other industries, most fashion brands operate on a model that was established long before the internet came along and changed everything. They make big, seasonal collections to sell to retail stores, who mark them up and put them on their racks. Let's say it's a fall-winter collection. Usually stores in the US start putting things out around August and early September, long before it's cold. By November, when it's just getting chilly, they're starting to discount. By January, they've drastically slashed prices to clear all that inventory, recoup any money they can, and make room for new arrivals.
It's not always an ideal way of working. The world is speeding up. Shoppers have become accustomed to the constant turnover of the internet and the regular arrivals of new products at brands from Zara to Supreme. They aren't satisfied by seasonal collections that show during one month and finally arrive in stores six months later. They don't even think in terms of discrete seasons anymore. And they've been trained by years of discounting to expect and wait for markdowns. If you don't meet their demands, they will just find what they want elsewhere.
Fashion brands have responded by introducing more collections, orby  drastically speeding up how quickly they can offer runway items. But often they're trying to retrofit an old model to a new reality.
"From a business perspective, I knew it was going to be difficult"
Nonoo came up with her concept about two and a half years ago. She was watching the rise of direct-to-consumer fashion brands, and decided if she wanted to set up her brand for the future, she had to commit fully. Think Bonobos or Everlane, but making items like a $450 blazer-dress hybrid.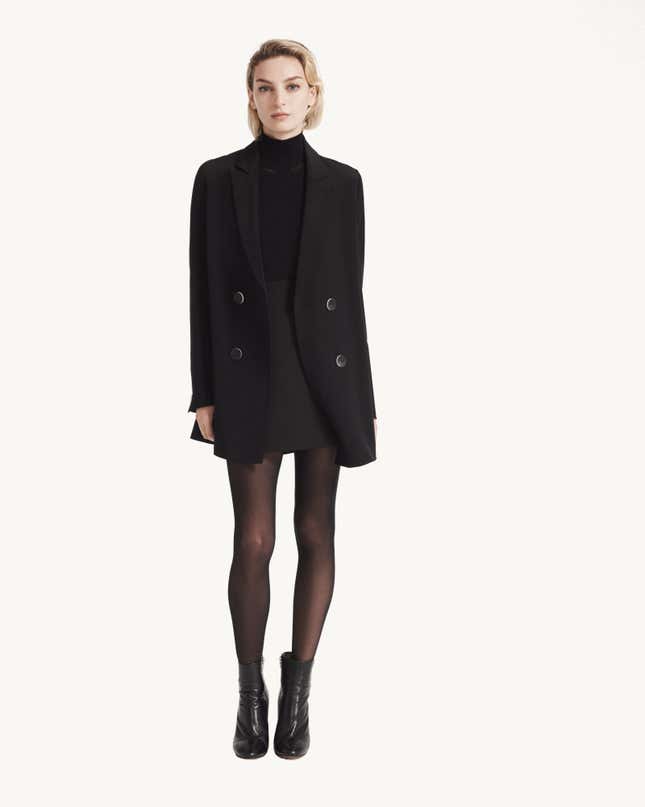 That shift didn't happen quickly or easily. It was a long process, and came with challenges from her investors. When she shut down her wholesale accounts, for instance, income dried up. "I had to do a six-month period where I basically went quiet, which was the hardest part from a business standpoint, because you're making X in revenue and suddenly you're like, 'Right, ok, bye to that,'" Nonoo says. "From a business perspective, I knew it was going to be difficult."
Nonoo produces in China, and had to find afactory willing to produce pieces one-by-one, instead of in batches of hundreds or thousands. Factories often want you to guarantee a dollar value in production, say $150,000. Nonoo couldn't do that. She also wanted the factory to be able to cut and sew within two days, so the item could be shipped straight from the factory and reach customers, wherever they are in the world, within another three business days. She interviewed about 10 potential factory partners, most of whom thought the idea sounded insane, before settling on one who she says saw the same potential for growth and viewed the deal as an investment in the future.
The biggest challenge, Nonoo says, has been ensuring that the quality of her clothes meets her standards. When you're producing large batches, you're cutting and stitching multiples of an item, so they should turn out basically the same. That's not always the case when producing single pieces. And in a sense, the stakes are higher now—because she's running an online business and covers all shipping costs, she'd prefer not to give shoppers even the slightest reason to return a purchase.
It's too early to say how successful this new model will be long-term. Like any new idea, there are a number of ways it could fail, and like other direct-to-consumer brands, it could prove difficult to scale (paywall).
But Nonoo feels she made the right decision, and that on-demand manufacturing represents the future (paywall) of how fashion businesses will operate. "Personally, I think that there's a huge opportunity for other brands to do it as well," she says, but then adds, "Look, you have to have the vision, and the determination to see that vision through, because it wasn't easy." She emphasizes that you need to have the right partner in manufacturing, too.
But while many other brands worry about how much they spend on runway shows, how much inventory they have to produce, and how much retailers are discounting all the clothes they spent large sums to make, Misha Nonoo is at least trying out a potential solution. Others will be watching to see how it goes.