April 26 is Take Our Daughters and Sons to Work Day (aka "Take Your Child to Work Day") in the US, and the White House took part, opening the Rose Garden and the Oval Office to children whose parents work in the White House press corps.
Perhaps the best way to appreciate what unfolded is via the official White House pool report, which was circulated to members of the press and appears here in its entirety.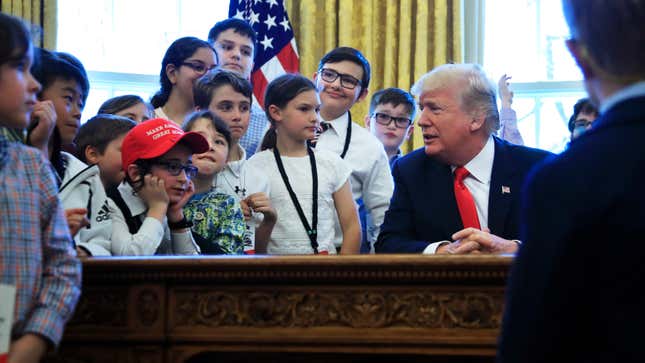 *Sent:* Thursday, April 26, 2018 1:31 PM
*Subject:* WH Pool Report #7: Trump and Kids in Rose Garden

Good afternoon from the White House. Here is some color from the Rose Garden and Oval Office photo op with the children of the White House press corps:

POTUS greeted children of White House press corps in Rose Garden, signing red MAGA hats and White House press cards. Pool was placed far away, at the back of the garden, and the president told Sarah Sanders to bring the pool closer, along with the parents. "We have plenty of room," he said.
"Honestly, the children ask me better questions, if you want to know the truth," Trump joked. "Your parents are being very nice right now, I can't believe it! Because they don't want to embarrass themselves in front of you. You understand that? They're being so nice I can't believe it."

"They are very well behaved," Trump said of the children gathered around him. He then asked if they would like to see the Oval Office. "Should we leave your parents out here?" he asked? "Yes!" they cheered.

He continued to sign more press cards. Then asked the kids again: "Do you want your parents in the Oval Office or out?" "Out!" they shouted. "Let's go to the Oval Office!" he said.

The president and staff allowed the pool and some parents in anyway.
As they were about to head inside, pool asked whether the president had any comment on Ronny Jackson. "Hes a great man, and he got treated very, very unfairly. He got treated really unfairly. And hes a hell of a man," he said. [See Pool Report #6]

POTUS then gathered the children in the Oval and around the Resolute Desk and told them about their surroundings:

"Do you know they say this is the most important office anywhere in the world. Is that right?" he asked."Yes!" they cheered. "And your parents are behaving very nicely for a change…they [sic] means they love and respect you, right?"

The president and the children then posed for a photo at the desk.
Look how nice your parents are being. They're not screaming," he said. "But you love your parents, right? Everybody love their parents?"

Parents in the press will be glad to know the children responded enthusiastically: "Yes!"