When Chip Bergh joined Levi's as CEO in September 2011, the American clothing company was in a slump. "In '96, we were bigger than Nike," he says, "and then from '96 to 2001, [we] went from $7.1 billion dollars in sales to $4.1 billion in sales. They lost almost half of the business."
For years, Levi's was unable to climb out of the hole it had sunk into. Young shoppers were fleeing to other denim brands, such as newer up-market labels like 7 for All Mankind. Shoppers still recognized Levi's as an American icon, especially those outside the US. But the company behind it was in disarray.
Today, Levi's is in a very different position. In 2017, it recorded its highest sales growth in a decade (pdf). In the first quarter of 2018, sales are accelerating.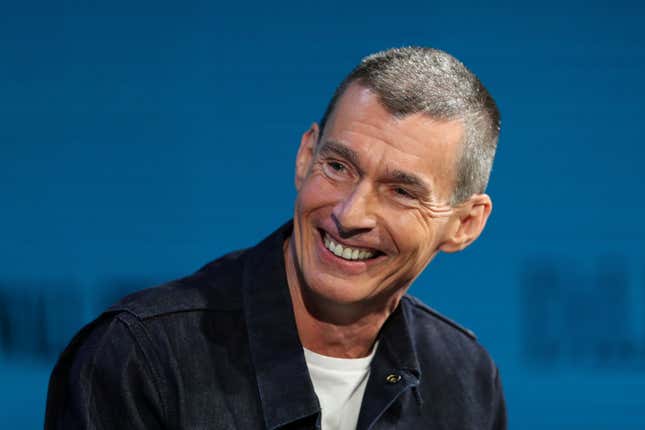 The turnaround happened thanks to a strategy that Bergh implemented in his early days as the company's chief executive. When he started, he set out to get as deep an understanding as he could of the dynamics at play within the brand's sales. "I drove the finance department crazy in my first six months just slicing and dicing the business: where do we make money, where don't we make money, where are we growing, where we are declining," he says.
He devised a simple mantra based on what he learned that has continued to be a key facet of the brand's approach: Grow our profitable core, expand for more.
Grow the profitable core
As Bergh combed through the data, he found that global sales of Levi's men's bottoms, along with Docker's men's bottoms in the US, were two of the main pillars of the company's business. In fact, men are by far Levi's biggest customers; last year, men's products accounted for 72% of the brand's sales.
Bergh also saw that five mature markets—the US, France, Germany, Mexico, and the UK—and 10 wholesale customers were Levi's other big cash generators. Bergh made sure those foundations were solid. "If that collection of businesses is reasonably healthy, it throws off a lot of cash that we can use best in other places," he says.
With those parts of the business providing a stable source of sales, Levi's was able to change course on fronts that weren't performing as well. That's where the second part of Bergh's mantra comes in.
Expand for more
Levi's next priority was to identify products that had high potential but were underdeveloped. Tops and women's clothing were two of the biggest opportunities. In 2015, Levi's relaunched its women's business, introducing more stretch options, to compete with the rise of athleisure. It has also pushed items like logo t-shirts and its Commuter denim jacket, teaming up with Google to create a smart version that lets you control your phone from your sleeve.
These efforts have paid off. The share of sales that come from men's products and from pants have steadily ticked down, as has the average age of Levi's customers. When Bergh started, he says the average guy buying Levi's in the US was 47. That age has dropped to 34, and Bergh believes it can even go down a bit further. The brand is again attracting those young shoppers that once fled elsewhere.
Levi's also focused on expanding in the international markets that offer the best returns, including China, India, Russia, and countries in Europe beyond France and Germany. Levi's sales in these markets are growing fast, and have higher margins than its US wholesale business.
Levi's other strategic goals
The two other areas of emphasis in Bergh's plan were achieving "operational excellence," which let Levi's free up cash to reinvest in the business, and importantly, direct-to-consumer sales. These sales, which include those on its website and the retail stores it owns and runs itself, give the company more control over how its products are presented than when it sells through wholesale partners, like flailing department stores. They also offer higher margins, and now account for a third of Levi's business, up from 21% when Bergh joined.
Today, Levi's has grown into a more diversified brand. In fact, last year the performance in its core business had been "mixed," it said in its 2017 annual report. Sales of men's bottoms fell, mostly because of a dip in its Docker's brand. But the company still had a strong year, as other parts of the business picked up the slack. Sales reached $4.9 billion—still well below the mid-1990s peak, but also well above the slump years.
Bergh's strategy is simple, but effective. He says that while the turnaround is still in progress, the company is heading in the right direction. "Levi's brand is back," he says, "and importantly, it's all being driven by the strategic choices that we've made."
This post has been updated to clarify the components of Levi's business strategy.