The checkout line at the grocery store helped form Carmen Sobczak's world view. Her mother, Connie Sobczak, used the magazines on display to address the sexist messages that surrounded them. "There'd be like, 'Lose 10 pounds in 10 days' on the magazine covers and she would talk to me about it," says Carmen. "About how these are Photoshopped and how these standards aren't realistic."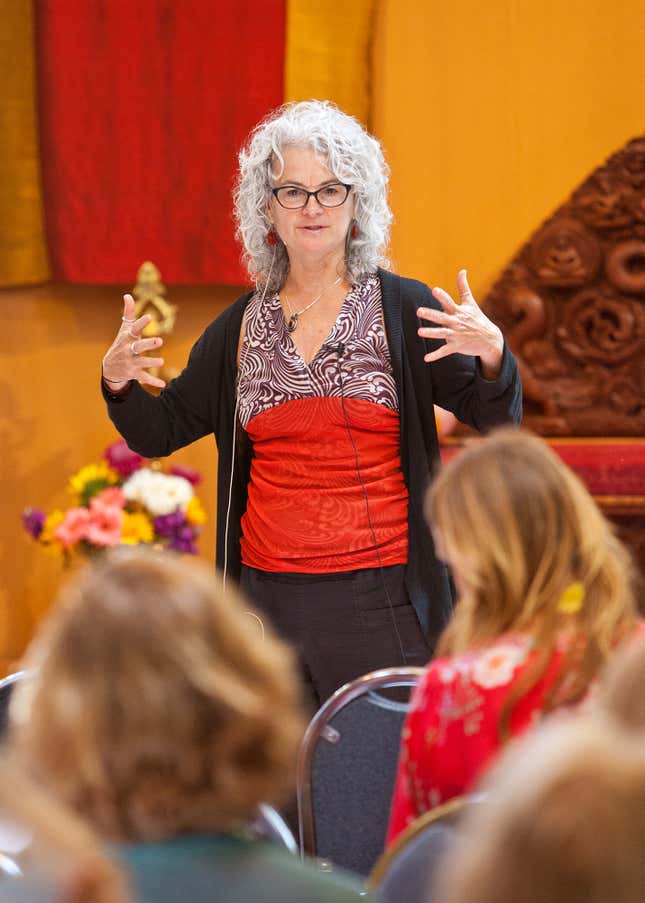 Connie isn't just a woke mom: She's the co-founder of The Body Positive, an American organization that aims to help people live peacefully in their own bodies. She and co-founder Elizabeth Scott, a psychotherapist and social worker who specializes in treating eating disorders, have reimagined the role of the body as a vessel for human potential, rather than something to perfect or critique. In workshops and a new online curriculum, that use everything from worksheets to guided meditations, they lead participants through exercises that identify limiting, critical narratives about their bodies and work to change them.
Movements that tout self-acceptance often hinge on a consumer element—a t-shirt or a lip gloss or a gym membership that promises a more clearly articulated self. While sometimes well intentioned, these surface-level efforts to shift beauty ideals tend to focus on appearance as the primary way to organize self worth. The category of "beautiful" might expand by a few inches or shades, but it remains the most important category. In contrast, The Body Positive works to dismantle learned self-hatred and help participants form a powerful connection between the mind, body, and the world they live in. The five steps of the program help participants to learn to spot harmful myths about health and body image; develop "intuitive" eating and exercise habits by listening to their bodies; practice self-compassion; strengthen appreciation and respect for all kinds of bodies; and cultivate communities that will help support healthy habits.
While The Body Positive trains individuals and organizations across all genders and demographics, teenagers and college students—particularly young women—are central to the mission. "My work is to free young women to be living in their full potential, to stop wasting their time, their energy, their financial resources, so they can go out and change the world," Connie says. Body Positive groups in close to 65 high schools and colleges in the US and beyond aim to do just that.
Research links negative body image and eating disorders, and has found that adolescents with negative body image are more likely to experience depression, anxiety, and suicidal thoughts. One of the ways that The Body Positive traces the roots of body image issues is through the developmental theory of embodiment, the work of Dr. Niva Piran, a clinical psychologist at the University of Toronto. The theory describes the way social and cultural pressures and influences can shape the way we experience, and treat, our own bodies. Embodiment develops over time as we move through the world, starting as children, says Dr. Piran, but consciously revising that process is part of the promise of The Body Positive.
Early results suggest that plan is working. A study at Stanford University in 2014 found that students who went through a Body Positive-designed college leadership program had improved relationships with food and body image. What's more, the effects had grown in a follow-up several months after the initial training. Participants self-reported through a questionnaire directly after the training, and then at regular intervals in an eight-month period following. In addition to a reduction in self-criticism across several metrics, participants showed increased resilience against the "thin ideal"—the idea that only thin bodies can be healthy and desirable—over time.  A similar study is currently underway at Cornell University; results will be finalized by the end of 2018.
The limitations young women place upon themselves because of beauty standards start early in life. "I like to talk a lot, but then I'm shy to talk to people because of how I look," says Diane Madayag, who helped start a popular Body Positive group in her San Francisco high school. She says that although she had participated in other programs designed to help teenagers deal with body image issues, for her, The Body Positive was unique. It acknowledged the ways that American society judges different bodies, and then gave her skills to address those realities in her own life.
"Other programs, they try to sugarcoat it," she says. "Body Positive, it was true.' They didn't say, 'Oh, you're beautiful because of la la la,' but they actually told you the truth, like, you are this, but you have to accept it because that's your body… other programs, I feel like they try to make you this other kind of person you're supposed to accept."
The Body Positive curriculum doesn't just confront the fact that women are taught to hate themselves, it helps participants like Madayag build a new framework for appreciating their unique bodies. While body size was her primary concern, Madayag also lamented the fact that she had the darkest skin tone in her Filipino-American family.
One exercise that Body Positive participants like Madayag go through is creating a family tree to illustrate the idea that bodies aren't just aesthetic packages, they're part of a deeper history. "We get people connected to their ancestors," says Connie. "We come from a long line of people, all the way back to the first human. All of those people thrived and survived and came together and procreated and then continued on and on to get me to this actual body."
Messages about self-love and consumer-grade feminism are most often directed at young, middle-class white women, urging them to embrace their own power by making some kind of purchase. While the Body Positive was founded by two middle-class white women, it is also designed with inclusivity and an expansive worldview in mind.
Yarrow Halpern, who uses the pronoun they, is a community organizer and Body Positive facilitator who works with high school students in the Bay Area, many of whom are in the foster care or judicial systems. Halpern said that although the white, middle-class lens at Body Positive was clear, the framework was so strong that it could travel outside those enclaves. "The material that we received, while it's amazing, is not ready for me to bring it to the hood," Halpern says over the phone. "So I'm going to have to do some tweaking."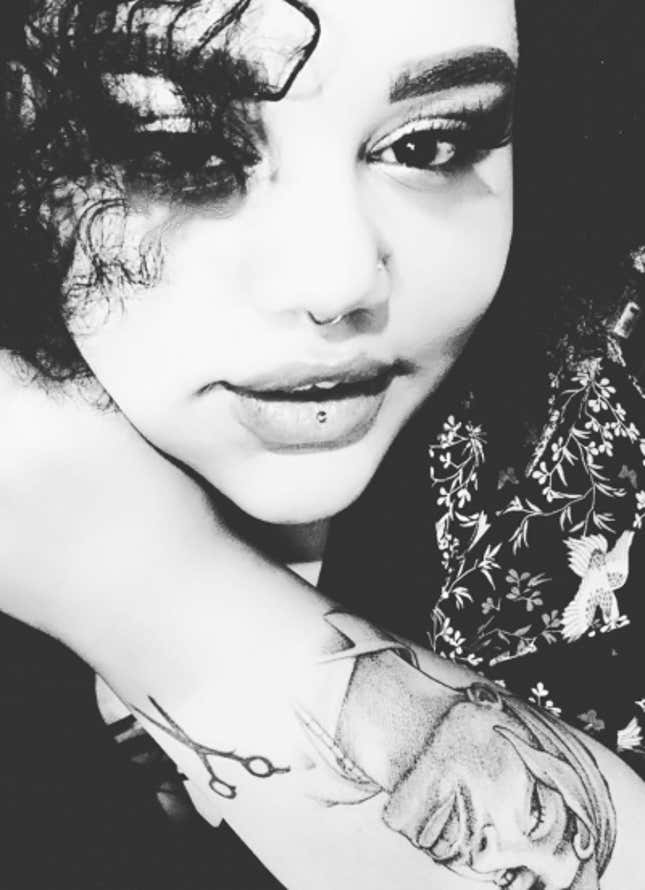 Halpern edited Body Positive exercises to fit the teenagers they work with. "I can't go and tell a 19-year-old, who is gang involved…who is on probation to write a love letter to himself," says Halpern. Instead, Halpern asked the teenager to write about what he can do better than anyone else, and got several pages in response. "I brought in elements of The Body Positive to get them believing in themselves and get them to see value in themselves that maybe nobody besides me has seen value in them before," Halpern says.
The program is also particularly useful on college campuses, which are often hotbeds of self-criticism even when students come from privileged backgrounds, says Gillian Cutshaw, who led a Body Positive group as a staff member at St. Mary's College of California for several years starting in 2010. She describes a culture where young women went to the gym twice a day and constantly counted calories; many students said they felt paralyzed in the cafeteria by the idea that others were judging what was on their tray, and were terrified to go to the campus pool in a bathing suit.
For Connie, who herself struggled with an eating disorder and lost a sister to chronic illness caused by multiple eating disorders and malnourishment, the goal of Body Positive is wholesale transformation of the world. Barring that, she takes pleasure in the change she sees in the young women who participate. "They become whole, they become absolutely connected to their purpose," she said. "They walk through the world in a different way. The people around them transform as well."