Don't be literal. Think about feelings. Tag lines are useless.
To create an effective brand in the startup age, you sometimes have to challenge established rules of corporate marketing.
That was the key takeaway from a talk given by Emily Heyward and Jonah Fay-Hurvitz, two strategists at the Brooklyn-based agency Red Antler, at the 99U Conference last Thursday (May 10). Heyward and Fay-Hurvitz are worth listening to, given that Red Antler has become the branding guru du jour of the US startup scene, working with companies such as Casper, FourSquare, Rent the Runway, and Birchbox,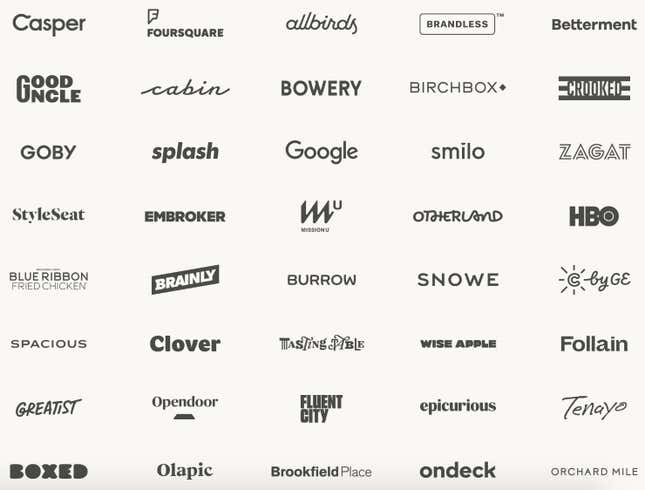 Resist the literal
The first mistake brands make is choosing a name that's too literal says Heyward, Red Antler's co-founder and chief strategist. "A lot of times people think their name has to exactly describe what their business does," she says, "because they think that's going to help people understand it. But its very, very rare that people see your name out of context."
A name that's too descriptive could actually box you in and cause issues if you ever choose to expand, explains Heyward. When this happens, companies are obliged to spend money on advertising campaigns to correct the public perception reinforced by their name. Overstock.com is learning this lesson the hard way, Heyward notes. They 21-year-old e-commerce company that began as retailer of surplus goods has been running TV spots since last year to clarify that they also sell new merchandise. After trying to change its name to O.co in 2011, it reverted back to Overstock after four months and has resorted to explaining itself through its "Getting judged on your name" ad campaign.
"You really don't know where your business is going to go and you don't want to lock it down too quickly, says Heyward. "Choosing a literal name is actually quite dangerous."
Instead of describing your company, try words that evoke the product or service. "It's far more important that the name be a blank canvas that you can build meaning into than describe something literally," she says. For example, Heyward and her partners chose the name "Red Antler" after learning that deer antlers grow faster than any mammal bone. It was an indirect reference to what they could offer to start-ups: rapid growth through solid branding.
It's all about feelings
In defining a start-up's intellectual proposition, it's easy to overlook the emotional resonance of a name. But a brand name's affect is key, says Fay-Hurvitz. "A name is really about giving the right impression. In the end its about the feeling and the tonality," he explains.
For example, Heyward and Fay-Hurvitz like the name "Snug" for a start-up that sells custom-sized area rugs. It connotes all the feelings of coziness or hygge and also alludes to the fact that the rug will fit perfectly in your space.
Forget taglines
Instead of obsessing about a perfect company slogan, think of several ways you can state what your company does. It's important to learn how explain the idea to customers in various channels and platforms, says Fay-Hurvitz. This means playing with descriptive language that's lively, candid, and surprising. In other words, ditch the tag lines and talk like a human.
"There's nothing worse than a brand saying the same thing over and over again. That's a very corporate way of acting," says Fay-Hurvitz.
That also means variety, and not consistency, is what's vital. Especially in a multimedia era, there's little value in obsessing over the uniformity of your message across print, direct mail, social media, VR, and more. "We can't have the strict definition of 'consistency' as you had in the days when you were running a TV campaign with tagline that you hammer over people's heads," says Heyward. 
Bonus: Don't let focus groups decide on your logo
After you've arrived at the perfect name, the next step is to work with a graphic designer create a logo. Red Antler's tip for good logo design: Don't ask strangers what they think.
The average customer is always going to be drawn to the safest option, so subjecting a logo mark to rounds and rounds of focus groups will result in boring design. "This is the reason why big corporate companies are being disrupted by start-ups," says Heyward. "We fully believe in research as input going in, to make sure we understand our target audience. But if you're try to test your way to success, you're going to end up with the safest, most watered down version. You've gotta believe in the inputs and the process and then, take a risk."