The rise of remote working has many causes, one of which is the fact that commuting absolutely sucks.
Sure, reading on the subway can be enjoyable. Until it's August, the air conditioning breaks, and other people's body parts are involuntarily smushed up against your own. Sure, listening to podcasts on the drive home can be fun, until there's traffic, and you realize you haven't eaten since lunch.
Long commutes aren't just frustrating, they can literally harm our health. As Lydia Smith explains in Quartz, commuting "contributes to our anxiety, stress, and our waistlines. A recent study of British commuters found that even just a 20-minute increase in commute time is equivalent to getting a 19% pay cut for job satisfaction."
LinkedIn, the professional networking and careers site, feels our pain. As a platform that's largely staked on the future of office jobs, it has developing a feature that offers to tell you whether your commute will be hellish before you apply for a new role.
The feature is simple: You log in to LinkedIn, and click on the "Jobs" tab. When you find a listing that looks interesting, click in, and scroll past the job description until you see the new section, "See your commute." Here, you can input your home address, and LinkedIn will tell you how long it takes to commute to this job's office by car, public transit, or walking. You can even set a commuting time to see whether rush hour will cause a serious lag.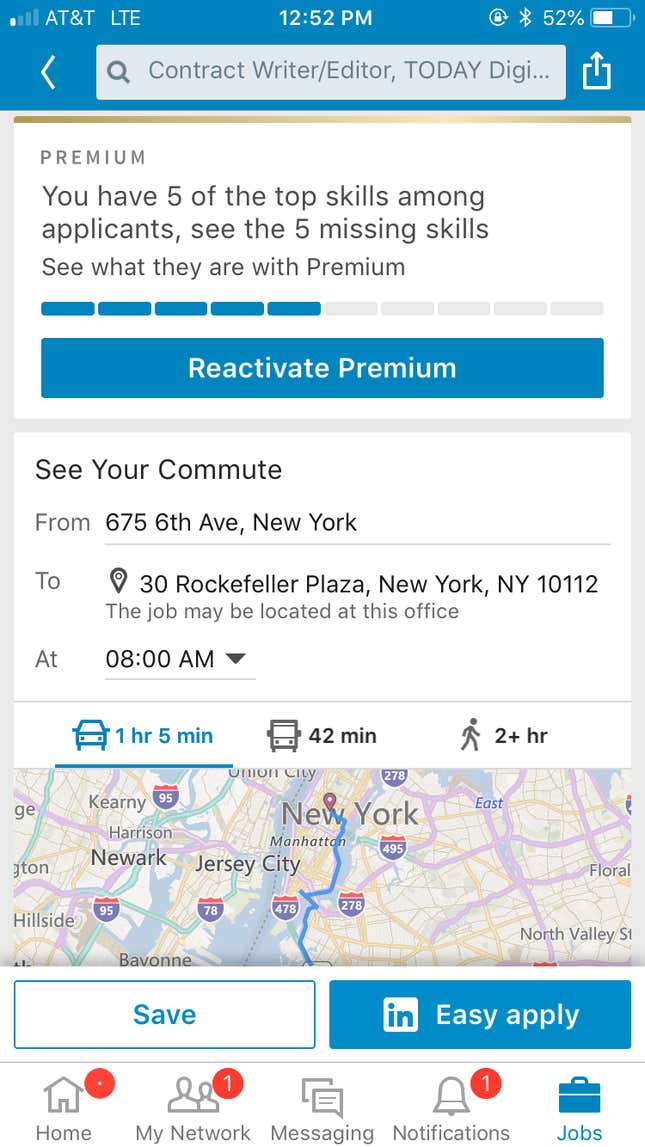 LinkedIn spokeswoman Suzi Owens says the commuting feature was inspired by a nationally representative LinkedIn survey, in which 75% of respondents said a short commute is an important part of their job consideration, and 85% said they would be willing to take a pay cut for a shorter commute. "Knowing the commute up front helps job seekers make the tradeoffs," says Owens.
Sure, you could easily go on Google Maps yourself, and check how long it would take to reach a prospective office. But that would require researching where the company is located, opening at least two more tabs, and wasting five minutes you probably don't have if you're scanning new gigs from your present office, anyway.
As VentureBeat notes, you also can adjust your desired commuting range on your LinkedIn Career Interests page, so to prevent the site from proposing jobs that are too far away.
Presently, the commuting feature is only available on LinkedIn's mobile app. (Owens says the feature will launch on the desktop version in the coming months.) It's available for most job listings, but not all. Right now, employers need to provide a location to be included in the feature, but in the future, LinkedIn will be "collecting addresses from publicly available sources (such as state business registries) and pairing these to the right job posting," Owens says.
As for potential security concerns about telling LinkedIn where you live, that's up for you to decide, though they vouch to keep your home address private.