Imagine this: You, a working American woman, wake up in the morning and get dressed for work, not in clothes you own, but in ones you rent. In fact, they just arrived last night, sent to you by Rent the Runway thanks to your "Unlimited" membership, which lets you borrow an ongoing rotation of different styles.
You head out to your office, which isn't really your office, since you're probably a freelancer or work remotely, but a coworking space you rent from WeWork. When you get to the WeWork space, you stop in the lobby to drop off some other clothes that you wore earlier in the week in a box Rent the Runway has installed there specifically for that purpose.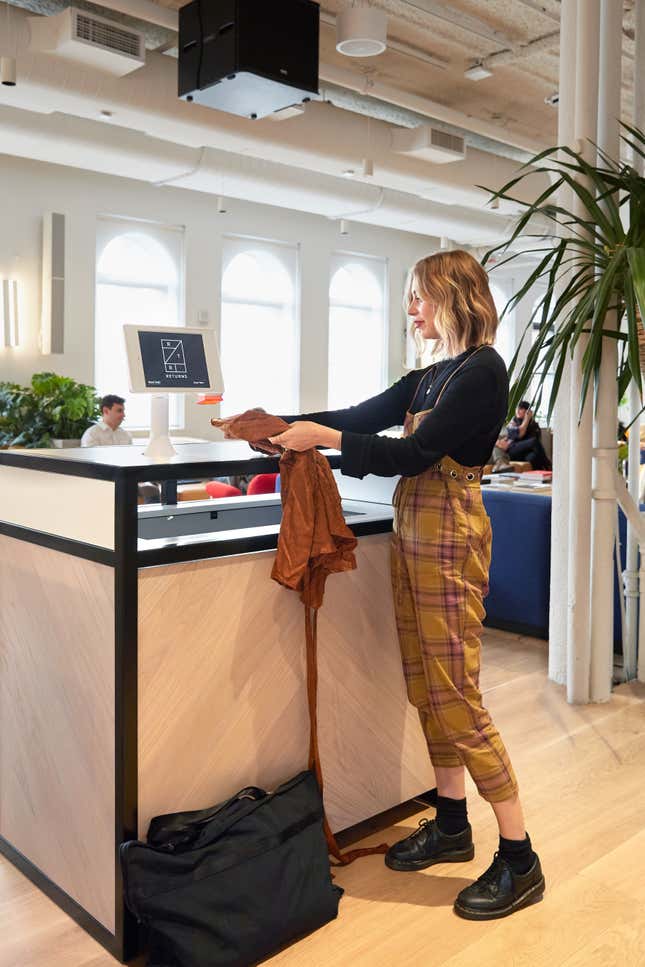 The scenario will be a real option at 15 WeWork locations in six cities—New York, San Francisco, Los Angeles, Chicago, Washington DC, and Miami—where Rent the Runway is installing clothing drop-off boxes. It's the first step in a broader partnership that the companies announced today (Oct. 18). They haven't specified what else the partnership might entail, except to say it's intended to help meet the needs of modern working women, a customer base both have been trying to win over.
Rent the Runway began as a way for women to rent fancy dresses and clothes for special occasions. It has since broadened its ambition to become the everyday closet of American women—a "closet in the cloud," in the company's parlance—and points out that 90% of its subscribers are working professionals. Its "Unlimited" plan, which launched in 2016 and now comes in two price tiers, has been growing 150% year-over-year, according to the company, and now makes up more than half of its revenue. To meet its customer demand, Rent the Runway says it has increased its assortment of work clothes by 250% this fall.
WeWork, meanwhile, has made its own efforts to appeal to women. Last year, for example, it invested in The Wing, a women's only co-working space and social club "whose mission to 'create space for women to advance their pursuits and build community' closely aligns with our own," WeWork said in a 2017 year-in-review blog post. It has also launched projects geared around women's work clothes. It partnered with prep-outfitter J.Crew, which has—or at least had—a strong female following for its workwear, on an ad campaign and a series of talks with entrepreneurs. Right now, 48% of WeWork members are women, Rent the Runway's chief operating officer, Maureen Sullivan, told WWD (paywall) in an interview about the new partnership.
There's upside for both companies in the deal: WeWork gets to further its ambition of touching all parts of its members' work lives, while Rent the Runway becomes more visible to and accessible for WeWork's many female members. And for working women, the pitch is that the partnership will make their lives just a little bit more streamlined.