They walk among us in just about every office: People with their laptops open, bound for conference rooms and common areas, many keeping their devices ajar to avoid losing those precious few seconds of computer wake-up time.
While we cloak our phones in shock-proof plastic and their screens with tempered-glass shields, laptops rarely get similar protection. Considering these pieces of hardware are some of the most expensive items we work with, it's a little shocking to see how cavalier we can be toward our one essential work device.
But since when has safety outweighed looking cool?
Over the past few weeks, we've been observing Quartzians in their natural habitat and have tried to make sense of their odd office rituals in porting their laptops from one meeting to the next. Here are some of our findings.
The clutch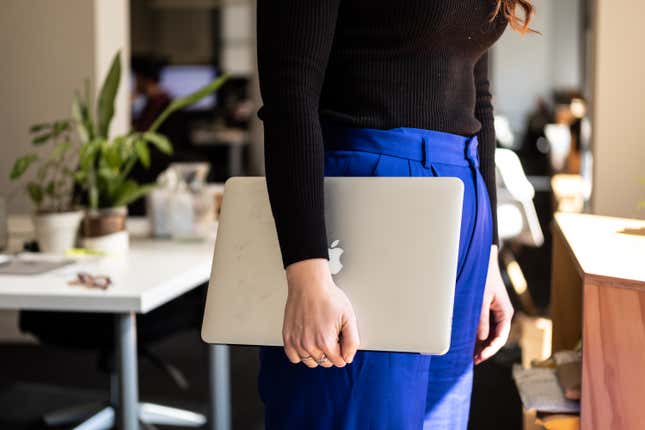 Position: holding closed laptop by your side
Pros: simple, stylish, classic
Cons: boring, risk-averse, basic
The yearbook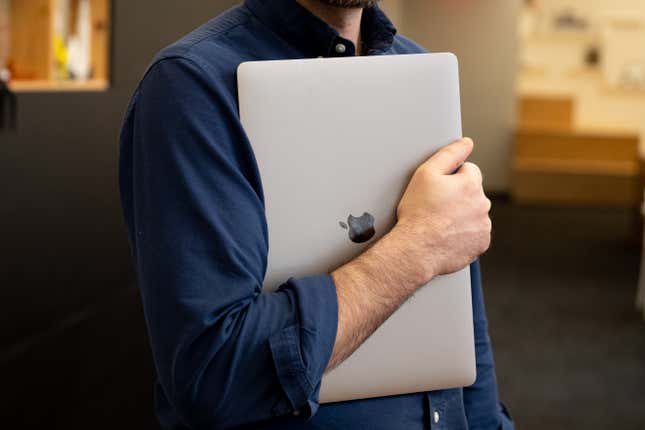 Position: holding closed laptop against your chest with one hand
Pros: offers dual protection for both laptop and the body's core mass
Cons: seems a bit defensive. What are you hiding?
The waiter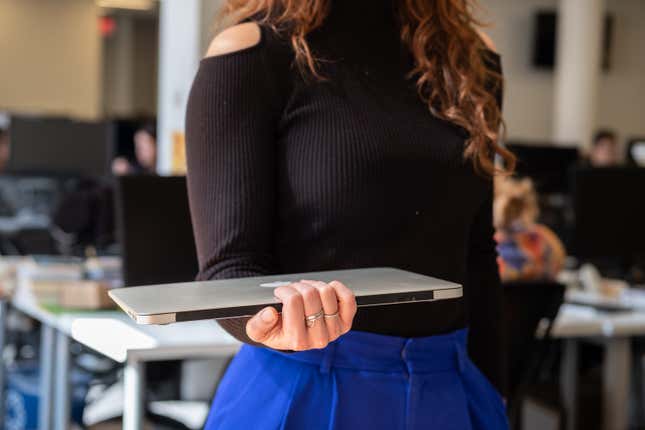 Position: holding a closed laptop on your forearm like a tray of drinks
Pros: keeps one arm free for coffee, high-fiving
Cons: built to spill
The insurance claim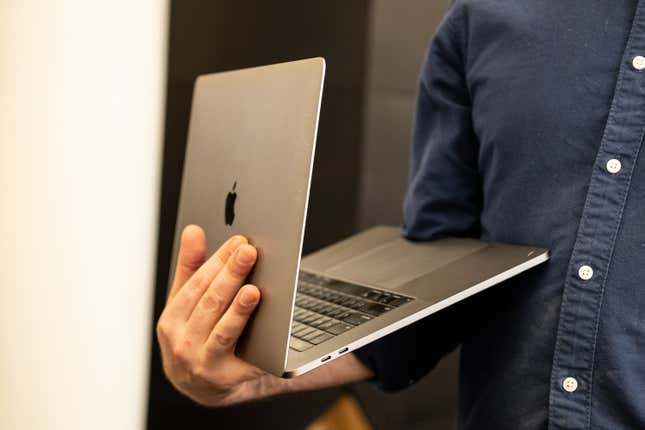 Position: holding open laptop with one hand outstretched in front of you
Pros: a sense of excitement
Cons: a sense of impending doom
The teddy bear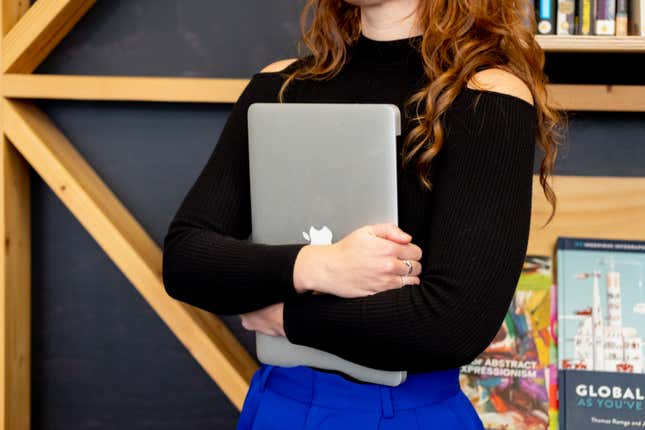 Position: holding closed laptop clasped against your chest with both hands
Pros: optimal safety
Cons: significant risk of separation anxiety
The placeholder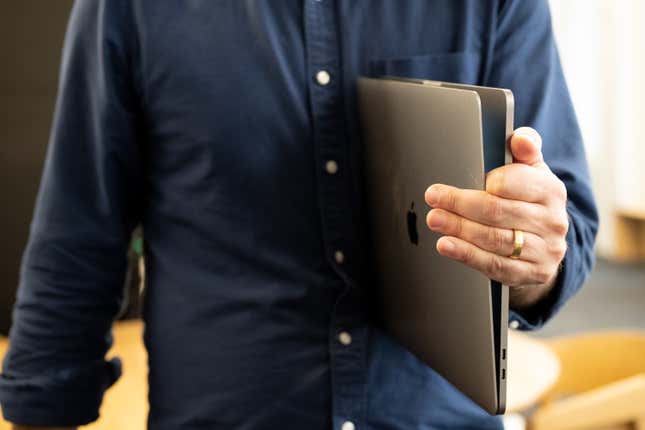 Position: wedging a finger into a mostly closed laptop to keep it from going to sleep
Pros: congrats, you've saved the few seconds that it would take for your laptop to wake up!
Cons: possible severed finger
The children's toy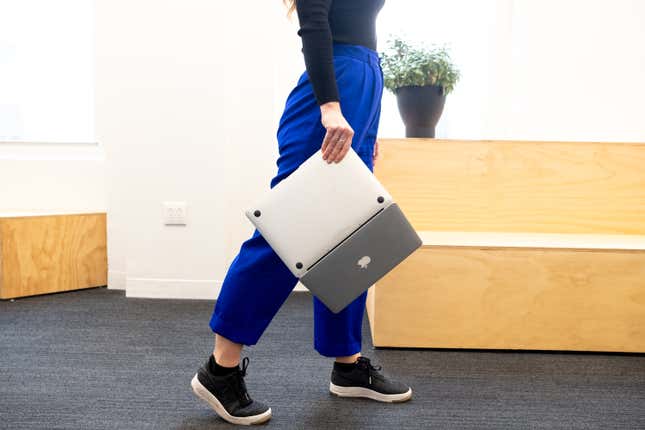 Position: holding open laptop dangling by your side from one edge
Pros: exudes the studied, stylish carelessness known in Italian as sprezzatura
Cons: bad for those with sweaty palms
The librarian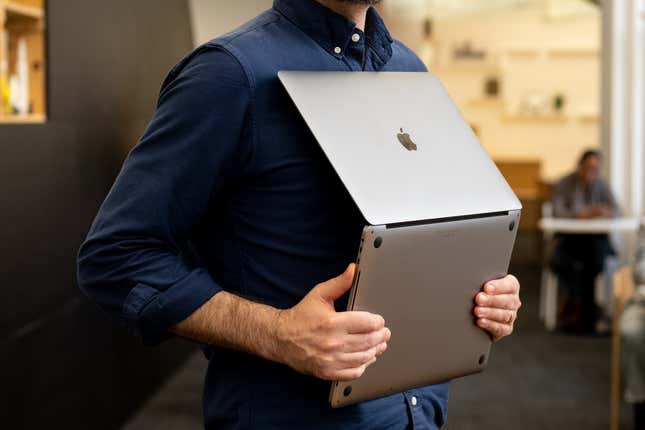 Position: holding open laptop across your chest like an open book
Pros: good for keeping your page
Cons: bad for keeping your battery life
The pocket protector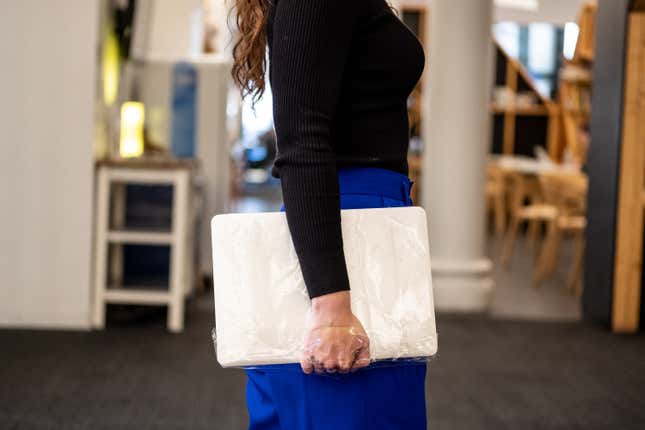 Position: closed laptop sticky-taped to body
Pros: ready for everything
Cons: may require a boxcutter to get back to work
The Jordan
Position: spinning closed laptop on one finger
Pros: looks cool
Cons: dirty looks from the IT desks
The water carrier
Position: balancing closed laptop on head
Pros: leaves hands free to carry other objects
Cons: possible cultural appropriation
The vacationer
Position: no laptop at all, holding piña colada instead
Pros: everything
Cons: none
Update: Added "The Kanye," a close relative of "The Children's Toy," to our broader taxonomy