Who knew that an innocent heart icon could do so much damage? At a sit-down interview at the TED conference in Vancouver this morning, Twitter founder and CEO Jack Dorsey said that he would eliminate the platform's "like" feature if he could do it all over again. He explained that the social currency attached to the number of likes and followers has corrupted Twitter's original intent.
"If I had to start the service again, I probably would not emphasize the follower count as much. I would not emphasize the 'like' count as much," Dorsey said. "I don't think I would even create 'like' in the first place because it doesn't actually push what we believe now to be the most important thing, which is healthy contribution back to the network."
Like other social media platforms, Twitter's interface included a "favorite" button when it launched in 2006—in Twitter's case, it was in the form of a gold star. Four years ago, Twitter reconsidered the semiotics of approvals and updated the button to a heart icon to indicate "likes." In hindsight, Dorsey sees they needed a much bolder design change.
He suggested Twitter's interface design may have been the root of many problems. "One of the choices we made in the early days was we had this number to show how many people follow you. We decided that number should be [displayed] big and bold," Dorsey said. "Was that the right decision at that time? Probably not."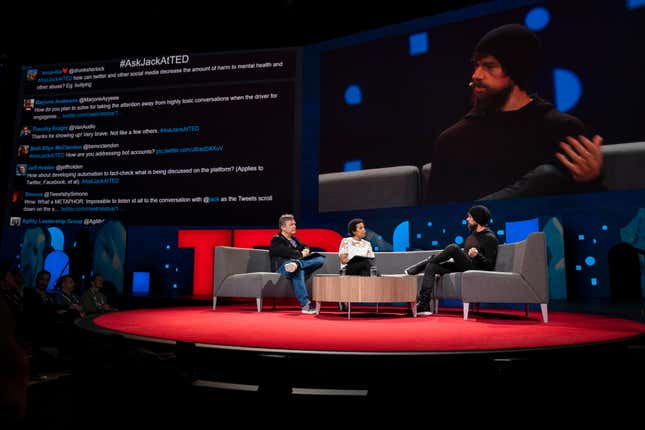 Dorsey said he's most worried about the quality of conversations on Twitter. "Our purpose is to serve the public conversation, and we have seen a number of attacks on it. We've seen abuse, we've seen harassment, we've seen manipulation, automatic and human coordination, misinformation. These were all dynamics that we were not expecting 13 years ago when we started the company."
Dorsey also disclosed that he's considering a new model that highlights conversation chains instead of personalities. "I believe that Twitter is an interest-based network. What we could do instead is allow you to follow an interest, a trend, a hashtag, or a community," he said. "[That] gives us an opportunity to show all the accounts…[and] all the hashtags associated with that, which really opens up the perspective that you see," he said. "That is a huge fundamental shift to bias the entire network away from an accounts bias to a topics and interest bias."