There is a cardinal rule at TED that prohibits speakers from raising money for their business ventures on stage. But on April 16, curators of the 35-year old ideas conference broke its own golden rule for good reason—or eight good reasons, as curator Chris Anderson explained.
"Welcome, everyone, to tonight's special session devoted to an extraordinary endeavor called The Audacious Project," Anderson opened, to introduce the second round of TED's collaborative philanthropy initiative. "It's designed to encourage the biggest imaginable ideas for change and turn then into action…"[We've selected] the ones we believe can happen and then challenge a wide-range of generous souls to come together and see if they can fund them together—including you here and now."
During the two-hour live-streamed program, TED showcased eight social impact initiatives ranging from girls education programs and deworming treatments to a campaign to end child sexual abuse on the internet. Anderson and Anna Verghese, The Audacious Project's executive director, rallied TED's loyal base of affluent attendees, most of whom had paid $10,000 or more to be at the five-day conference, to consider helping raise the $567 million for the eight nonprofits.
Each of The Audacious Project's recipients is indeed worth studying, but the way TED masterfully raised funds for them is also worth a closer look. Echoing tropes from charity telethons, the session demonstrates modes of persuasion that's instructive for anyone looking to raise money for a cause.
"You don't have to donate to be part of this… but we'd certainly love for you to be open to the possibility. I do warn you now, some of these ideas are dangerously inspiring," said Anderson. "It's daunting and sometimes depressing to think about just how tough a spot the world is in…Tonight, humanity strikes back."
1. Gather affluent friends and strangers in a beautiful setting.
Inspiration is TED's metier. Beyond the talks, TED's staff and an army of partners create a stimulating campus at the Vancouver Convention Center. With so many affluent, well-connected attendees gathered in Vancouver, there's a prevailing feeling that pooling a few millions can make a difference. "Frankly, a lot of well-meaning people with resources come [to TED]. We almost had an obligation to use this opportunity," explained Anderson during a press briefing.
Offering the live stream for the Audacious Project session for free gave the projects greater exposure beyond those gathered in Vancouver.  (TED normally charges individual $500 for the live broadcast of the conference.)
2. Have celebrities introduce you, but choose them well.
Having a luminary introduce each project is a genius touch. It's crucial to choose a celebrity that resonates with the audience and has a believable relationship to the cause. For instance, Dr. Sylvia Earl, a marine biologist and a star in TED's circles introduced Nature Conservancy's novel economic scheme to protect 400,000 sq. km of ocean in the Seychelles.
Shah Rukh Khan, the debonaire "King of Bollywood" and host of TED Talks India, appeared on screen to introduce Safeena Husain, founder of Educate Girls. "A daughter of India, she has an unwavering power of girls, and I'd follow her anywhere," SRK said, with extra twinkle.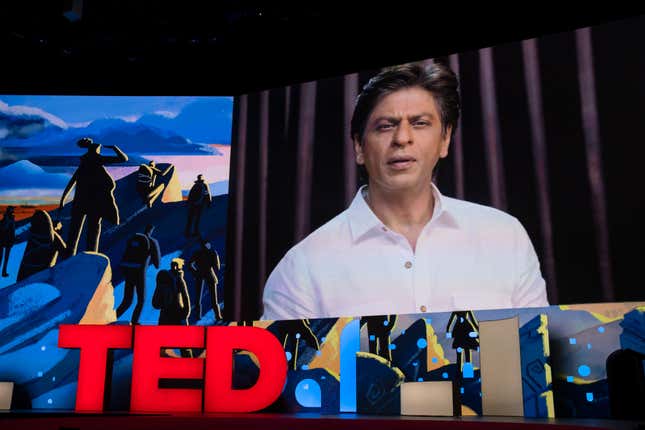 3. Prepare a compelling pitch (using the TED talk formula).
Crafting a compelling TED talk is the subject of several books. TED's public speaking formula involves paying attention to the emotional arc of a pitch. It's not enough to deliver information. A calibrated mix of personal stories, science, and surprise evoke the best response.
Plant biologist Joanne Chory gave a compelling talk about her lab's bold plan to increase the ability of plants to absorb carbon dioxide through genomics. "I recently had an epiphany. I realize that I could actually play a role in solving one of the biggest problems that faces mankind today, and that's the problem of climate change," said the 63-year old Salk Institute professor. "I also have some urgency I want to tell you about…I also have had Parkinson's for the last 15 years, and this gives me a sense of urgency. I want to do this now while I really feel good enough to be part of this team."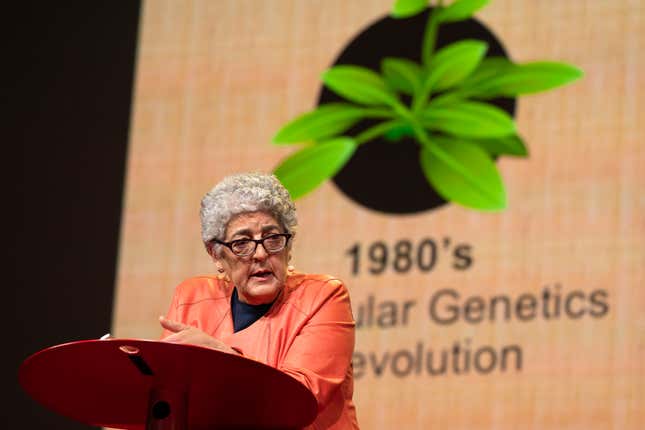 4. Create easy and visible channels for donors.
TED has an Audacious Project donation function built into the conference app. This allowed anyone in the audience to pledge on the spot, as Anderson and Verghese gently suggested donation amounts. They use the familiar language of charity drives, but deliver the appeal with a soft touch.
"Like I said, no one has to pledge, but if inspired please do so. Frankly, any amount whether it's a million dollars, whether it's $25 will really help solve these problems," said Anderson. "For $250,000, a million kids would get deworming medicine for an entire year."
"Perhaps you'll consider giving $50 to the Salk Institute. That's the estimated social benefit the world receives for every ton of carbon that's eliminated. Even $25 to the Nature Conservancy will protect can protect a span of the ocean the size of eight city blocks." Verghese added.
As people pondered their pledges, a scroll of donor names appeared on the big screen: Emerson Collective to Center for Policing Equity…Chris Larsen and Lyna Lam for Institute for Protein Design,…Joe Gebbia to Thorn…Joe Gebbia to Educate Girls… Priyanka Jain to Thorn…
5. Talk about data.
"We've come to think of it as the sweet spot where dreams meet do-ability," said Verghese on top of the session. "These ideas are big and brave, but they are also exquisitely actionable—enough for us to be sure that these initiatives can deliver meaningful impact." She explained that the eight recipients were selected from a pool of over 1,500 applicants and each was thoroughly vetted by TED's roster of subject-matter advisors. Applicants were judged as much for their five-year business plans as for their social impact.
"People today really want data," explained Claudia Miner, co-founder of Waterford UPSTART program. "It's no longer enough to say, 'It's working or it's not working and give us more money,'" she said to Quartz, outlining her organization's plan to offer early-education software to 250,000 children across the US. "The really exciting thing is the number of kids we're going to serve."
6. Have a chanteuse.
In the long tradition of celebrity-backed charity drives, TED invited a performer to serenade the audience as they pondered exactly how much to give. British singer Emeli Sandé provided ample poetry with soulful ballads about feeling connected with the world's struggles.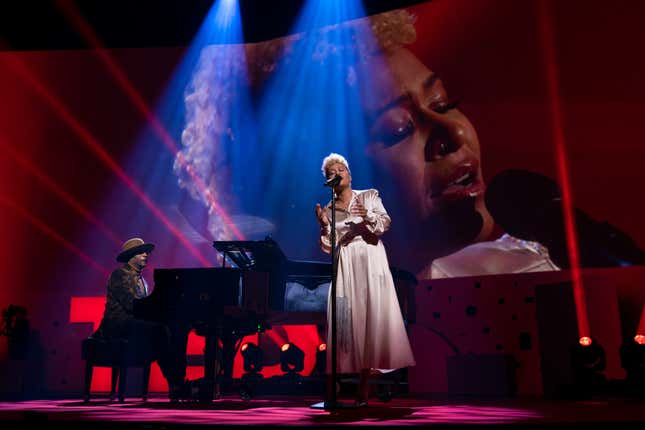 7. Throw a party.
Paying attention to the social dynamics of a gathering is a classic TED approach. The Audacious Project segment was immediately followed by a circuit of dinner parties, where in convivial circles, attendees got a chance to sit down with recipients and extended conversations about their plan to save the world. Over wine and artfully-composed plates, the dinners also gave donors a forum to freely discuss (or compare) how much they gave.
Bonus: Invite a scientist to explain the scientific benefits of charitable giving.
The next morning, happiness researcher Elizabeth Dunn offered even more reasons to give generously. The University of British Columbia psychology professor argued that charitable giving actually benefits the giver as much as the recipient.
"We're used to giving as something that we should do, and it is," she said. "But in thinking about it this way, we're missing out on one of the best parts of being human: That we can find joy in helping others. Let's stop thinking about giving as this moral obligation, and start thinking about it as a source of pleasure."
She advised, "If you're running a charity, don't reward your donors with pens or calendars. Reward them with the opportunity to see the specific impact that their generosity is having and to connect with the individuals and communities they are helping."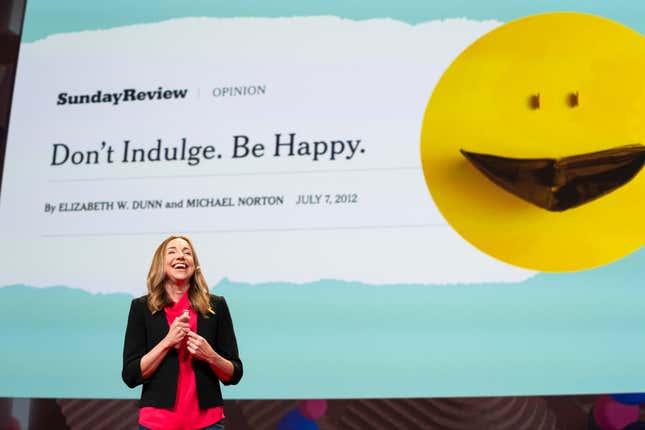 Anderson explained that The Audacious Project is TED's attempt to improve existing models of nonprofit fundraising. "What fundraising looks like now is you have one bloody meeting at a time," he said. "Some of the most impressive change makers in the world spend 70% to 80% of their time just trying to raise money. Often they end up cutting their dream. It's not great." He also clarified that TED's no-selling-on-stage policy remains."The one exception is The Audacious Project.…The difference is that they've run through the gauntlet. We're standing behind these ideas and we're funding them."