There is an unspoken ritual that happens every year at the TED Conference. Attendees of the annual ideas forum—be they tech millionaires, cultural celebrities, heads of state, or prize-winning scientists—are prone to stuffing their bags and pockets with curious items from the event's "refuel stations." You could hardly fault them for the unabashed looting. TED's tempting, free-for-all snack stations throughout the Vancouver Convention Center featured over 100 items this year, including tasty vegan peanut butter cups, savory popped waterlily seeds, collagen-infused candy, energy-boosting gum, and protein bars made of pulverized crickets.
Sourcing novel munchies, is in fact, a serious matter at TED. "The idea is to always put new things in front of this audience," explains Janet McCartney, TED's director of events and "curator of snacks." McCartney, who has been working on TED's signature event since 2003, researches tasty and healthy options for the conference year-round. Her guiding principles: "innovative, sustainable, unexpected, and tasty."
"At the end of the day, one of the most important things for us is that the food has to taste good. We don't want people leaving stuff uneaten," she says. McCartney has a team of food tasters throughout the TED staff who weigh in on the snacks.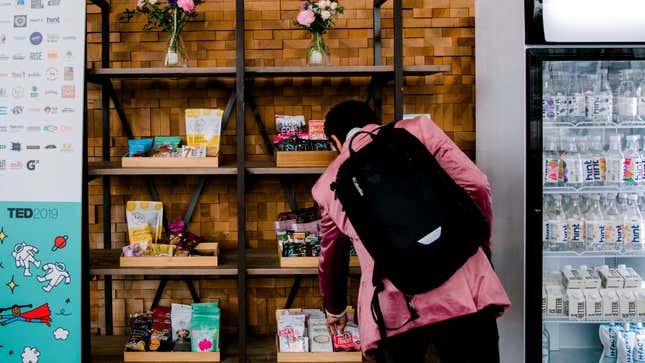 The large selection is partly to satisfy the myriad dietary requirements of the 2,000  attendees."We have an entire spreadsheet of every one in this conference who's got a food allergy. It's data we study," says McCartney. Part of the job is being attuned to the various nutritional plans preferred by conference-goers, including low-carb, ketogenic, and paleo. "We're trying to find all the things that people could possibly want throughout the week but also looking for innovation within each of those categories." For instance, McCartney is currently excited about Milk 2.0, a surprisingly satisfying dairy-free chocolate milk made from almonds and cashews. She also likes the efforts of Fit Cricket, a company which actually makes insect pulp taste like apple pie—more or less.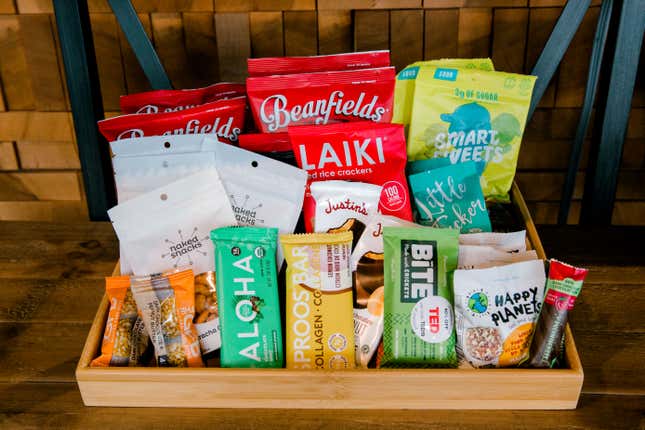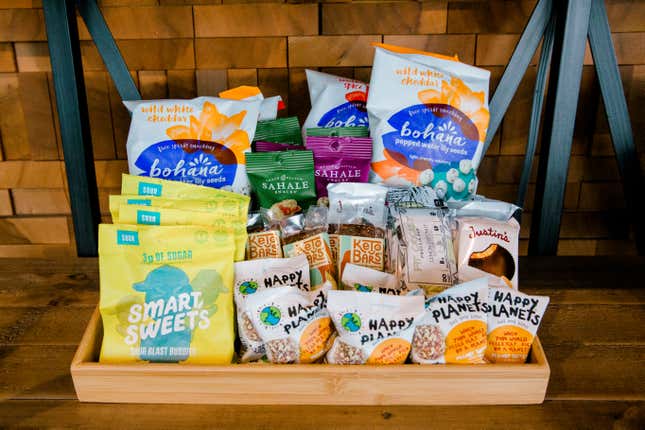 Crickets have actually been a staple of TED's snacks table for nearly a decade. The instigator may have been Dutch entomologist Marcel Dicke, who gave an illuminating talk about the benefits of eating insects—caterpillars, locusts, grasshoppers, ants, and crickets—at the 2010 TEDGlobal conference. During the afternoon break following Dicke's talk, TED's catering crew brought in platters of critter-flecked baked goods and hors d'oeuvres.
McCartney describes the range of goodies in her snack gallery as "brain food," selected to help attendees stay alert and focused for the more than 100 speaker sessions during the weeklong conference. "I want to make sure that everyone is able to stay the distance with us," she says. "The pace here is wicked. They're going from 8am till 1am. It's an endurance test."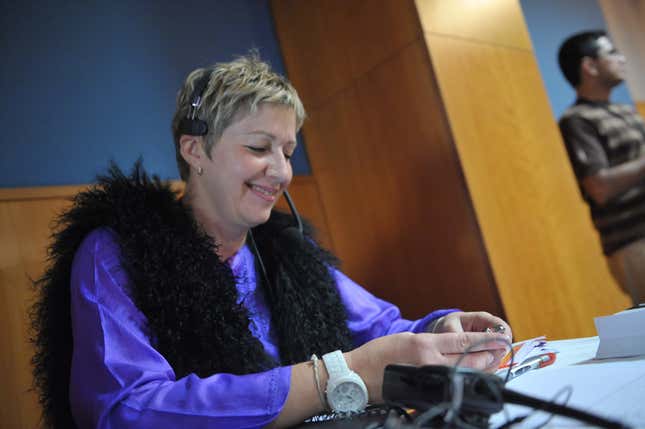 McCartney says she loves seeing attendees pore over the food packing during the conference. "I see people reading the backs of protein bars, looking at the ingredients list and reading the product's story, which is so great. We're all creatures of habit and we buy the things we already like and we may not even scan to see what else is out there. Here at TED, we have a way of delivering a hundred products in front of attendees to try."
The aroma of vegan nuggets
There's another tantalizing dimension to TED's snack program. Throughout the conference, the aroma of sizzling pea-protein meats perfumed the convention center. If smell is indeed the most persuasive of our senses, then Beyond Meat and Alpha Foods offered the most convincing argument for reconsidering our meat consumption. Ideally located near the conference entrance, the mind-opening vegan booths drew curious crowds and repeat customers such as former US vice president Al Gore.
The booths were part of TED's "Food Trend Lab," a daily sampling of vegan ice cream, yogurt, and meat substitutes. "I've always wanted to treat the vegans and vegetarians like kings and queens," says McCartney, who describes herself as "almost vegan" (she eats cheese). But she says there was a time when she had to tread the cultural bias against vegetarianism, even among TED's enlightened attendees. "Vegan and vegetarian are still bad words for some people, so in order to get them to try it, I just called the stations 'Tasting Tables,'" McCartney explains. She senses the tide shifting and a growing openness to decreasing animal protein in our diets. "I'm always looking at the big picture," says McCartney. "I look at what's happening in the world, where we going with food, what we need to do to become sustainable."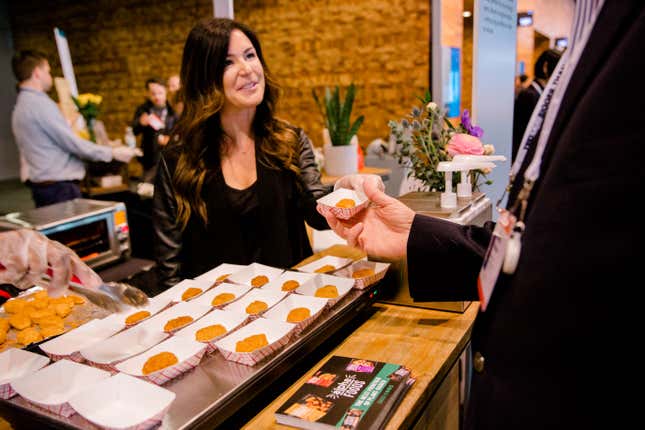 McCartney says TED's food program has also provided a forum for small producers to put products in front of potential investors. "One of the things that tends to happen is that we have a lot of venture capitalists at TED who are dedicated to food of the future. You can find those guys over at the Food Trend stations checking out who's there." she says. "We've got a very influential audience [at TED]. They're going to spread the word."
The social dimension of snacking
The wackiness of some of the snacks tends to help spark conversation among conference-goers. It's not unusual to see attendees bond over their devotion to Justin's peanut butter, exchange reviews of the grapefruit-mint kombucha, or even share loot from their bags.
Choosing superfoods that improve health and spark conversations is something offices can learn from. "There is no doubt that offices can do better," says McCartney. She says that offices can improve on the standard junk food and sugary drinks in vending machines by doing a bit of research. Calling food companies directly—especially producers in your city—often yields good deals and partnerships, she advises.
Of course, having healthy snacks is one thing, but items that inspire curiosity and levity are next-level snacking goals that could do even more to improve workplace culture. It's a point that Caroline Dütsch Kubik makes in a 2013 TEDx talk. Snacking, Kubik suggests, "could be a platform for new rituals, social experiences to encourage mindful eating."