Work isn't the only place we find connection, of course. But it's certainly a place, as many employees have felt during the pandemic.
In theory, hybrid work should give employees the best of both remote and in-person work: the ability to come to the office and socialize when they want, and digital tools to do so on their own terms when they are remote.
But keeping people in the loop and bonded is not the responsibility of managers and leaders alone. Below are some ideas for how everyone can help keep hybrid work human.

🎈
Structure unstructured time
There's one advantage to working under the same roof that must be forcibly replicated online. When you're in the same room with someone, you naturally make chitchat about the wider world. When you're jumping into an online meeting, however, it's too easy to slide into project status updates without any casual conversation. Harvard Business School professor Tsedal Neeley, therefore, advises adding six to seven minutes of unstructured time to the top of every meeting agenda.
In larger groups, you can give people a moment to share something from their weekend. Offer them a prompt to get the conversation going: "People can put in the chat how they're feeling today," she says, "you can't go straight to business."
What's more, she urges leaders to build in those micro-moments of connection throughout the day and to book entire events with the sole intention of creating an opportunity to socialize. "I'm not just talking about happy hours," she says. She is talking about 90-minute mentoring meetings across the organization or walks as social outings.
These snippets of work time could also be used for trivia quizzes or games that are purely a diversion. At the fully remote company Automattic, for example, the HR team plays games of Skribbl.io (see image below) or Scattergories at the end of weekly meetings, says Lori McLeese, the company's global head of human resources. First everyone brings problems that they haven't been able to solve through online conversation, then they break out a low-stakes game. "It's just such a way to recharge and have connection, and have fun, and then go back to the workday refreshed," she tells Quartz.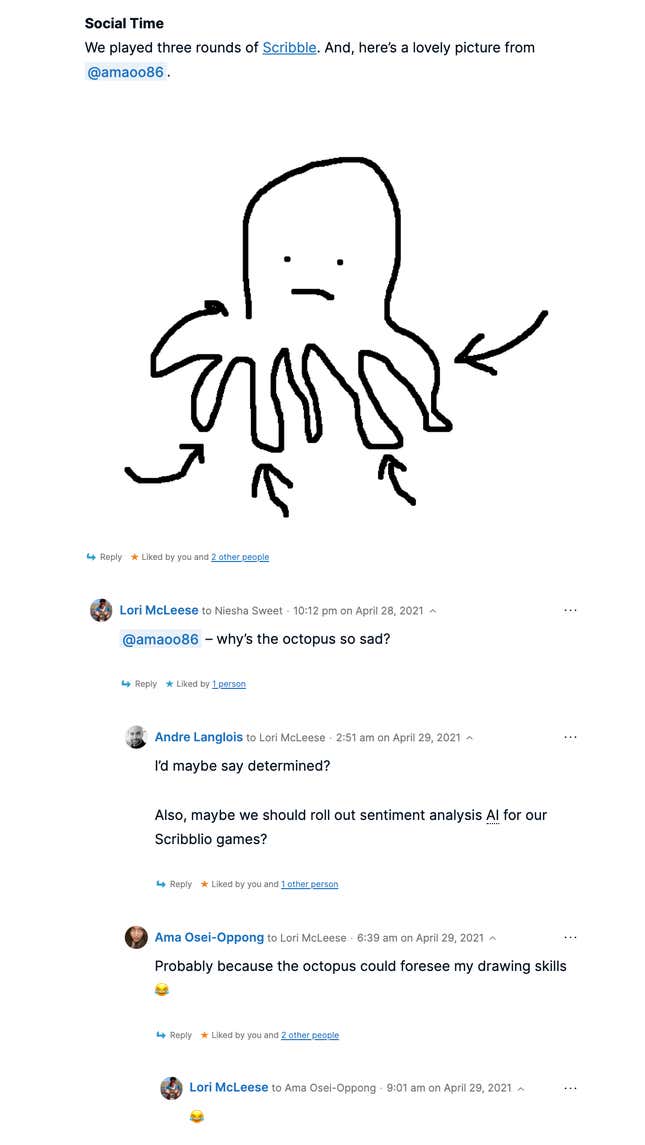 ✈️ Arrange at least two in-person gatherings per year
Or at least that's become the rule at HashiCorp, according to Kevin Fishner, its chief of staff. He says relationship-building is more difficult for mostly remote teams "because everything needs to be done explicitly, and you don't get any or very few implicit benefits," he says, referring to all the ways people can bond through the subtle cues we pick up during in-person conversations.
In a hybrid workplace, the biggest mistake a manager can make is to over-emphasize the business agenda, says Harvard's Neeley. Work travel can no longer be about flying in, talking business over a breakfast meeting, and taking off again.
There is only so much bonding that can happen around a virtual water cooler, notes Raj Choudhury, an associate professor at Harvard Business School. At work, you need to have "a breadth of social connections—you know, I know someone in sales, I know someone in Japan, I don't know them really well, but I know the name, I know what they do, I know their face," he says. Those broad connections can be established via time spent socializing or working together online. But the only way to establish a deep social connection—"[when] you know someone really, really well"—is by being in the same place, no matter how infrequently.
🔎 Leaders are more visible now, making cultural norm-setting even more important
Workers are mostly eager to reconnect with each other, but the relationship between CEOs and other leaders shouldn't be neglected in a hybrid future. For better or worse, CEOs and all-hand meetings work together to build a sense of group identity in an organization.
Fortunately, hybrid may actually make these interactions easier. Before the pandemic, many companies would have annual meetings where they'd bring tens of thousands of people together from all of their regional or global offices "and they go all out," says Neeley. Now, she says, "Imagine doing a version of that five times a year," she adds, "What's better?"
During the pandemic, managers found that it was "easier for them to be present to many more people in this virtual environment than it was before," she says. With that increased exposure comes greater opportunity, too. "People have more access to their leaders, who then have to ensure that they're messaging the right vision and shared values and all the things that make up the company's culture."
Salesforce had relied on "immersive spaces, from our Towers around the world to our large community gatherings like Dreamforce" to cultivate its culture, says Brent Hyder, its president and chief people officer. "That all changed overnight, and since then we've had to reimagine what it means to feel connected and keep our culture alive," he says. Events are now digital first, the company has added multiple virtual employee forums to its schedule; even the annual Dreamforce, which used to bring nearly 200,000 workers together for a multi-day workplace festival in San Francisco, will now be held in-person and online in multiple cities.
💃🏽 Create social hours with employee-generated content
Like many companies, HashiCorp is encouraging peer-to-peer virtual coffee meetings through apps like Donut, which randomly matches employees. But the company is also arranging art and music shows featuring employees as performers. "It is a really fun way to meet people, and it's all employee-generated content, which is always the best," says Fishner. Fine artists might share their work and answer questions about it, while musicians and DJs perform live Twitch shows.
🙊 Avoid accidentally hidden conversations
Unwittingly leaving colleagues out of conversations is an easy way to stir trouble in a hybrid work world. Imagine two people are talking through a messaging app like Slack and they choose to pick up a phone to solve a problem, says Neeley. Later, they reference that call in a conversation with someone who was not invited to join them that day. That's not only inefficient; it's insulting.
"This is a huge issue in Latin America," says Neeley. "You have to be so alert and aware that you can no longer do those things, because people will feel immediately excluded."
👈  Split up the desks of in-office team members 👉
Remember how teachers in school would split up friends who were having too many conversations? In the past, HashiCorp employees have had to self-impose the same rule when two team members worked in the office while the rest of their team was remote. They had little choice, Fishner says, because "in the office, they can just turn around and talk to each other. It would be very inhuman to not just turn around and talk to your friend." But that was also a great way to unintentionally exclude colleagues.
📹
Ask people to leave their video on during meetings
This tip may prove controversial, but Christie Smith, senior managing director of Accenture's global talent practice, thinks it's smart to ask "everyone in a conference room and everyone who's dialing in to be on video," she says. "As in, you can't switch off video."
"That seems like a simple task, but it actually is a big deal in creating that kind of connectivity and sense of engagement and sense of inclusion," she says.
🙉
Reduce rumors and paranoia by being transparent
The golden rule about writing things down more in a hybrid workplace is also key to maintaining a strong culture. Top-down information from management can also be accidentally lost or warped, as with a game of telephone, as it makes its way through a company of remote and hybrid workers unless it's written down, says Lori McLeese of Automattic. To "remove as much of the possibilities for rumors of political agendas as possible," she says, be as transparent as possible and document everything.
"One of the potential problems of being hybrid is that lack of information leads to rumors, and people will just make up stories to fill in knowledge gaps," she says. "When you have everything documented, you reduce those rumors, because people actually understand what's going on and how decisions are made. There's not this feeling of, 'Oh, if you're in an office or physically around the water cooler, you have more knowledge.'"
📱 Share your personal or team ground rules for remote conversation
Even when communication is asynchronous, it can be daunting to strike up a conversation with someone you can't see. It feels like an interruption. It can also be difficult to read silences. Employees can lift a lot of this awkwardness by publicizing their statuses and their preferences for remote communication. (They can even write a personal user manual.) At Yelp, some employees also share remote ground rules to draw boundaries around their personal time, says Miriam Warren, chief diversity officer.
🦗
Be more intentional about mentoring young employees
Accenture's Future of Work survey found that younger employees were most keen to return to the office, while Gen X and Boomer employees were happier to spend more time at home. That jibes with previous research from Microsoft that said Gen Z felt they were missing out on opportunities to develop in their careers while they worked at home. But it also raises the question: If mostly Gen Z employees find themselves going back to in-person work, will they find the mentoring they need there? If the employees with institutional knowledge and industry experience are off-site, companies will probably need to institute more formal mentoring programs or set up other strategies that could enable more casual cross-generational connections.
Automattic's Lori McLeese says that all-remote firm encourages employees to invite another "automatticians" to personal development events, such as courses. "They didn't have to be on your team, it could be anyone in the company," she says, "and that helps build those cross-team relationships and mentor opportunities." During the pandemic, the company also launched an apprenticeship program, because teams weren't meeting even occasionally. The program invites current employees—customer service representatives, for example—who are interested in becoming developers to apply and be matched with a senior developer for one year, after which they can decide whether they'd want to pursue a position on that job track.
Another way to support junior hires or interns is through "virtual watercoolers," which pair the less experienced with senior management. In a new working paper, Choudhury and fellow researchers report on a field experiment involving 1,370 remote summer interns at a multinational company. Some of which were assigned to join virtual chats in which they were randomly matched with mentors, executives who would not be involved in hiring decisions and were not the interns' day-to-day managers. Unlike "random collisions," these conversations were deliberately scheduled; however, they were synchronous and agenda-free. Other summer interns were paired with executives and held asynchronous Q&As through an online chat function, and still others had no interaction with executives higher up the food chain whatsoever. At the end of the summer, the interns in the virtual watercooler group were statistically more likely to receive a job offer.
Though the study has its limitations, it's also an indication that intentional online watercooler encounters can rival or beat in-person meetings when it comes to building bonds and sharing culture across the company.
☕
Create presence through new artifacts
Companies have relied on real estate and office design as cultural artifacts that instill a sense of identity in employees. "You walk into the space and no one has to tell you the grandeur of that place, you see it," says Harvard's Neeley. "No one has to communicate the seriousness or vibrancy of that place."
Now that many employees will choose to stay remote, she says, "You put that in a box and you send it to people's homes." Company swag and virtual backgrounds go a long way now, she says. Maybe everyone is drinking from a similar mug or wearing the same hoodie on a call. Some firms have created multi-panel Zoom walls that make it look as though everyone is in the same place. You'd be surprised by how far these details can go to help people feel like they're part of the company, Neeley explains.
Priya Parker, a Brooklyn-based meeting facilitator, suggests creating context on Zoom calls by inviting people to "place their cameras in front of spots that have meaning for them, or that adds beauty or color to the many frames everyone else will be looking at," she says in an online guide for virtual gatherings. That sounds like the remote version of outfitting an office desk with personal photos and tchotchkes, bringing your personal identity into the office.
🚪
Leave a Zoom meeting up as a portal
Lynne Oldham, Zoom's chief people officer, says some companies have left a Zoom meeting up all day to create a kind of portal that anyone can peer into. Before the pandemic, companies did this to connect regional offices, she explains. "Maybe you're in New York and California, but because of the time difference, there's a period of time that you're overlapping and you can each see into a view of the other office," she says. The same idea could be adapted to give remote workers a visual link to company spaces when they reopen as hybrid organizations.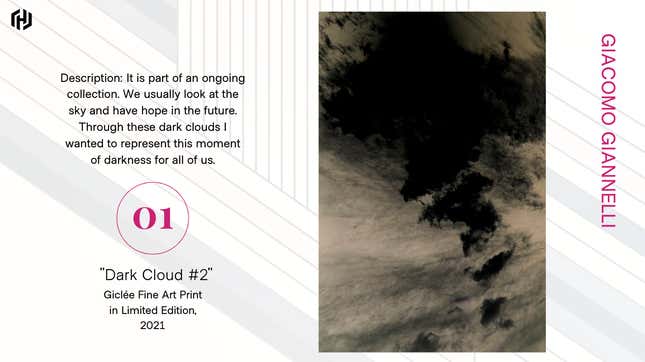 💗 Put empathy first
Depending on where your employees live in the world, they may be bracing for the post-pandemic adjustment to an "open" life and bustling office, still processing losses, or living through a wave of Covid-19 infections. Several companies told Quartz that they are beefing up their mental health benefits and continuing to talk about anxiety, depression, and the dangers of self-medicating with substances, including alcohol, because of the stresses and trauma caused by crisis.
At Yelp, they have rebranded sick days as wellness days, since it's too tempting to work from home even when you're sick. Companies like LinkedIn and Mozilla have also surprised employees with company-wide one-week vacations. Such moves signal to employees that they matter as people, boosting morale and a sense of belonging generally.
Part of optimizing hybrid work will require staying connected on a more authentic level, something that became second nature during the pandemic, says Brent Hyder, ​chief ​people ​officer​ at ​Salesforce​.​ ​"​For me personally, I've gotten to know my team—and their kids and pets—on a much deeper level over the past year via video calls," he says.​ "This deeper level of understanding has allowed me to become a better, more empathetic leader and will help all of us collaborate with our colleagues and customers in more meaningful ways in the new normal​."