It looks as if finally, at long last, we may be on the road back to normalcy when it comes to doing business. (The sound you hear is us knocking on all the wood we can find.) 
But does that mean we reset our mental calendars to February 2020, book business flights and incur work-related expenses as if nothing ever happened? 
If only.  
The pandemic has left an indelible mark on company protocols and cultures with workers now wanting facetime that works for their schedules, faster reimbursements, better enterprise technology, and more sustainable travel options. Those combined forces mean that the transition back to hotel conferences and client lunches may not be as easy as managers hoped. 
When it comes to traveling employees and workers still in the office, especially those on the finance team, something has become clear: Pretty much the only thing they agree on is that business travel and the expenditures that come with it are critical to a company's success. Everything else—from what qualifies as an expense to who's going to underwrite these new remote/hybrid realities—is being figured out on the fly. 
That's what SAP Concur learned from surveys of 1,000 US business travelers, 100 US travel managers, and 100 US finance managers, from vice presidents and up through the ranks. When it comes to business travel and all the accompanying logistics, they reported friction all around. Nearly four in five travel managers reported that their department's budget and resources are insufficient to meet anticipated travel demand in 2022. And if these business travel challenges aren't addressed immediately, nearly two-thirds of finance managers said their company would fall behind.

Insight 1
Everyone wants to hit the road again.
Thankfully, all parties agree on this point: business travel is necessary.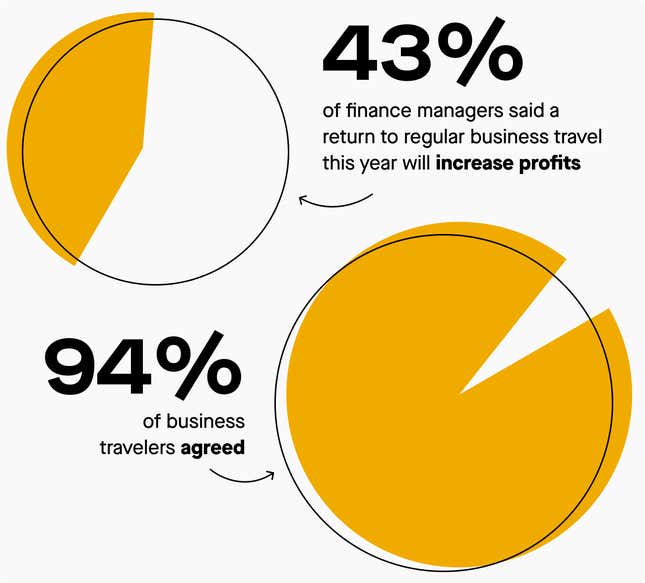 Business travelers said that, whether it is for the health of their entire industry, their own company, department, direct team, or personal career, they need to get back in motion in order to remain viable beyond 2022. And from the travel manager perspective, the travel sector is ready: Nearly three-quarters (73%) say that the industry is very or completely prepared to handle an increase in business travel in 2022.
Insight 2
Companies are responding to employee demands.
People also want a greater work-life balance, and organizations are putting their money where their mouth is, which, it turns out, is actually good for business. Nearly half of finance managers say that wellness resources like counseling and fitness reimbursements are now allowable expenses and that employees can extend business trips to include personal vacation time.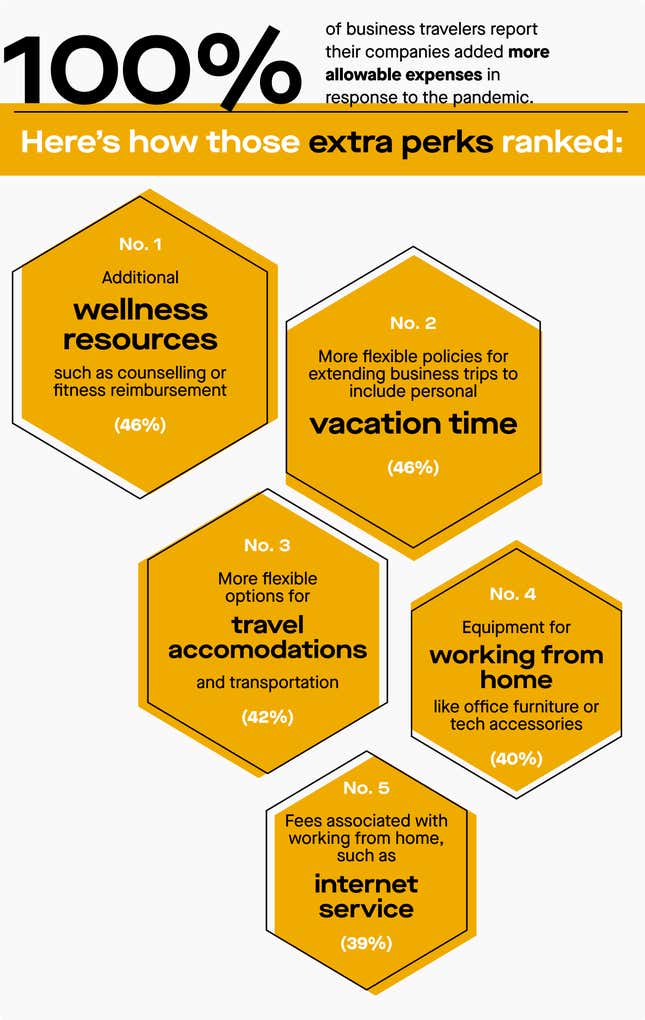 The message is clear: Remote work and flexible travel are here to stay. Does that mean we can congratulate ourselves and move on? Unfortunately not. 
Insight 3
Travel-related costs are creating org-wide confusion.
When it comes to work-from-home-slash-road, it can be difficult to distinguish between what's up for reimbursement, what isn't, and how to keep track of it all. Just ask the 89% of business travelers who submitted at least one expense report in the past year that they weren't sure was in line with their companies' policies. Or, ask the 98% of finance managers who saw an increase in non-compliant expenses in the past year—what are among the biggest offenders? 
When it comes to rejected reimbursements, the categories that have seen the biggest growth are all linked to staying connected from home, including technology and equipment (54%) and telephone and internet (40%). 
But current employees don't just want clarity on what is and isn't expensable. 
Insight 4
Workers need help navigating the new travel landscape. 
Corporate travel has never been particularly seamless, but now policies are changing seemingly week by week, and there's a different set of rules in every new location. So, employees want their companies to leverage technology and help them navigate this maze of guidelines and restrictions.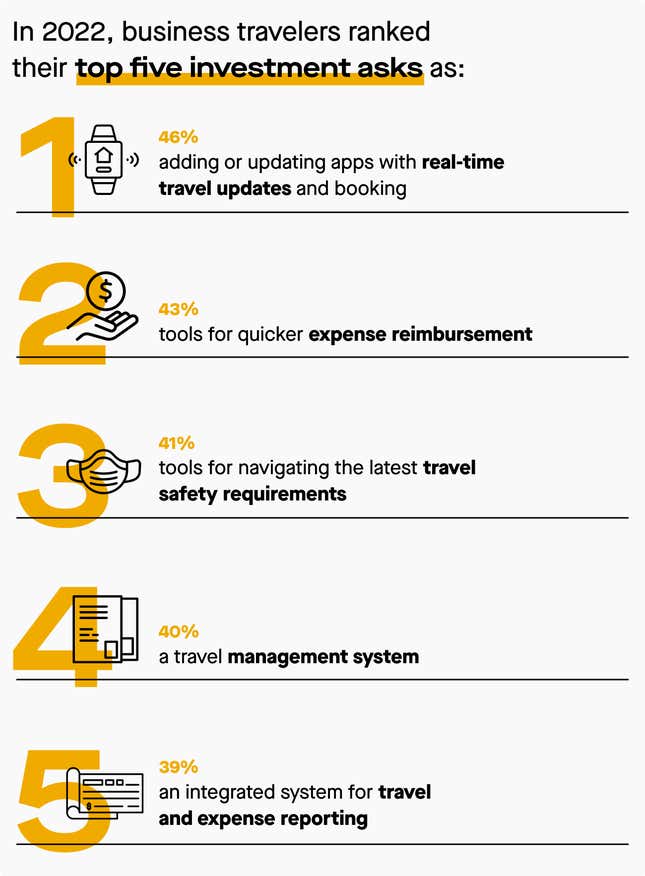 Fortunately, travel managers are helping their organizations address this proactively, as 77% said that their company has invested in new travel tools and technology in the past 12 months to prepare for a potential increase in business travel this year. But if travelers have questions about company expense policies, they can tap the finance team to clear up any confusion, right?
Insight 5
Finance teams are stretched to the brink. 
Corporate accounting isn't a field known for its "move fast and break things" mentality, but that's exactly what's being expected of it now. A whopping 100% of surveyed finance managers say their roles have become more challenging since the pandemic, with 93% reporting that there's increased pressure on their department to work longer hours, and 59% complaining that staffing shortages are saddling them with more work.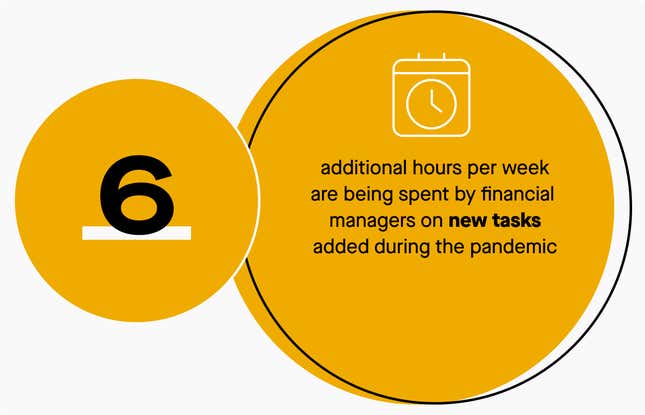 It'll be tough to add to their to-do list "evangelize the nuances of compliance to all employees," even as employees are anxious to know what's expense-able and what isn't. Unless they're hitch-hiking and couch-surfing, business travel isn't cheap. And that's especially nerve-wracking for employees, when they're the ones footing the bill and waiting to get paid back.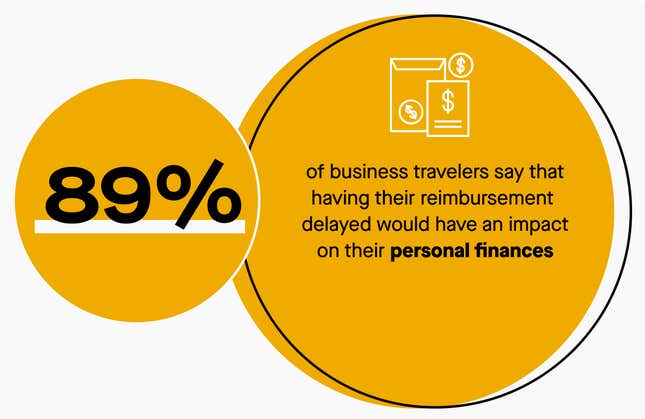 However, a speedy reimbursement is not all they want from their corporate expense policies. They also want their personal values reflected by their corporate travel plans. 
The meaning of work is changing, and staffers want to see their companies compare more than just meeting-to-hotel proximity and number of layovers when setting their travel policies, whether that means venturing to HQ for an all-company meeting or visiting a new client face-to-face. 
And considering the sizable CO2 footprint of a transatlantic flight, travel policies are one way companies can signal their commitment to larger ideals. In fact, 95% of surveyed business travelers say that having the sustainability information for their travel options is at least a little bit important.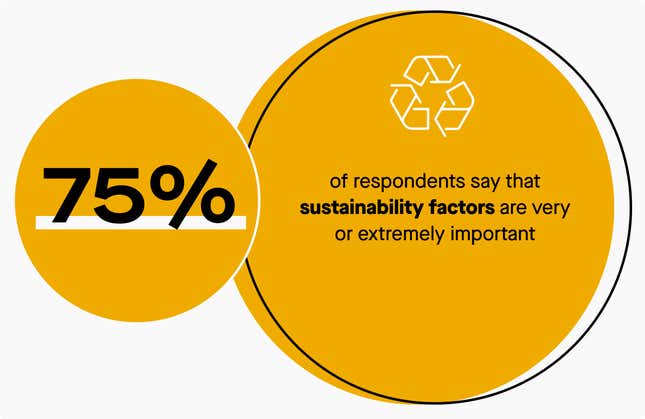 Insight 6
These obstacles can reveal opportunities.
Two points are clear from this data. 
First, business travelers, travel managers and finance managers are in different places as their companies' pedals hit the road. That's an issue. 
Second, if companies want to reap the profits of business travel while keeping their employees happy, they've got to close the gaps. And that's the opportunity.
Discover the full findings from each survey and keep your employees on the road and on the same page.
Methodology: Deployed between January 3 and January 13, 2022, the Concur Finance Managers Survey was conducted by Wakefield Research among 100 US finance managers with a minimum seniority of vice president, using an email invitation and an online survey.
Deployed between January 3 and January 13, 2022, the Concur 2022 Business Traveler Companion for Finance Managers Survey was conducted by Wakefield Research among 1,000 US business travelers, defined as those who traveled for business 3+ times in the past 24 months, using an email invitation and an online survey.
Deployed between March 1 and March 10, 2022, the Concur 2022 Travel Managers Survey was conducted by Wakefield Research among 100 US travel managers using an email invitation and an online survey.