Google's parent Alphabet has agreed to sell two of its robotics subsidiaries, Boston Dynamics and Schaft, to Japanese telecom company SoftBank.
Alphabet had reportedly been looking for a buyer for the MIT spinoff Boston Dynamics for at least a year, as its robots were not making any money (and potentially because of the public's perception they were "terrifying"). Alphabet reportedly had talks with Toyota over a sale, but one never materialized. In an effort to build to useful robots, in 2013, it purchased Boston Dynamics, which was led by Andy Rubin, then-head of Google's Android operating system. Rubin left Google in 2014 to run a tech incubator—and recently released a new smartphone—and Boston Dynamics has floated somewhat adrift within Alphabet's corporate structure since then.
Every time Boston Dynamics released a video of its newest robot creation—whether it was Spot, the giant dog-shaped robot its engineers liked to kick; the newest version of its Atlas robot they liked to bully; or its latest creation, Handle, which appears more agile on wheels than Tony Hawk—the internet would light up with articles suggesting the future laid out in science fiction was finally here. But in reality, its robots were proofs of concept around challenges facing those trying to build general-purpose robots, rather than products ready for market. The US army said in 2015 that it would not be pursuing a contract to use one of its robots as it was too loud and difficult to repair in the field, and it's unclear if the company had been able to commercialize any of its research projects to date.
Softbank, on the other hand, has made a push in recent years into robots people are actually buying. The company purchased a controlling share in the French robotics firm Aldebaran in 2015, which produces the Pepper robot that was originally designed for SoftBank to use as a greeter in its retail stores.
Pepper, which is shaped roughly like a diminutive person with a tablet strapped across its chest, sold out almost instantly when the $1,600 robot went on sale to Japanese consumers in July 2015. The company created a new division, SoftBank Robotics, around Pepper, and has been focusing on bringing the robot to new countries, including the US, and selling it to companies interested in using it as a greeter or marketing tool.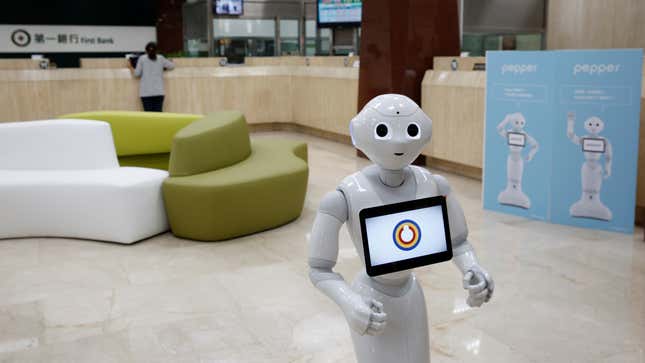 Although Pepper might look like something out of the future, there's not much that it can do right now that an Amazon Echo can't. Its arms are essentially vestigial. While they're pretty good at giving passersby high fives, they can't really carry things, and the tablet on its chest does most of the heavy lifting when it comes to interacting with people.
The robots of Boston Dynamics and Schaft, however, are attempting to solve real problems, beyond waving at people. Boston Dynamics's Atlas robot can carry heavy loads even in challenging environments, and the Handle can, erm, handle heavy items. In a recent talk, the company's founder, Marc Raibert, hinted that these human-sized bots could help out in restaurants or in emergency-response situations.
SoftBank also last year purchased the chip manufacturer ARM, which makes processors for Apple and other companies, for nearly $32 billion. It was the company's largest acquisition to date, far larger than the $21 billion and $17 billion it paid respectively for Sprint Nextel and part of Vodafone, two telecoms companies that are much more closely linked to its core business.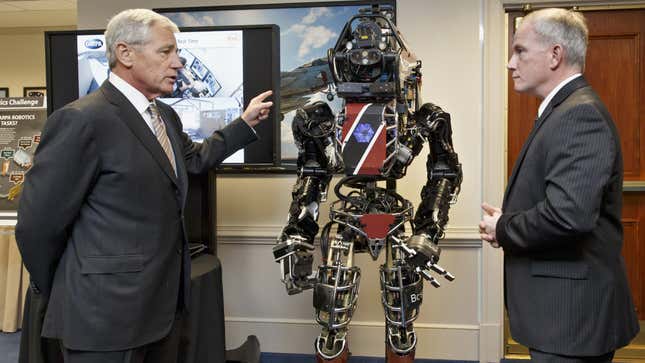 It's unclear what SoftBank paid for Alphabet's two robotics companies, but perhaps it sees a future where robots are as commonplace in our lives as smartphones are today. And what better way to start realizing that than by bringing together leading computer processors and robotics hardware?
In a statement, SoftBank's chairman and CEO Masayoshi Son talked about how robots can augment the limitations of human capabilities. With its new acquisitions, the company plans to "explore applications that can help make life easier, safer and more fulfilling."
Whether SoftBank has what it needs to actually realize this vision where Alphabet could not, remains to be seen.