Among the lies I tell myself before business trips are two old favorites: "I'll stick to seltzer and lime at cocktail hour" and "I'm going to wake up at 5:30 a.m. to exercise."
Typically, neither happens (my most consistent travel workout is lugging my exercise gear through the airport). But it is possible—through a combination of hospitality perks and sheer will power—to stay fit even when you're far from home. Here are some helpful tips:
Schedule workouts in advance
Time is limited on business trips, especially if you're going to a conference jam-packed with panels and brainstorming sessions. That makes it important to plan your exercise breaks the same way you would one-on-one meetings: Put them in your calendar.
Is the hotel gym less than ideal? Check out local spots that offer day passes for a better workout, recommends Bethany Snodgrass, a fitness coach at Equinox.
Of course, crunches won't matter if you're also scarfing truffle mac and cheese. While you're planning your workouts, try to scope out any menus you know of, and plan what you're going to eat (or at least what you're going to avoid). "The more legwork you can do beforehand, the less you leave it to chance," says Sam Yang, a personal trainer in Hollywood. "Otherwise it's like Lord of the Flies with your health."
Repeat after me: "I am not on vacation"
It's easy to indulge on a business trip: You're away from home, you're often not paying, and everything could be considered a special occasion. Conference-goers in particular are often fueled by a carousel of caffeine, mountains of muffins, and free refills at the bar (and no wonder: meetings put people to sleep).
"You can't escape the healthy lifestyle goals that you've set for yourself," says Yang.
More important, you shouldn't. Margo Wootan, director of nutritional policy at the Washington, DC-based Center for Science in the Public Interest (CSPI), says it's important to eat as you would during your regular workweek. That means limiting yourself when it comes to the bread baskets and hors d'oeuvres… unless your regular workweek includes someone doling out pigs-in-a-blanket at the office (if so, InMail me).
Not every trip will make it easy to stick to your guns. According to a 2016 CSPI survey of major US hotel chains' menus, "dessert was almost universally included with lunch and dinner, while fruit was almost never among choices for the dessert course….Salads were often adorned with creamy dressings, cheese, candied nuts, or croutons or tortilla strips."
If you find yourself snacking—or splurging—just for novelty's sake, stop and think: Am I really hungry? Or am I just bored? Snodgrass counters conference boredom by doodling with her left hand (she's a righty) and suggests drinking lots of water and to make vegetables the bulk of your snacking to stave off the meeting munchies.
Limit alcohol intake and no all-nighters, or even 2 am-ers. You'll compromise your performance and health the following day. "There is absolutely a point of no return. If you're out until 2 you're not socializing," says Snodgrass. "You're just hanging out. You're not building your business."
Break a sweat in the airport (on purpose)
We have a ways to go before gyms and yoga studios are commonplace on airplanes, but you can often burn calories while you wait to board one. Airport hotels increasingly offer gyms, and some airports are even putting exercise equipment right in the terminal.
In 2013, Toronto Pearson International Airport opened a Goodlife Fitness gym in one of its terminals, and earlier this year Roam Fitness opened a 1,175-square-foot gym in Baltimore-Washington International Airport that offers day passes for $40. Dubai International Airport boasts a G-Force fitness club, and Singapore's Changi Airport (the world's highest-rated) has fitness centers and spas in three terminals.
Stretch as much as you can before you contorted yourself into your airplane seat, and bring a big bottle of water on board.
Check out your hotel gym—it might not suck 
Hotel chains know their fitness facilities stink: Picture three sad treadmills in a windowless basement room. That's why some chains (like the ones that frequently host conferences and other corporate events) are on a remodeling spree. Newer fitness facilities tend to be more enticing to guests; some offer group exercise classes, others on-demand video exercise options.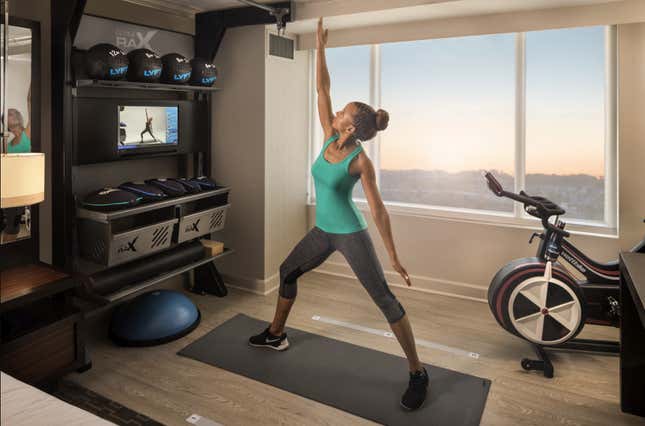 Hilton is even putting small gyms—called "Five Feet to Fitness"—inside guest rooms, so you can work out whenever (or wearing whatever) you wish. The gyms come with spinning, yoga and interval-training videos.
(And sometimes these things work in reverse: Equinox is actually starting its own line of hotels.)
But trainers Snodgrass and Yang remind me that your body is also its own gym. Workouts using your own body weight can keep you fit. Mix it up: 30 seconds of plank and 30 seconds of mountain climbers, and repeat three times, without resting, suggests Snodgrass. Try several sets of bird dogs, burpees, and squats, Yang says. Bring a foam roller for stretches, too. "It's hollow in the center and it's great so you can use it to put socks and underwear" in it he adds.
Take your meetings to the sidewalk
Not every professional connection is fostered over food. One private equity executive told me he prefers carrying out business meetings on a brisk walk, while Jack Ezon, president of travel agency Ovation Vacations, says "cycling is the new golf." No matter your sport of choice, if you're looking to bring some intensity to your networking game, try doing it outside a conference room, restaurant, or bar.