For years, airlines have asked manufacturers to cram ever more passengers into their planes. Some unholy suggestions have included backrest seats or stacked seating. They have wrung more money from economy class passengers by trimming perks and charging for basic amenities we once took for granted like checking a bag, choosing your seat, or using the overhead bin.
Now Airbus, the maker of the world's largest passenger aircraft, has come up with an innovation that promises to actually add an amenity—in the form of an easily customizable modular add-on. Airbus today unveiled its design for an arched unit that can be loaded aboard the plane as needed. It could be used as a restaurant or coffee shop, for bunk beds or a spa. It could be a gym with exercise bikes or even be a play area for antsy children.
"An airline could design a kid-safe play zone (lined with sound absorbing materials) where families can spend quality time together," Airbus said.
Generally, airlines take nearly a decade to redesign their cabins, said Jason Chua, who headed the project, called Transpose, at Airbus. The new system could allow airlines to change the configuration of their cabins at the airport within hours, he said.
It isn't clear how much it will cost airlines and whether they will bite. "Obviously it's a very risky project," Chua told Quartz, adding that Airbus "wants to try different things."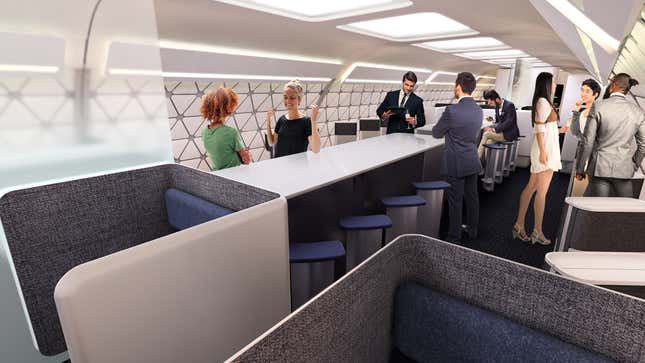 Another challenge is getting regulatory approval. An exercise gym is a fun concept to burn off that air travel stress, but aviation officials will have to make sure it's safe during unexpected turbulence.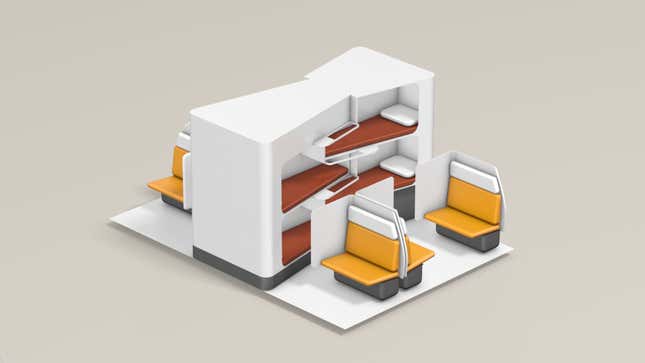 While several major airlines have lately raked in record profits, those are expected to slip next year due to higher fuel prices, according to a recent estimate of the International Air Transportation Association.
While the design of airplane seats in coach hasn't changed much for decades, airplanes have invested heavily in their premium cabins, adding pods, suites and showers.
One benefit to this modular system, Chua said, is that airlines could adapt more quickly to changing tastes. For example, airlines don't always need to fly with a shower in first class "if people decide they don't like showering anymore."
And, he added, the modular units need not be restricted to first and business class.
"We don't want to restrict this from the front of the aircraft," Chua said. "We want to upend what an aircraft looks like."