The new Uber starts with tips.
The ride-hailing company said today that it is rolling out a tipping option for rides and UberEats, its food delivery app, beginning in Seattle, Minneapolis, and Houston. Riders can choose from pre-set tip amounts (in dollars) or input a custom value. All of that money will go to the driver. Tips will be available on all trips in the US by the end of July.
"You told us what you want and it's time we step up and give you the driving experience you deserve, because simply put, Uber wouldn't exist without you," Uber said on a new webpage announcing that and other changes designed to benefit drivers, a campaign it's branding, "180 Days of Change."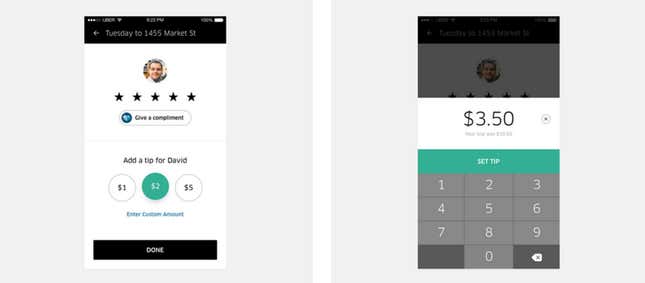 The decision to add a tipping option is a huge change of heart for Uber. Drivers have clamored for a tipping option for years, but the company has historically said tipping is not part of the Uber experience. Uber's reasoning in the past has included, "Uber is a cashless experience" (still the official policy on Uber's online help site) and "tipping is tacky." Before he resigned, Uber's then-ridesharing president Jeff Jones continued to push the company line, telling drivers in a Q&A on Facebook in February that satisfied riders could leave a "compliment" but not a tip.
Uber's pivot comes exactly one week after Travis Kalanick said he would take an indefinite leave of absence from his role as chief executive. Kalanick was known within Uber for vehemently opposing tipping, believing it was part of what made taxi rides such a bad experience, several people familiar with the matter told Quartz.
Uber declined to comment specifically on what led to the reversal on tipping, pointing instead to its online announcement. Among other changes announced today, drivers will start getting paid a metered rate after two minutes of waiting for their passenger (extending a policy Uber debuted last year) and riders will be charged a $5 fee for cancelling two minutes after booking a trip, down from five.
But let's get back to tipping. For all that drivers have requested it, tipping is hardly a best practice in labor. Tipping—and the tipped minimum wage—is, as Slate once eloquently said, an abomination. It doesn't incentivize hard work, rarely correlates with quality of service, and is a racially charged minefield. Celebrity restaurateur Danny Meyer is famed for, among other things, debuting a no-tipping policy at The Modern, a pricey dining spot in midtown Manhattan, because it was the "right thing" to do.
That said, tipping is also ubiquitous within the for-hire rides industry. Taxis have them, as do ride-hailing competitors like Lyft and Juno. Lyft said last week that drivers had earned $250 million in tips since it was founded in 2012. That means Uber drivers who don't have the opportunity to earn tips are at a disadvantage unless Uber pays them higher rates, which it doesn't. Instead, Uber has repeatedly slashed its fares to boost demand from riders, forcing drivers to work harder to earn the same amount.
In New York City, the Independent Drivers Guild, a non-union group that represents professional drivers, had campaigned to have all ride-hailing companies be required to include a tipping option in their app. The New York City Taxi and Limousine Commission, the local taxi regulator, said in mid-April that it would sketch out rules on tipping by July.
"Today's tipping announcement is an important win for drivers and proves that thousands of drivers coming together with one voice can make big changes," IDG founder Jim Conigliaro Jr. said in a statement. "Cuts to driver pay across the ride-hail industry have made tipping income more important than ever."