It feels like every festival that sprang up after Coachella in the 2000s sought to imitate it, with the result that the most popular music festivals have ended up lavishly, and laughably, homogenous. Are there any music festivals in the world still worth attending? Of course. It's just a matter of finding them. (And avoiding the ones put on by once-popular rappers that may or may not be massive frauds.)
Here, Quartz has rounded up some of the most fascinating of niche festivals across the globe, none of which are driven by pop charts, style trends, or luxe amenities.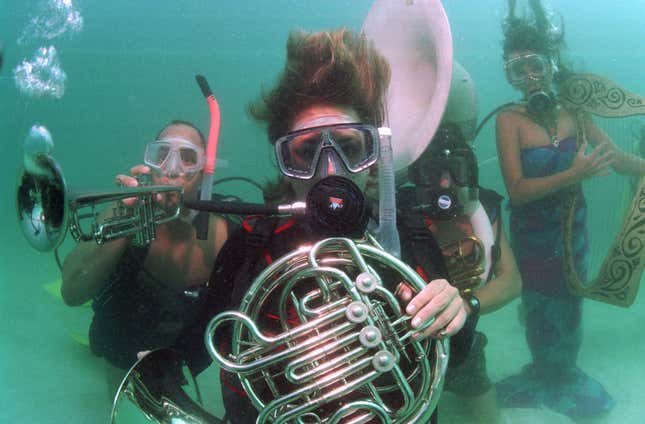 When: Feb. 18-19
Where: Cuautla, Mexico
Hipster paradise meets jungle electronica meets outdoor adventurism. Known as a 24-hour party, the festival—whose lineup is usually a mix of hip-hop, EDM, and indie—offers people the chance to learn skills like kayaking and circus tricks, when they're not soaking up the views of the palm-tree-lined river nearby.
When: April 29
Where: Hudson, New York
Three-hundred people camp out on the concrete floor of an old industrial factory for 24 hours straight, experiencing "Sound without the tight hands of Time." The music is mostly ambient, atmospheric—think Enya interspersed with Tibetan Buddhist chants—and the point is to disconnect from daily life and redefine the concept of community. Pillows are strewn all over the venue, and attendees are encouraged to spend the entire festival lying down so that sound waves move horizontally across the body.
When: May 5-7
Where: Miami, Florida
"Hip-hop fan's version of Disney World," as one review puts it, would be an accurate official tagline for Rolling Loud—a festival dedicated solely, and intensely, to the single genre. With rappers and hip-hop artists nowadays mostly heading to bigger mainstream festivals, Rolling Loud stands apart as a single-minded celebration of hip-hop culture, exclusively featuring the likes of Kendrick Lamar, Joey Bada$$, Lil Wayne, Future, Gucci Mane, Migos, and A$AP Rocky. This year's festival ended with only 47 arrests.
When: May 5-7
Where: Big Pine Key, Florida
Yes, literally underwater. Hundreds of divers and snorkelers dive into a coral barrier and play "instruments" (examples: "fluke-a-leles" and "trom-bonefish") made by a local artist, to the tune of songs that are transmitted through waterproof speakers. The point of the festival? It's not for the out-of-this-world Instagram shots—but to promote reef conservation.
When: June 2-5
Where: Leipzig, Germany
"Dark festival," "goth fest," and "medieval convention" have all been used to describe Wave-Gotik-Treffen—one of the largest annual gathering of cybergoth, steampunk, and rivethead subcultures around the world. Here you will find pagan rituals, medieval markets, Vikings reenactments—and music from all the subcultures mentioned above, of course—and a spectacularly immense celebration of all that is mystical.
When: June 9-11
Where: Rhodopes Mountains, Bulgaria
It's a celebration of nature in a Bulgarian mountain range, and it just so happens to have a soundtrack of disco, house, and techno in the background. A music festival perhaps most appealing to diehard yogis or outdoor enthusiasts, Meadows in the Mountains offers eco-friendly partying (the stages and structures are sourced from the forest itself), wellness events, and plenty of acoustic guitar. As one attendee wrote in 2015, "Sure, it sounds like gap-year-traveller hyperbole, but the sight of the sun breaking through a blanket of mist is enough to silence even hardened cynics."
When: June 16-17
Where: Eau Claire, Wisconsin
Eaux Claires, organized by Bon Iver's Justin Vernon as a celebration of friendship in his hometown, is one of my own favorites. It's got tribute sets, unorthodox artist collaborations, an organ standing in the middle of a field, and winding forest paths lined with bespoke wooden stages on which classical musicians play to guide your way from one stage to the next—and as pretentious as all of that sounds, you'd be hard-pressed not to be moved by the sheer amount of care that goes into it.
When: June 22-July 2
Where: Rothbury, Michigan
The name says it. The eight-day psychedelic tribute, held in the middle of a real forest, is one of the biggest electro and jam band festivals, drawing around 45,000 people a year. Acts like Major Lazer, The String Cheese Incident, and Bassnectar play amidst dazzling sensory-overloading light shows.
When: June 23-Sept. 2
Where: Obonjan Island, Croatia
Obonjan is a modest six-week-spanning festival that doubles as a wellness retreat, taking place on a tiny uninhabited island (Ja Rule and his antics are not involved in this one). Guests sleep in tastefully decorated lodges and can attend sunrise yoga classes, dabble in astronomy, and take up marine biology workshops as well as listen to amphitheater performances. It's an ideal getaway for people interested in seeing stars in the sky, not on stage.
When: July 5-9
Where: Novi Sad, Serbia
Exit is intriguing in both location and history: It takes place in a medieval fortress, and was born out of a student protest movement in 2000 that fought for Serbian democracy. ("Exit out of 10 years of madness" is its official slogan.) A staunch sense of social responsibility has followed the festival through the years, drawing crowds of older protesters and young hippies alike—making Exit the European equivalent of a recurring and even more political Woodstock. Also, these days, the festival offers sports, and a 3D dance arena.
When: July 6-8
Where: Lisbon, Portugal
Formerly known as "Optimus Alive," the festival is like the ultimate European summer holiday; several days of music in the sun of Lisbon, a short drive away from the beach for times of respite. Nos Alive has plenty of political antics and a history of genuinely impressive sets. But what makes it truly special is its insistence on music as a foremost experience. Sets are only played between 5pm and 1am (with dance music continuing afterwards  into the night) and only one stage is used at a time. You'll find none of the Coachella-copiers' chaotic overlapping schedules, here.
When: July 21-23
Where: North Byron Parklands, Australia
Australia's winter pride and joy, Splendour in the Grass is an easygoing festival that takes place on—as the name suggests—sprawling outdoor grounds. It caters not to the artists of the season, choosing instead to bring out reliable and timeless acts like The Strokes and The Cure. And it's a sight to behold at sunset.
When: August 3-5
Where: Wacken, Germany
A favorite amongst heavy-metal enthusiasts, this year it installed a four-mile-long underground pipeline that will bring fresh beer to stalls in front of the main stain. Thanks to the pipeline's 14-inch diameter, the beer flow will be able to reach six glasses every six seconds. Wacken already attracts some 75,000 fans a year to its venue at the edge of a village with only 1,850 inhabitants—and its recent construction project is unlikely to do anything but boost those numbers.
When: August 11-13
Where: Helsinki, Finland
Flow exists in a different world entirely from the typical American music festival, its pace much more slow and contemplative. The festival's diverse, oddly ethereal lineup—artists have included Massive Attack, Iggy Pop, The xx, Frank Ocean, Sia, Morrissey, and Lana Del Rey—is supplemented by art installations, DJ sets, experimental music groups, and a circular stage that sits underneath a massive light-up balloon; it celebrates atmosphere as much as music.
When: August 18-20
Where: Biddinghuizen, Netherlands
Lowlands, like other hallmarks of Dutch pride, is splendid in its simple humility. The festival draws a laid-back, friendly crowd—with very few brand influencers or social-media models to be found—and is only an hour's drive from Amsterdam, for those who wish to go exploring afterwards. The lineup has included acts like Sigur Rós, Chvrches, Disclosure, LCD Soundsystem, Skepta, and Sampha; it is a festival for those interested in good melodies alone.
When: Sept. 25-27
Where: Mangochi, Malawi
For three days, the third-largest lake in Africa—or, really, its golden-sanded beach—is taken over by annual mix of local musicians and foreign imports that draws thousands of attendees mainly from Europe and Africa. Festival-goers can dance, practice martial arts, and volunteer at nearby orphanages in addition to enjoying the scheduled performances. Lake of Stars has been named as having the most beautiful festival location in the world.
When: Dec. 15-17
Where: Rajasthan, India
Other festivals may boast that their lodgings and grounds are palatial, but Magnetic Fields is the only one offering an actual palace—a 17th-century Rajasthani one, located near the city of Jaipur.
All in all, thanks to disasters like Fyre Festival, the fête-that-wasn't, big live events organizers are starting to turn away from putting on more Coachella-lookalikes. That means that smaller festivals built around genuine passion, like all of these, will likely grow in number—and live music will finally, and thankfully, flourish anew.