Grilling, sunbathing…and reading about how bad things are going at your job on the front page. Welcome to a holiday weekend for a Republican senator.
After a bill that would result in 22 million more uninsured Americans was written largely in secret, its authors hoped to vote on it before lawmakers went home this weekend for the Independence Day celebration on July 4th. During these weekend breaks lawmakers typically meet with a range of their constituents, as well as celebrating the holiday.
Since there was no vote last week, lawmakers have been home hearing about the bill from their voters. These interactions with humans outside the DC bubble can dent the resolve of lawmakers to adopt bills that sound great but have wide-ranging consequences, including in this case higher prices for most purchasers of individual insurance.
Democrat activists are urging voters to attend public meetings with Republican lawmakers and demand answers on the bill—but most lawmakers haven't held public meetings yet. Still, judging by this collection of front pages compiled by Politico reporter Dan Diamond, it has been a tough weekend for senators on the fence:
More than 400,000 people in Louisiana would lose Medicaid coverage—public health insurance for low-income people—if the bill passes.
Ted Cruz, a conservative, is opposing the bill because it doesn't do enough to give private insurance companies a free hand.
US Senator Jerry Moran's state is rural, and rural areas tend to rely more on government subsidies to provide health coverage.
Almost a third of the population in West Virginia is enrolled in Medicaid, the highest of any US state.
Senator Lisa Murkowski's Alaska is also a rural state with a health care system supported by federal subsidies.
There's also the biggest paper in Ohio, the Cleveland Plain-Dealer, that highlighted the law in its Friday edition. Ohio's Republican governor, John Kasich, is opposing the law, while Republican senator Rob Portman is viewed as a key vote to win moderates over to the bill.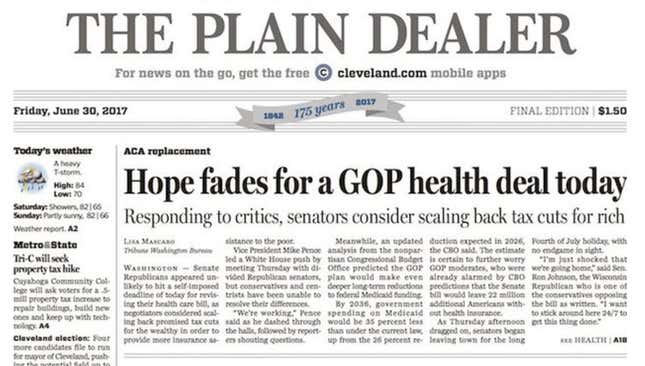 All in all, it hasn't been the happiest homecoming for Republican lawmakers. It remains to be seen whether any of these sentiments make the return trip to the capital with them next week.