First China shared cars, bicycles, offices, and homes. Then China moved to sharing power banks and basketballs. And now things have gotten really out of hand.
In a little over two years, China has seen about a dozen umbrella-sharing start-ups emerge. One of the oldest, Molisan, founded in 2014, offers umbrellas that can be used after scanning a QR code and making a deposit of the equivalent of about $2.80. It charges 30 cents a day after the first two weeks. Another one, OTO, has scattered orange umbrellas across three cities after it set up in June 2015.  One of the newest entrants, Sharing E Umbrella secured 10 million yuan ($1.5 million USD) (link in Chinese) in funding in the business in May, and is in 11 Chinese cities, including Shenzhen, Shanghai, Guilin, and places in the south where it's especially rainy.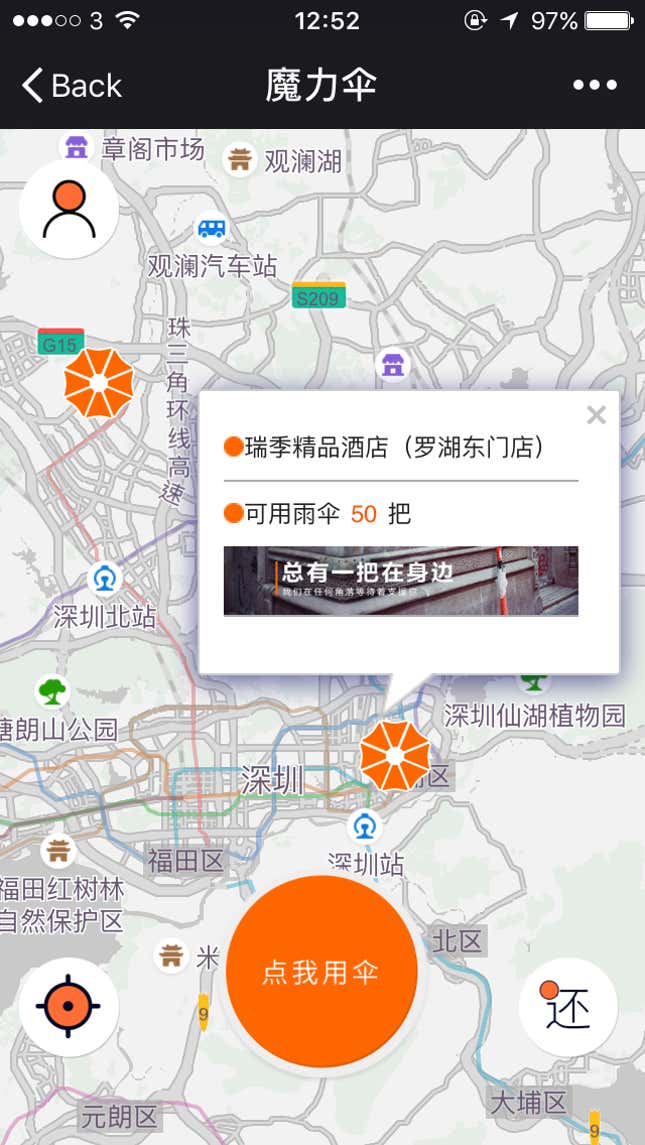 Unfortunately, Sharing E Umbrella has already lost most of the 300,000 umbrellas it made available for rent—an experience shared by the other umbrella-sharers. Company founder Zhao Shuping told digital news site the Paper (link in Chinese) that each umbrella costs the company about $9.
Zhao appears not to be surprised by the disappearance of the umbrellas.
"We were baffled by the bike-sharing model, and thought everything on the street can be shared. But that is wrong." Zhao told the Paper. He appears to have made peace with the situation. "Instead of sharing it with a stranger, I'd rather our users share it with their families, so their family members could go out with an umbrella if it's raining."
If shared bicycles aren't able to make money, it's hard to imagine how umbrellas ever could.
But Zhao says he's optimistic. He says that the company's revenue model is based on advertising on the umbrellas. The company has just sealed a collaboration deal (link in Chinese) with Chinese ride-sharing giant Didi Chuxing. They will place Didi ads on their umbrellas and Didi will place 200,000 umbrellas in its half a million vehicles. They will also work with (link in Chinese) smartphone and telecom equipment firm Huawei Technologies, placing umbrellas in buses at its sprawling Shenzhen headquarters. The company also plans to offer umbrellas with flashlight functions or built-in radios in the future.
The massive number and variety of items being made available for sharing—and left or disposed off improperly—is also creating urban management problems in Chinese cities. On July 10, CGTN, the English news channel of state broadcaster, reported that the bike-sharing industry could generate 300,000 metric tons of scrap metals in the future.
Still, the Chinese government is upbeat about the booming market as announced by the State Information Center, and expects it to grow about 40% this year to nearly 5 trillion yuan (736 billion USD). It also predicts that the sharing economy will contribute around 10% of the country's GDP by 2020.
Investors are also still pouring millions into sharing start-ups. An analyst told Forbes that that since China's economy is slowing, people are less willing to purchase goods, creating opportunities for the sharing market.
Umbrella sharing, though, was doing just fine without the intervention of private firms.
Since umbrellas are the personal possession most likely to be left behind somewhere, or "borrowed" from a stack waiting in a bucket as you exit a restaurant into pouring rain, the fact is that the whole world (including China) has been umbrella-sharing for ages—we've just been doing it organically, and for free.