It's hard to describe much in the US as normal these days. However, there is one aspect where some semblance of normalcy prevails: monetary policy.
Since the end of 2015, the US Federal Reserve has raised interest rates four times, setting off on a path towards monetary policy "normalization" after years of maintaining historically low interest rates. (The last rate hike of the previous cycle was way back in 2006.)
This week, Canada followed America's lead and raised rates for the first time in almost seven years.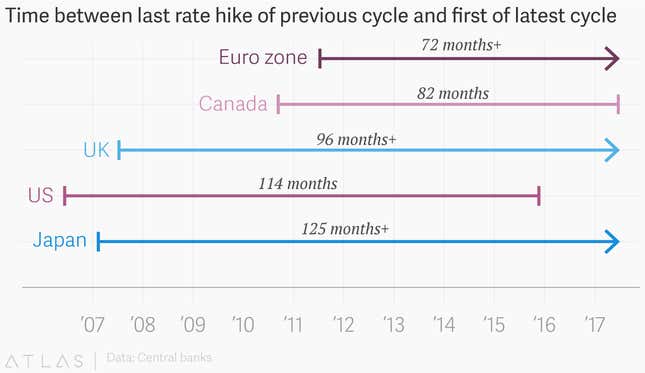 The Bank of Canada increased its benchmark rate from 0.5% to 0.75% on July 12, judging that the economy would continue to grow "above potential" as the global economy recovers and inflation ticks up. In fact, Canada was the fastest-growing economy in the G7 in the first quarter of 2017, so there was good reason for the central bank to start to unwind its stimulus measures. There are other reasons, too—higher interest rates should cool Canada's overheating metro property markets.
Like the US, Canada is sending a signal that the scars of the 2008 financial crisis are finally healing, so monetary policy can return, gradually, back to normal.
The rest of the G7 isn't yet ready to make this step. Japan last raised interest rates over a decade ago, and its central bank remains committed to ultra-accommodative policy. The European Central Bank is still a long way off raising rates, but hints that it might reduce some of its bond-buying program sent markets into a mini panic at the end of last month. In the UK, meanwhile, officials are sending mixed signals about whether or not its time to raise rates with the uncertain impact of Brexit looming.
Is American leadership over? Not at the Federal Reserve, it seems.