In mainland China, any attempt to the mourn the death in custody on July 13 of democracy activist Liu Xiaobo has been quickly snuffed out. After China announced the imprisoned dissident had died of liver cancer, the country's microblog site, Weibo, began deleting posts containing candle emojis or the letters "RIP," part of a spike in censorship around the death on the country's firewalled internet.
One place on Chinese soil is still marching—literally—to its own tune to honor Liu, who was awarded the 2010 Nobel Peace Prize for more two decades of fighting for greater freedoms for China.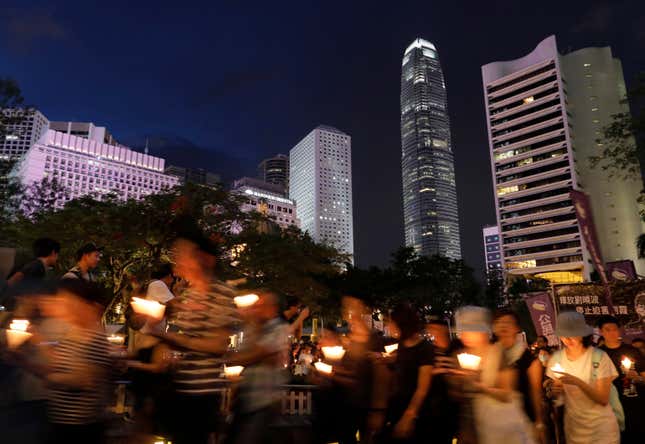 In Hong Kong, which enjoys more freedom than the mainland as a condition of its 1997 return to Chinese rule, people came out on Saturday evening carrying candles and posters of Liu. Earlier in the day, Liu Xiaobo was cremated and his ashes scattered at sea. Following that, Chinese authorities held a press conference at which his wife, Liu Xia, was not present, prompting worries about her fate.
Saturday night's march was the latest public event in Hong Kong to focus on Liu Xiaobo. At the July 1 annual handover protest, demonstrators called for Liu's release after China said in late June that he had been transferred to hospital with late-stage cancer. Soon after Liu's death became known, people showed up to the Chinese liaison office in Hong Kong to leave messages and place white flowers before his photograph. Since then, other images and messages have been placed near the liaison office.
But on the mainland,  an information blackout has imposed collective amnesia about Liu's life and death. A survey soon after he was awarded the Nobel found 85% of college students hadn't heard of him or Charter 08, the pro-democracy manifesto he co-wrote that led to his 11-year sentence in 2009. The document called on China to guarantee human rights and usher in democracy. At the time of his sentencing, the phrase "11 years" was taboo online.
China wouldn't grant him a full release even while he was dying—access to him was strictly controlled in his last days—or allow him to travel abroad for medical treatment.
What little mourning has taken place on the mainland has been in code—such as by referencing the "I have no enemies" statement he prepared for his trial, or writing in traditional Chinese characters—until China's censors decipher and take away those messages, too.
Liu's death was followed by a long-awaited court decision in Hong Kong that disqualified four lawmakers elected last year over acts of speech. When taking their oaths of office for the local legislature, the four added words, or engaged in other acts deemed improper by the court in its July 14 ruling.
That kind of ruling underscores people's growing worries that their liberties are being eroded. Coming the day after Liu's death, it raised fears that one day Hong Kong, like the mainland, will be a place where speech can easily become a prison sentence.