Glassdoor features employee reviews of more than 700,000 companies, including most of the tech world—and Glassdoor itself.
As of last week, 416 Glassdoor workers have written reviews of the company. Employees are encouraged to post them, says Lisa Holden, who manages Glassdoor's company profile on its site. Since Glassdoor urges other companies to be transparent, she says it tries to live by its own philosophy. "No company is exempt," she says. "We believe in drinking our own champagne, and using our own services."
Now 10 years old, Glassdoor is a job-search site that offers reviews of employers as part of its offerings to potential employees. They can also find data on salary, photos of the offices, and tips on how to interview. In theory, when job seekers know more more about a company, they're more selective about where they apply, and companies get more targeted applications.
Glassdoor's own employees think fairly highly of their company, awarding it an average of four out of five stars—the average company rating is 3.3 stars—and they gush about CEO Robert Hohman, giving him a 91% approval rating. But Glassdoor's rating has trickled down over the last two years; it previously was as high as 4.7 stars.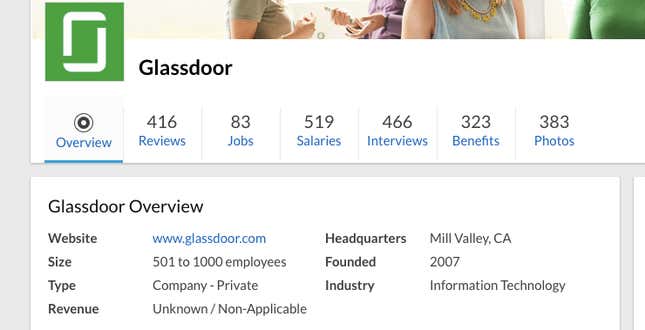 While most Glassdoor reviewers praise its relaxed, collaborative culture, some grouse about low pay and that the company's growth has led to staffing shortages and mixed messages about goals.
Some complaints are pointed: "I would not recommend joining the company at this time. They are so focused on becoming public that they have lost their full sense of what Glassdoor is about. We preach transparency but recently we have all been in the dark."
Having their dirty laundry aired in public is part of the price companies pay for being on Glassdoor, said Holden, who acknowledged there's been some growing pains as Glassdoor has expanded. "No company is perfect, and we're not perfect either."
Along with reviewing Glassdoor on Glassdoor, Glassdoor also uses Glassdoor to recruit employees to Glassdoor. And if that wasn't confusing enough, among the jobs it's recruiting for is head of recruiting.
Update: This post was updated to reflect that Glassdoor now has reviews of more than 700,000 employers on its site.