Elon Musk caused a stir by announcing the next great milestone in his bid to build a 500-mile underground transit link between major US cities on the east coast.
The route, he claimed, would zip between city centers, with "a dozen or more elevators" built to enter the subterranean system in each city. Musk envisions a network of tunnels to carry passenger pods capable of traveling up to 700 mph. He tweeted that a Los Angeles route could be built in parallel with a New York-Washington DC track, followed by connections to San Francisco and a Texas loop (Hyperloop recently held a route competition to pick the most feasible ones).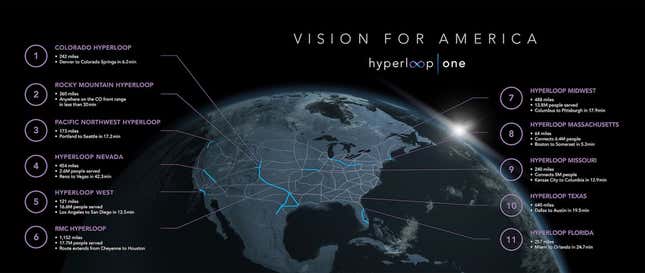 Someone should tell the cities.
None have publicly confirmed any of Musk's plans—and all denied any talks had even begun.
"Elon Musk has had no contact with Philadelphia officials," Mike Dunn, deputy communications director for the city, told Quartz by email. "We do not know what he means when he says he received 'government approval.'" While the city did not rule out the Hyperloop, it expressed skepticism about the timing of any rollout. "There are numerous hurdles for this unproven 'hyperloop' technology before it can become reality," Dunn wrote.
"Nobody in City Hall, or any of our city agencies, has heard from Mr. Musk or any representatives of his company," Ben Sarle, deputy press secretary for New York city mayor Bill de Blasio, told Quartz. The mayor's office in Boston indicated by email that they had not talked with Musk or any Hyperloop employees. Washington DC Mayor Muriel Bowser's office wrote to Quartz that "this is the first we heard of it too, but we can't wait to hear more."
Bloomberg reports that a White House spokesman said the administration had "promising conversations" with Musk, apparently the source of Musk's verbal approval, although the Trump Administration has not proved to be consistent or accurate in many of its declarations since assuming office.
Musk founded The Boring Company last year to deploy continuous tunnel-boring machines designed to link cities through deep underground tunnels. In this case, Musk implies that the tunnels will house the Hyperloop, a system with near-vacuum pressure tubes in which pods resembling train cars speed faster than passenger aircraft. He wants to bore tunnels for just one-tenth of today's usual costs.For comparison, it has cost about $1 billion per mile to build Los Angeles' new subway extension.
It's not the first time Musk has been premature about declaring he has municipal permissions. Last month, he said he was having promising conversation with the mayor of Los Angeles, adding that "permits [are] harder than technology." On June 28, Musk said The Boring Company had completed the first segment of its Los Angeles loop.
Yet at the time, the city of Los Angeles disagreed. "Nothing has happened in the city of Los Angeles," a spokesman told Quartz, citing only work on the SpaceX campus, in neighboring Hawthorne. No request had been made for permits and no formal work has begun with the Boring Company, although "that could change in the future."
So how much has really been built? It's not clear. There's little evidence of much digging besides the scene at the SpaceX parking lot in Hawthorne, home to a 50-foot-long "test trench" that is about 15 feet deep. New equipment has been moved in— Musk mentioned that the glut of boring machines from Chinese subway construction was a boon for Hyperloop—and the company is presumably working on faster, cheaper and more efficient boring techniques.
In January, Musk said "we're just going to figure out what it takes to improve tunneling speed by, I think, somewhere between 500 and 1,000%," reports Wired. "We have no idea what we're doing—I want to be clear about that." That hasn't slowed down the nascent company where Musk spends an estimated 2% of his time as he juggles responsibilities at Tesla, SpaceX and startups focusing on neuroscience and artificial intelligence.
Musk may be mounting a public-relations campaign to present his vision as a fait accompli. If a subterranean Hyperloop does becomes reality, building tunnels may be the easy part. Approval for such an endeavor in the US will likely be a nightmare of overlapping federal, state and city jurisdictions.