When you go to Amazon.com, what are you looking for? Products from the brands you recognize, or perhaps just the cheapest ones—assuming the ratings aren't terrible?
After decades of selling products—and knowing exactly what people are buying, and when they are buying it—Amazon has started cutting out the middle-man by selling self-produced items. Through its AmazonBasics house brand, it sells all sorts of small items, from iPhone chargers, to batteries, power strips—even foam rollers, backpacks and washcloths. It's the sort of stuff that you might not be too brand loyal over—who really minds whether it's a Duracell or a Panasonic battery? Amazon sees that a product is selling well, and may decide to work with manufacturers to make the product itself—it's a tactic that is already worrying vendors, and can't bode well for partnerships in the long run. But those are the obvious instances. Now, Amazon is selling products across a wide array of categories, using a host of brands that do not exist outside the confines of amazon.com and do not make it clear that they are Amazon-made products.
Trawling through over 800 trademarks that Amazon has either been awarded or applied for through the US Patent and Trademark Office (USPTO), Quartz identified 19 brands that are owned by Amazon and sell products or have product pages on amazon.com:
Only one of the brands makes clear that it's an Amazon product: Pinzon, a bedsheets and towel brand. The rest appear to consumers like any other company's products on Amazon. The only indication that any of these other brands might have an affiliation with Amazon is the fact that their company pages—like this one from Arabella—say that their products are "exclusively for Prime members." It's not clear that they're exclusive because they are Amazon products, rather than products from companies that have struck deals with Amazon.
There are other trademarks that Amazon is pursuing (or owns) that do not currently have products listed on its site:
It's possible Amazon has other brands on its site that it hasn't yet trademarked. There are myriad companies listed on Amazon that sell products only on the site—these companies, for example, all list the same address for an incorporation company in Delaware as their address on the USPTO's website, and appear to have no other presence on the internet:
Calls and emails to the intellectual-property lawyer, James F. Struthers, who filed these trademark applications—and has filed some of the above applications for Amazon, and other Amazon trademarks—went unanswered. Many of these brands also appear under the "Amazon Fashion" section of the company's website, right next to the generic house brands that Amazon owns.
Quartz purchased a $12 shirt from Goodthreads, to see what the packaging entailed, and if it was similar to how Amazon packages its own products. After receiving the order, I noticed the label, in Spanish, said it was imported by Amazon Mexico, and listed the company's address, which happens to be the same address as Amazon's Mexican office.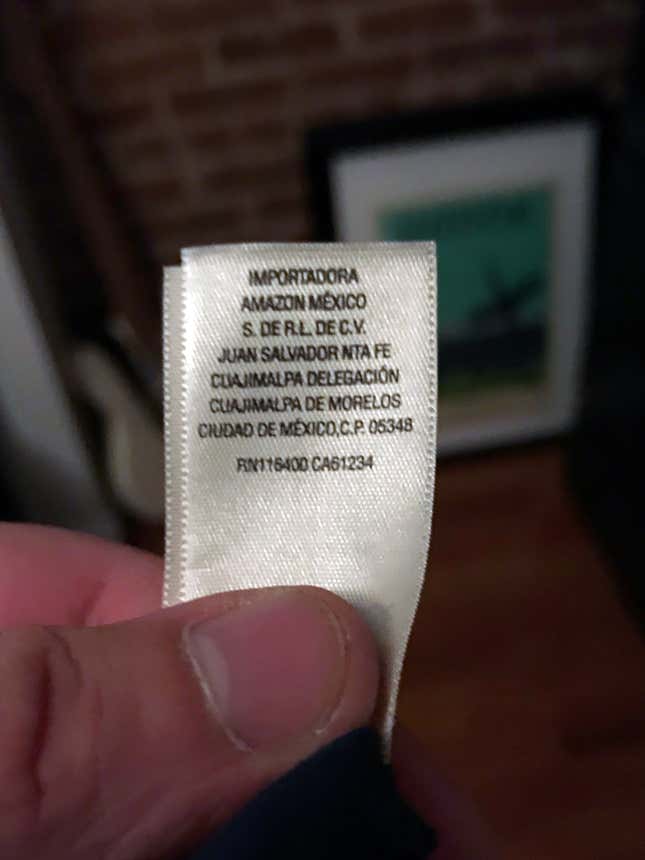 When reached for comment about its branding strategy, Amazon did not have an explicit answer, but a spokesperson confirmed the following brands are indeed Amazon's: "Amazon has a range of brands including Amazon Basics, Happy Belly, Mama Bear, Pinzon, Presto!, Wickedly Prime, Goodthreads, Amazon Essentials, Mae, Ella Moon, Buttoned Down, The Fix and Lark & Ro."
Amazon has confirmed that some of the brands Quartz uncovered—including Goodthreads, The Fix, and Presto!—are indeed house brands, even though they are not listed as such on Amazon's website, and Amazon's name does not appear on the USPTO trademarks.
Mark DiMassimo, direct-economy expert and CEO of the New York-based advertising agency DiMassimo Goldstein, told Quartz there's logic to Amazon's clandestine approach to house brands, as the Amazon brand name can only stretch so far. "Can you imagine anyone ever saying, 'oh lord this Amazon personal lubricant is just so sexy?'" DiMassimo asked. "There are limits to the Amazon brand that Amazon would be wise not to cross."
By this reasoning, it makes sense to apply the Amazon name, which we might associate with reliability or technology (many people are fans of its Echo and Kindle products), to generic batteries, or headphones, or office accessories. The company also uses its AmazonBasics branding for many of the types of products that its other, more obfuscated brands sell, including linens, furniture and other gadget accessories.
Perhaps what Amazon is trying to do as it rapidly expands into new businesses—especially business areas where it might not have forged partnerships with well-known brands—is to give the impression to customers that there are tons of options to choose from, when in fact, they're really just choosing between different Amazon brands. "Consumers pay a premium for a brand, that's why they're not store-generic," DiMassimo suggested.
But as Amazon extends into new product lines, it risks overreaching and eroding trust. It has sold beef that's "raised on a ranch in California" (with no more information available on its sourcing) and "96% USDA Certified" biologic detergent. In both cases it's not entirely clear to customers that they're buying products from Amazon, rather than companies that have made it their business to render meat or make chemical products longer than a year or two. 
At the same time, by undertaking this strategy, it's further attacking small brands that probably already suspected on some level that they had made a Faustian bargain by selling on the site. It's a lot like Nucleus, the Amazon-backed intercom startup, which eventually saw its own product undercut by Amazon's latest piece of hardware, the Amazon Echo Show.
Amazon is relentless in its pursuit of growth. It's buying more jets to ship packages around the world; it's hiring 50,000 more workers this week; it's trying to figure out how to completely automate deliveries; and it's working to set up shops near your home and even drop boxes in your apartment building. Amazon has made its intentions to expand into just about every business imaginable quite clear. It wants to dominate the clothing industry, plans to control the grocery market, and perhaps even the auto industry one day. It's working on autonomous drones to fly anything you could need to you within half an hour, and has voice-operated machines in millions of homes so that all someone has to do is speak, and Amazon products will soon arrive.
It's now gotten to the point where it's quite easy to pay Amazon three times in one order: for shipping, which you get access to through Prime, and for a product that's actually just an Amazon-made product. And it's possible to imagine a time when your clothes, your food, your TV shows, your gadgets and your furniture are all made and sold by the same company: Amazon.
Whether the customers are always aware of that fact—or care—is another matter.